How to create the perfect celebration centre piece - informal, yummy and fun!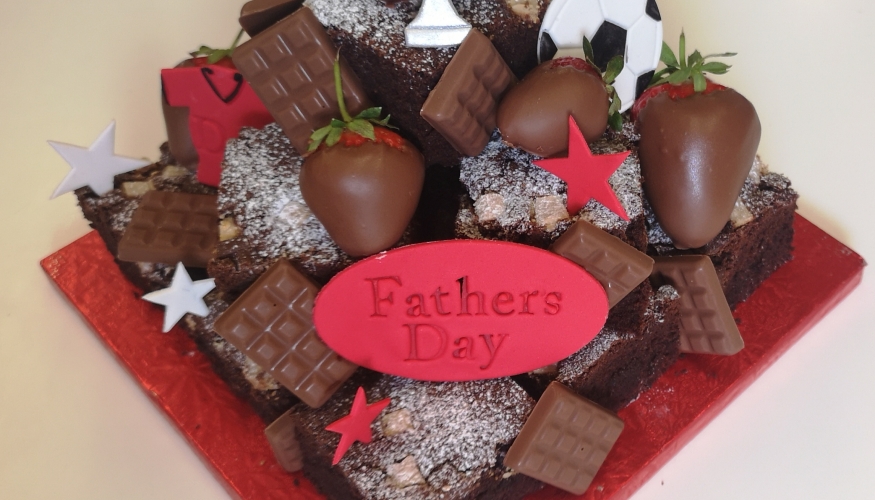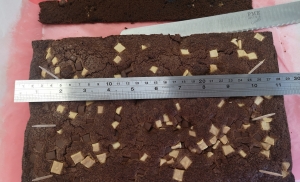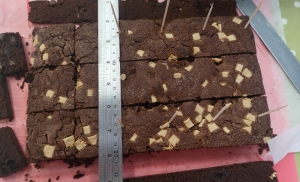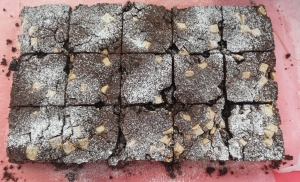 Cut your brownie into equal squares
Bake a chocolate brownie. Our recipe card gives you 10 different brownie recipes including classic brownies, chocolate & cherry, gluten-free and vegan. I used a 7 x 11 traybake tin (as per the recipe card).
Trim the edge from one side of your brownie. Using a ruler and cocktail sticks, divide your brownie into 5cm squares and cut with a sharp serrated knife.
Dust with icing sugar.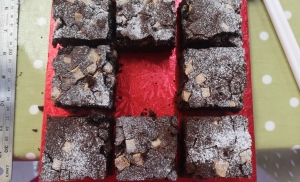 Arrange your brownie squares
I used an 8 inch square coloured cake drum.
Arrange the brownie squares. I used melted chocolate to secure the brownies in position.
I placed 9 squares on the bottom, 4 squares in the centre and then 1 on top (leaving to one piece to eat with a cuppa!)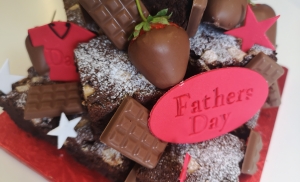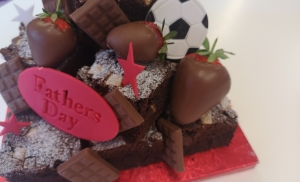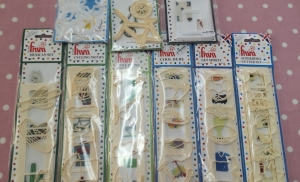 Add decorations
I added chocolate dipped strawberries. Our Chocolate Treats & cake pops gives you step by step instructions on how to dip fruit along with step by step chocolate lollipops, chocolate puddles, chocolate shards, chocolate bark and cake pops - all of which would be perfect for a fully loaded brownie stack.
Mini chocolate bars - for instructions on how to make chocolates, including tempering, refer to our Chocolate tempering & transfer sheets recipe card.
Personalised decorations - I made a selection of football and 'Dad' decorations using flower paste, cutters and the fun fonts. All of these are available in store along with friendly, helpful advice. Icing decorations may be made in advance and stored at cool room temperature in a cardboard cake box.
Secure the decorations with melted chocolate.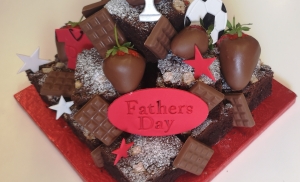 Enjoy!
It is best to assemble your brownie stack as close to the celebration as possible.
If you have chosen to include fruit, wrap the stack loosely in cling film and place in the 'fridge. Bring to room temperature 30 minutes before serving.
Without the fruit the brownie stack doesn't need to be refrigerated, but should be wrapped to prevent it from drying out.