Halloween chocolate brownies
Totally delicious and really fun these Halloween chocolate brownies are very simple to make.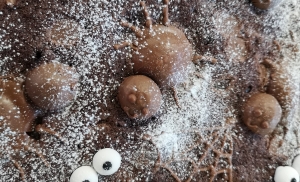 Add spiders (chocolates!)
Make the brownies as per the recipe and bake for 20 minutes - at this point they should be setting but still soft. Pull the oven tray out and nestle the frozen chocolate Lindor balls into the mixture to represent spider bodies. Add a malteaser for the head of each spider. You need to make sure the chocolates are really pushed down into the mixture (otherwise they burst and lose their shape). Return the brownies to the oven for a further 10 minutes.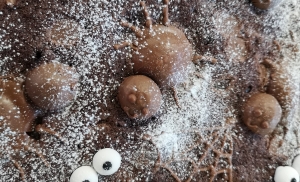 Decorate
Once the brownies are cool, pipe spider legs and webs using melted chocolate. Add spooky eyes.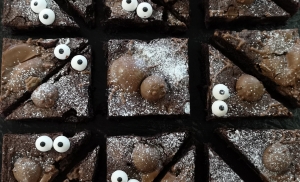 Now they're ready.....
Cut the brownies into squares (or triangles) and dust generously with icing sugar.