Complete Set of 40 Recipe and Project cards and recipe card folder sticker
You can purchase the complete set of 40 cards & sticker for a discounted price!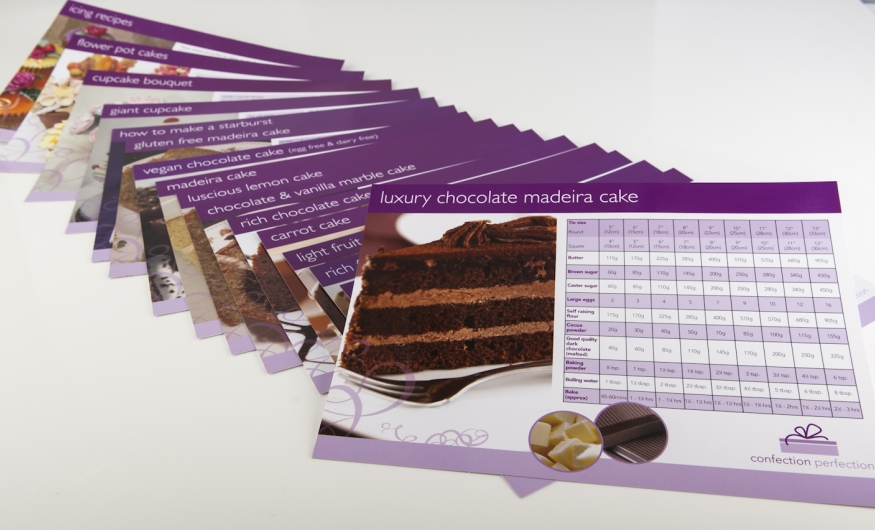 You can purchase the complete set of 40 cards & sticker for the discounted price of £125. This represents a saving of £34.21!!
The set comprises one of each card
Cakesicles & chocolates
Carrot cake – revised edition
Chocolate tempering & transfer sheets
Chocolate & vanilla marble cake
Chocolate brownies & millionaires shortbread
Chocolate flavour variations
Chocolate Treats & cake pops
Chocolate treats & caramels
Cookies & Rice Krispie Treat
Crystallised flowers and sweet treats
Cupcake card
Decorated cookies
Drip cakes
Fairy castle
Flavour variations
Flavour variations - the second one
Flowerpot cakes
Ganache for cakes
Fun & colourful cakes
Giant cupcake
Gingerbread
Gluten free madeira cake
How to make a starburst
Icing recipes
Light fruit cake
Luscious lemon cake
Luxury chocolate madeira cake
Macarons
Madeira cake - revised edition
Meringues
Naked cakes
Red velvet cake
Rich chocolate cake
Rich fruit cake
Salted caramel cake
The card of really useful stuff
Vegan chocolate cake
Vegan rich fruit
Vegan sponge cake
Yule log
You can purchase the complete set of 40 cards & sticker for the discounted price of £135. This represents a saving of £26.60!!
I purchased the full set of recipe cards from you recently. I've used so many different sponge recipes over the years with very mixed results. What has been consistent in all those attempts before your cards was dry sponge that didn't rise too well needing two sponge cakes to be baked for one celebration cake. After baking your sponges I can say I have consistent results and the need for only one sponge to be baked because the rise is so good. Everyone likes the taste too. The icing recipes again are excellent with consistent results. The quantities are spot on too absolutely no waste. Just wanted to say a massive thank you. The care and effort you have put into these cards is truly amazing and the results are fantastic. I really feel these are way beyond anything out there in the market currently. Thank you and I wish you every success
— Sarah, 26th May 2018
I love how pretty they are, They are wipe clean so great in the kitchen. The alternative measurements are a life saver, MUCH better than researching a recipe or using a cookbook.
— Jessica Hallam, 25th September 2019
All the recipe cards are extremely helpful full of amazing tips, ideas and yummy recipes. Come up with lots of cakes you wouldn't normally think of, Wouldn't be without them.
— Yvonne Jones, 25th September 2019
I find all the recipe cards very handy there's lots of useful tips and some lovely creations and amazing flavours.
— Katie Osborne, 26th September 2019
Cards are so easy to follow.
— Karen MacLeod, 26th September 2019
Really useful + Madeira cards: Wonderful, how did I ever manage without them. They are used so much but still stay clean and readable even after a 'messy' cake day.
— Chris Harris, 25th September 2019
Well it is a cold Saturday afternoon and the beautifully laminated Madeira cake recipe card is on the kitchen worktop being used as I write. They fit neatly in my lever file along with at least seven others I would not be without. Their easy wipe clean surface is a boon. The graduated ingredient lists are so useful and helpful when baking unusual shapes too. Follow all instructions accurately and you will not fail to turn out a very scrummy cake with super topped icing and fillings. Start your collection!
— Wendy Wilkins, 5th February 2022
This is a collection packed full of yummy recipes and excellent tips and tricks to give you consistent perfect bakes. Made of durable wipe-clean material, pretty colours and designs, easy to read and portable. They contain such an array of recipes, this is much better than any recipe book and you would wonder how you've managed without them. Thank you for the care and wealth of knowledge you've put into them.
— Debbie, 8th February 2022