'The Unicorn (or Rudolf) Cake' - ganache & straight edges
Make your own ganache, split and fill your cakes, then sugarpaste a double-height cake to achieve sharp edges. Then decorate your cake in either a unicorn or Rudolf theme. Social Distancing & safety measures in place.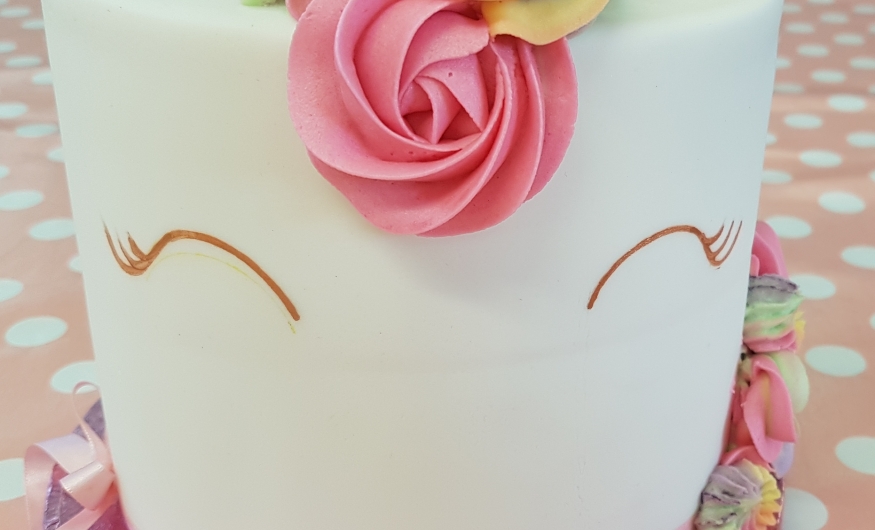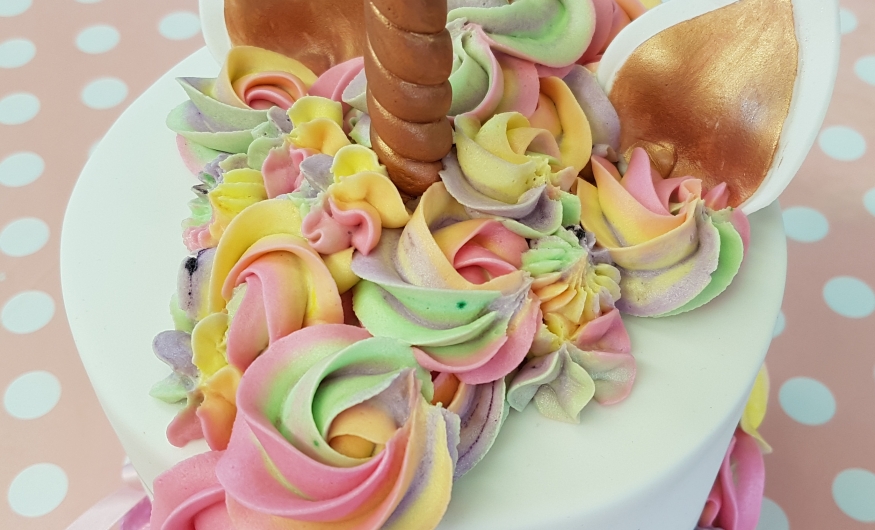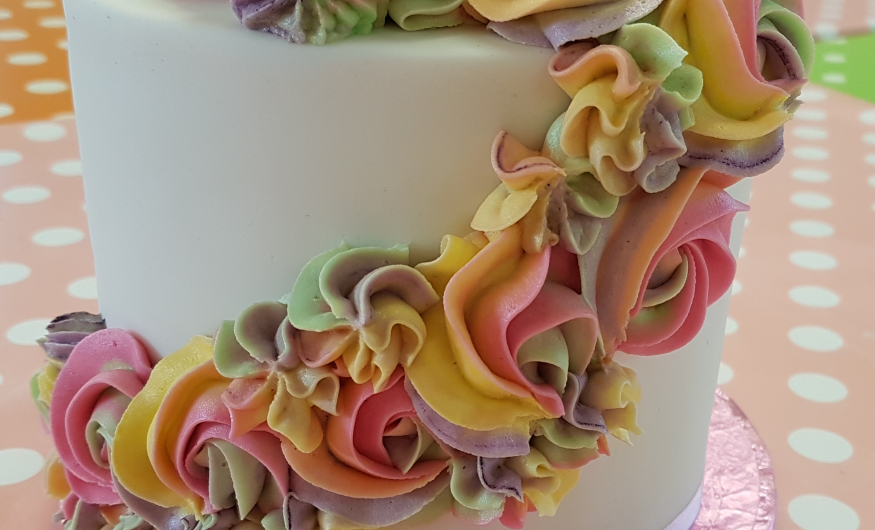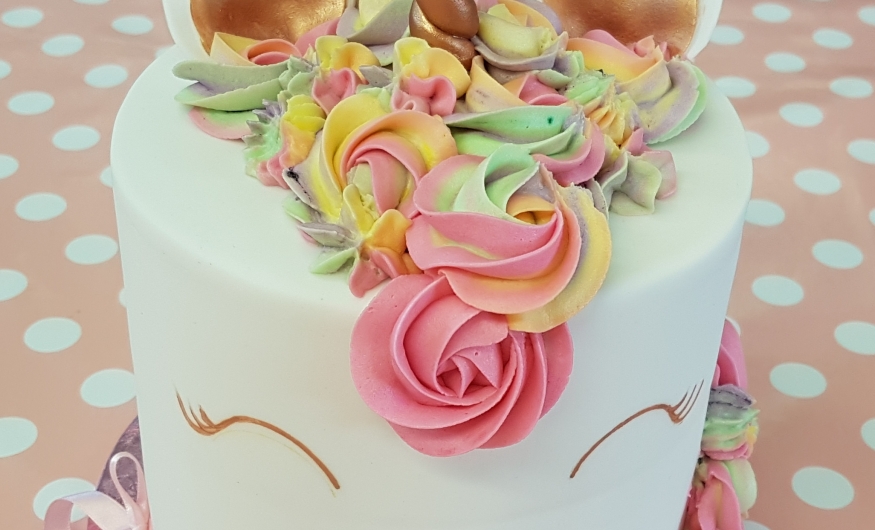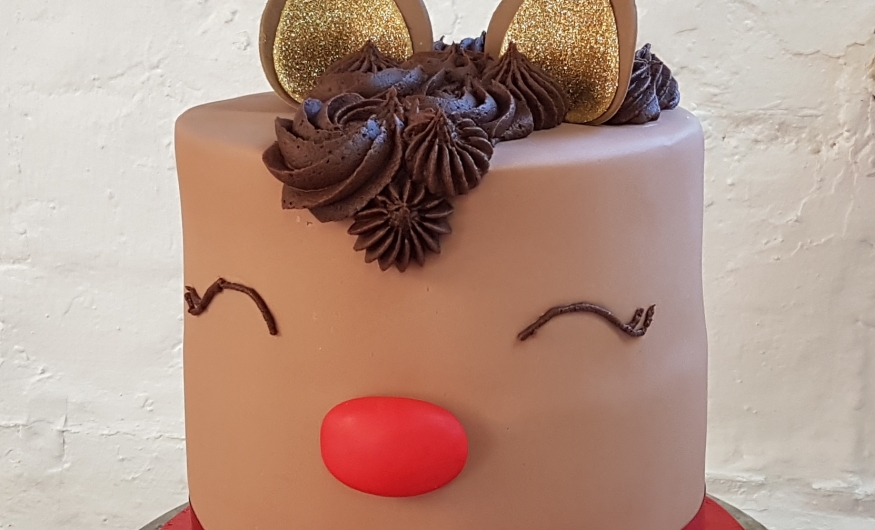 Start the day by making your own ganache under the guidance of Annabelle. Learn the advantages and pitfalls of making and working with ganache. We will bake you 2 Madeira cakes to split, fill and crumb coat with your ganache. Annabelle will share her top tips and demonstrate how to achieve professional results every time including stacking techniques.
Whilst the cakes firm use modelling paste to create either a unicorn horn and ears or glitter antlers, red nose and ears for Rudolf.
Moving on you will then cover your cake with sugarpaste. Annabelle will teach you how to cover a double height cake without tearing, elephant skin and then how to achieve beautiful sharp edges.
Complete your cake in either a unicorn design using a variety of techniques including painting on sugar and rainbow piping or as Rudolf with chocolate piping.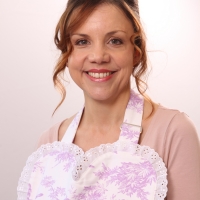 Annabelle
Annabelle
Director
Annabelle established Confection Perfection (now re-branded as Annabelle Jane Cake School) in 1996 from her kitchen table; bought her first retail premises in 2000 and is now settled in a delightful setting in Bearsted, just outside Maidstone. Annabelle has extensive cake decorating experience and is highly creative and artistic. Annabelle is an accredited tutor for the PME Diplomas in Sugar craft and also designs and delivers a wide range of other highly successful cake baking and decorating classes. Annabelle has a huge vision for our Cake School and ensures that the strong reputation we have earned continues to grow lead by her consistently high standards.
Everything is included. You may like to bring an apron.
Excellent tutor. Very helpful, attentive, worked at the students pace.
— Pat Masson, 30th November 2019
Fabulous every time, you learn so much each time, worth every penny! Super fun, helpful, sparkly rainbows. Amazing!
— Elley Shepherd, 30th November 2019
Had a fantastic day Covered a lot of skills to use again and again. Amazing tutor. And Cake School is SO friendly.
— Diane Hall, 9th June 2018
It is amazing how much you learn in one day on this course. Really good value for money, a lot of fun and the most beautiful cake to take home. Fantastic day.
— Julia Cleaver, 9th June 2018
Good fun & informative. It was better than I expected. Excellent, knowledgeable & friendly tutors. I struggled a little with speed between some parts but Annabel & Linda were great at going over things again. I'll be back!!
— Yvey Bailey, 9th June 2018
Course is just EVERYTHING! Tutor is fabulous! Experience has been the best ever like all other courses. Thank you very much.
— Chloe Willson, 9th June 2018
A wonderful day meeting new people. Learnt so much with a wonderful tutor. It was a great day.
— Chris Harris, 24th November 2017
A fantastic course. Timing is fantastic and you never feel rushed to complete each stage. Easy explanations and advice throughout. Fantastic!
— Callie Pollard, 24th November 2017
Great teaching + professional, friendly
— Karen, 24th November 2017
Very good tutor. Extremely likely to come back.
— Lindsay, 24th November 2017
Brilliant course. Annabelle was calm & brilliant helping my mistakes.
— Sue, 24th November 2017
I got in such a tizzy about white choc ganache cos I'd destabilized it, but Annabelle helped and explained where I'd gone wrong. Annabelle is a dream
— Delenda James, 24th November 2017
Relax atmosphere, wonderful tutoring. Highly recommended.
— Emma, 24th November 2017
Huge thank you to Annabelle Jane for the flowers unicorn course yesterday. Personal learning was huge including using ganache, straight edges, rearranging the layers of a cake to get the best finish and piping and we all got to take home a really pretty unicorn! Great course and supportive tutor in a friendly atmosphere
— Sue V, 15th May 2017
Fantastic course allowing us to create a very professional looking cake. And my daughter will love the unicorn!
— Kate Robinson, 13th May 2017
I had a fantastic day. I love that we can all personalise our cakes & choose our own colours etc.
— Ashleigh Simmonds, 13th May 2017
Very experienced, very patient, very clear instructions & plenty of help & encouragement. Had a lovely day.
— Chris Vaughan, 13th May 2017
5*+++ Tip top! Such a lovely course – some core skills for intermediate level but balanced with making something really pretty and was lots of fun with a lovely fun crowd. Not pressured – lovely pace. Very friendly atmosphere to learn new skills. Really lovely day.
— Kathryn Norton, 28th April 2017
I'd recommend – it's fun. Knowledgeable, friendly helpful tutor, clearly explained techniques, tips and advice and answers to questions. Fabulous day!
— Afton Dilks, 28th April 2017