Swiss meringue piped cupcakes
Following a demonstration on making Swiss meringue buttercream you will learn to pipe a variety of styles to decorate cupcakes. Social Distancing & safety measures in place.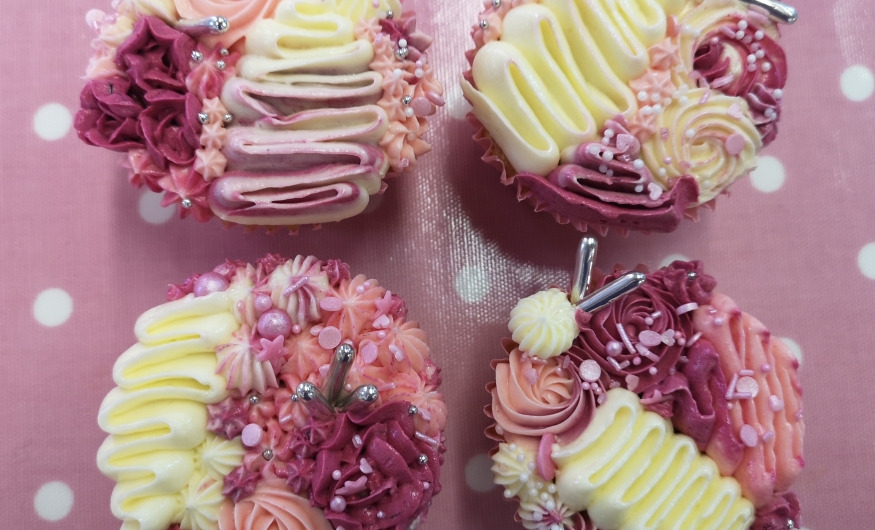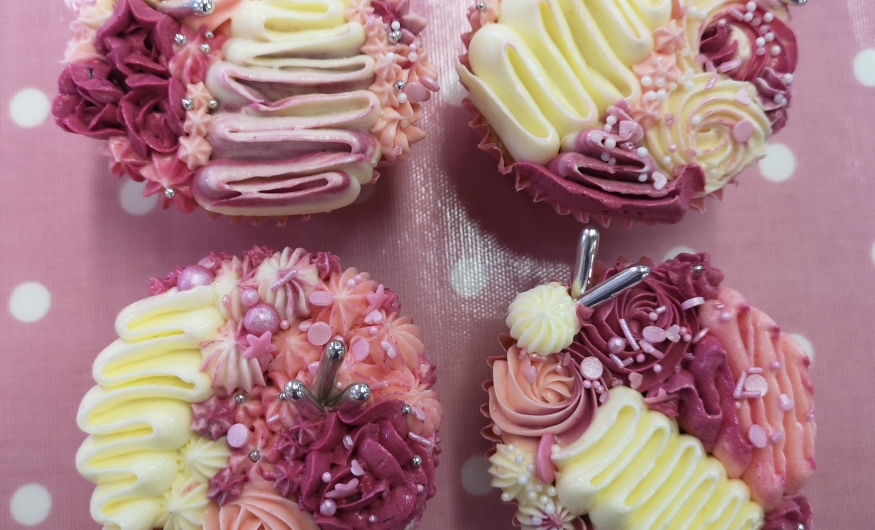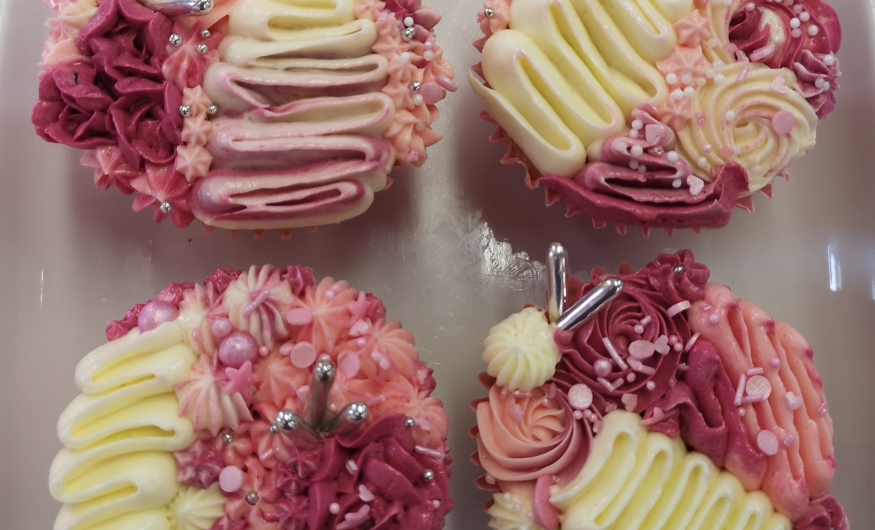 The course will begin with a demonstration on how to make Swiss meringue buttercream (SMB) - this silky smooth and amazingly delicious buttercream is perfect for piping delicate flowers and designs.
We will have baked cupcakes for you and prepared SMB. You will colour your SMB (your choice of colours) and then learn a wide range of piping techniques. Moving on, you will then decorate your 4 cupcakes with piping and sprinkles.
Demonstration - how to make Swiss meringue buttercream
Tutorial - all about SMB, storage, keeping times, advantages, disadvantages
How to colour SMB
How to fill a piping bag (without getting in a mess!)
How to choose piping nozzles
How to pipe a mini rose swirl
Star and mini star piping
Ribbon piping
How to pipe roses and buds
How to pipe drop flowers
Effective use of sprinkles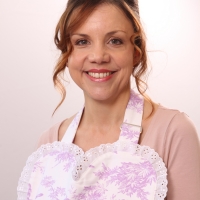 Annabelle
Annabelle
Director
Annabelle established Confection Perfection (now re-branded as Annabelle Jane Cake School) in 1996 from her kitchen table; bought her first retail premises in 2000 and is now settled in a delightful setting in Bearsted, just outside Maidstone. Annabelle has extensive cake decorating experience and is highly creative and artistic. Annabelle is an accredited tutor for the PME Diplomas in Sugar craft and also designs and delivers a wide range of other highly successful cake baking and decorating classes. Annabelle has a huge vision for our Cake School and ensures that the strong reputation we have earned continues to grow lead by her consistently high standards.
The course price includes everything you need to decorate your cupcakes and a box to take them home. We will provide all the materials, use of sugarcraft tools, equipment and refreshments. Course attendees will also receive a full set of course notes which includes the Swiss meringue buttercream recipe and a discount sheet which gives exclusive discounts on the items used during the course purchased in the cake decorating supplies shop fon the day of your course.
It was lots of fun and I learned a lot. Excellent tutor.
— Laurie Neale, 18th September 2020
5 star course. Great tutor.
— Gill Newton, 18th September 2020
Fabulous.
— Vanessa, 18th September 2020
Much needed morning for me! Tutor superb as ever. Felt absolutely safe.
— Jo Prideaux, 18th September 2020
Very enjoyable course, you don't have to be amazing at piping to complete this course, everything is explained really well. Health & safety well considered.
— Hayley, 18th September 2020
Such enjoyable, fun course with lots of content & great results. Excellent tutor - fun, knowledgeable & full of hints & tips. Book a course & come - you won't regret it.
— Jane Brender, 15th September 2020
Tutor very knowledgeable about the subject. Very helpful and great advice.
— Hayley, 15th September 2020
Very good tutor. Good communication. 5 star course.
— Karen Hannah, 15th September 2020
This course was great fun and I learnt a lot about SMB plus some useful extra hints & tips. Excellent, knowledgeable & patient tutor.
— Sue Vallender, 15th September 2020
Amazing course for anyone looking to expand their buttercream knowledge. The demonstration was very helpful. Tutor amazing as always.
— Abbie O'Brien, 4th September 2020
I loved doing this course. The cupcakes are delightful & have given me new ideas for decorating - thank you Annabelle.
— Thelma Olymbiou, 4th September 2020
Always fun & so informative. Tutor brilliant as always. Course what I expected, and more. 5*
— , 4th September 2020
Had a lovely time + learnt so much about piping and techniques + what to do when things go wrong, will be attending other courses in the future. So much fun too. Very friendly, knowledgeable + helpful tutor, answering all my questions. Very reassuring health & safety + felt v. safe.
— Lisa, 4th September 2020
It's a good interesting course. Tutor very good. Health & Safety well considered.
— Kristine., 4th September 2020
An absolute pleasure. Tutor excellent as always. Very knowledgeable and always a lovely time.
— Anita, 4th September 2020
This is an excellent course not only to teach you how to make Swiss Meringue buttercream but it also teaches you how to use different nozzles and different piping techniques. It doesn't matter if you make cakes for a living or you haven't made cakes before the courses are for everyone. My tutor was excellent. In fact all the tutors are very good, patient and very helpful. I recommend joining the cake club. You have a special facebook page where club members show their cakes so you get ideas and you can ask questions and so many people help you.
— Penny Wilcock, 4th September 2020
Very easy instructions on how to make SMBC. Great techniques learnt for piping and colour icing. Annabelle is friendly, welcoming and full of useful hints & tips, and shared personal experience on how to make sure SMBC came out well and recover if went wrong.
— Joanne Northage, 1st September 2020
This is an excellent course, learn lots of different piping techniques + very good demonstration on how to make SMBC - take beautiful cupcakes home that taste amazing!
— Tash, 1st September 2020
Course content 100% what I expected. Very friendly tutor, Wonderful experience and will definitely be back for more baking.
— Diana, 1st September 2020
Annabelle made it fun as well as informative. Explained everything very well. Answered all our questions. I found it very useful that Annabelle showed us what things can go wrong with SMB and then how to fix it, This makes me feel much more confident to try making it at home. Health & safety very well considered and all very satisfactory.
— Barbara Stead, 1st September 2020