Summer Meadow Cupcakes
Learn how to make completely edible mini poppies, buttercups, forget-me-nots and daisies. Pipe swirls onto 4 cupcakes which you will then decorate with your flowers. Social distancing & safety measures in place.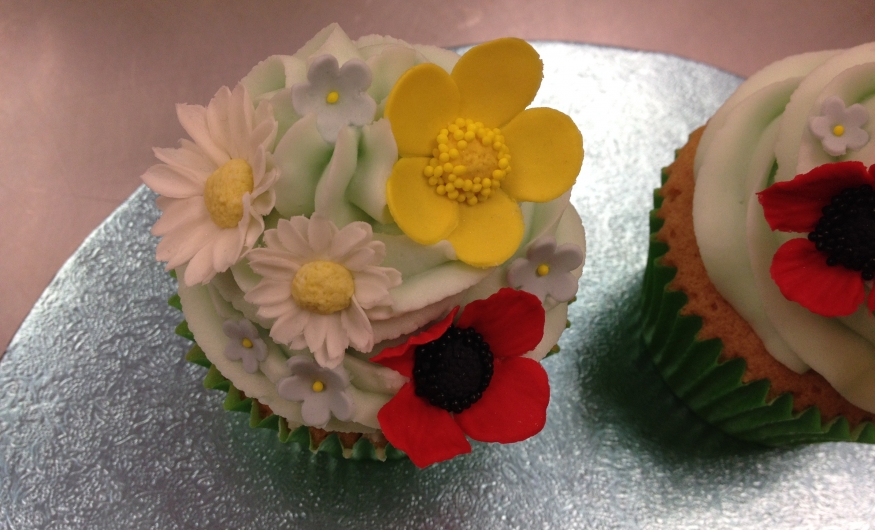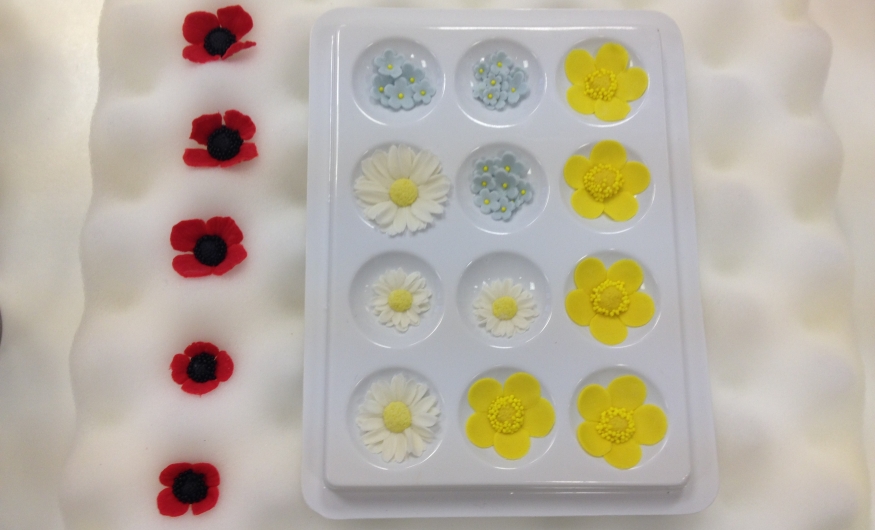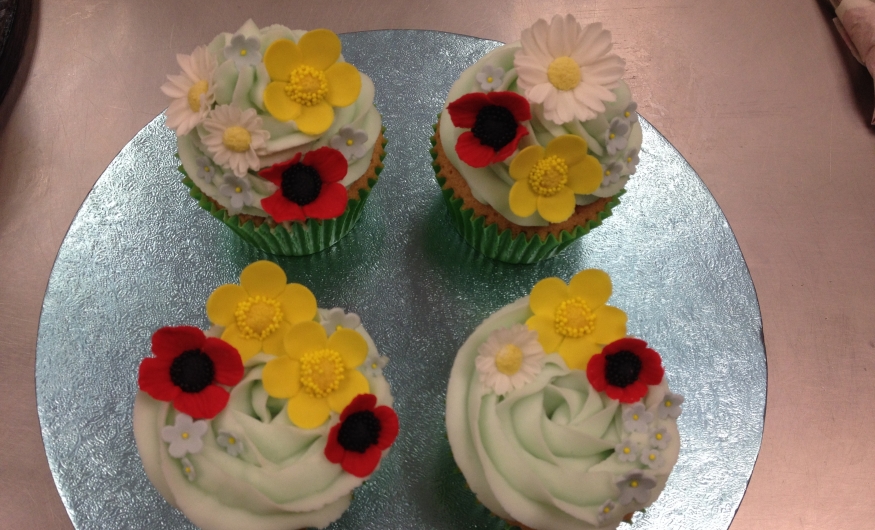 We will bake you four scrummy cupcakes. Over the 2-hour workshop you will learn how to make stunning flowers suitable for cupcakes and all celebration cakes. We will explain how to use colour to its best effect and how to create realistic, totally edible flowers. We will then teach you how to pipe a 'Mr Whippy' swirl and a rose swirl on the top of your cupcakes.
This is a delightful workshop which covers many new skills and even better, you take four delicious cupcakes home with you!
Tutorial – all about flower paste, what it is and how to use it
How to make a selection of flowers – buttercups, forget-me-nots, daisies and poppies
How to frill petals
How to use the flower centre mould
Clever ways with edible non pariels
Shaping and drying techniques for sugar flowers
How to use a selection of modelling tools.
How to pipe a rose swirl
How to pipe a traditional cupcake swirl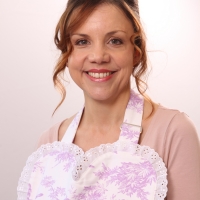 Annabelle
Annabelle
Director
Annabelle established Confection Perfection (now re-branded as Annabelle Jane Cake School) in 1996 from her kitchen table; bought her first retail premises in 2000 and is now settled in a delightful setting in Bearsted, just outside Maidstone. Annabelle has extensive cake decorating experience and is highly creative and artistic. Annabelle is an accredited tutor for the PME Diplomas in Sugar craft and also designs and delivers a wide range of other highly successful cake baking and decorating classes. Annabelle has a huge vision for our Cake School and ensures that the strong reputation we have earned continues to grow lead by her consistently high standards.
Highly recommend, great fun, lots of laughs, learnt so much. Exceeded expectations. Annabelle was wonderful: full of encouragement and so easy to follow her instructions. Very safe.
— Jacqueline, 20th July 2021
I love it here. Course everything I expected & more.... Making flowers is lovely & so is Annabelle!
— Annie, 20th July 2021
Totally enjoyed every minute. The course was fun, learnt lots of new skills, met lots of lovely people. Tutor was very helpful and patient, very knowledgeable, a joy to do the course.
— Yvonne Jones, 20th July 2021
The tutor was excellent, she was patient and gave us lots of tips and not always referring to this course. Her knowledge of baking, icing, buttercream, frosting is amazing and knows the answers to every question I have heard people ask. This course was exactly what it said when advertising the course and perfect. I recommend the Cake Club too - there are so many benefits to joining including a free gift when you join.
— Penny Wilcock, 20th July 2021
Better than expected. The course is very helpful. It gives you useful tips so I would recommend to everyone.
— , 21st July 2017
I loved it - will make lots more at home.
— Thelma Olymbiou, 21st July 2017
Everyone should try a course. Tutor excellent, paced well, friendly, shared time.
— Sandra Large, 21st July 2017
Loved the experience, had so much more fun than I thought I would. Tutor was very knowledgeable, friendly and helpful and very patient. Will be looking to book more courses.
— Amy Jeffrey, 21st July 2017
Annabelle explained everything so clearly and stopped me from panicking that I couldn't do it. Fun & a great way to spend time with my daughter / friend.
— Jo Fryer, 21st July 2017
Amazing experience, I love baking anyway (& want a cupcake café when I'm older), so this was the best day ever for me. Very friendly, approachable tutor, had loads of fun.
— , 21st July 2017
This course has given me the confidence to create more cupcakes with a more decorative top. Loved it.
— Delenda James, 21st July 2017
I love Annabelle's courses & teaching. So easy to follow instructions.
— Donna Freeman, 21st July 2017
Really enjoyable, perfect pace. Would love to come to another course.
— Beth Filmer, 4th August 2015
Love the discount sheet! The course is very informative. Course notes are a great help for re-creating at home. No complaints.
— Happy student, 4th August 2015
A lovely experience and I learnt a lot. Very detailed tutorial - had a lovely time.
— Helen, 4th August 2015
Had a great time - interesting and fun! Excellent facilities and teaching.
— Kathy Maeers, 11th July 2015
A fun way to learn! I liked how our tutor showed us a close up of each stage.
— Victoria Home , 11th July 2015
Everyone was very friendly. Lots to learn, but not too much to take in and everyone was given enough time to complete their work.
— Georgia Hare, 11th July 2015
Well run and friendly. I came away with some new skills and some yummy cupcakes.
— Elisabeth Smith, 11th July 2015
Good fun.
— Sarah Davis, 11th July 2015
Our tutor made us feel very welcome and delivered a very enjoyable and informative evening.
— Tina, 19th September 2014
Excellent! Very good and helpful tutor. Enjoyed a cuppa before it started.
— Emily, 19th September 2014
Enjoyable course. All techniques fully explained.
— Margaret, 16th July 2014
Had fun and learnt a new a new skill. Made to feel very welcome.
— Felicity, 16th July 2014