Strawberry Flower Pot Cake
Ice a mini cake as a flower pot and then make strawberries and leaves from sugar to complete the decoration. Social Distancing & safety measures in place.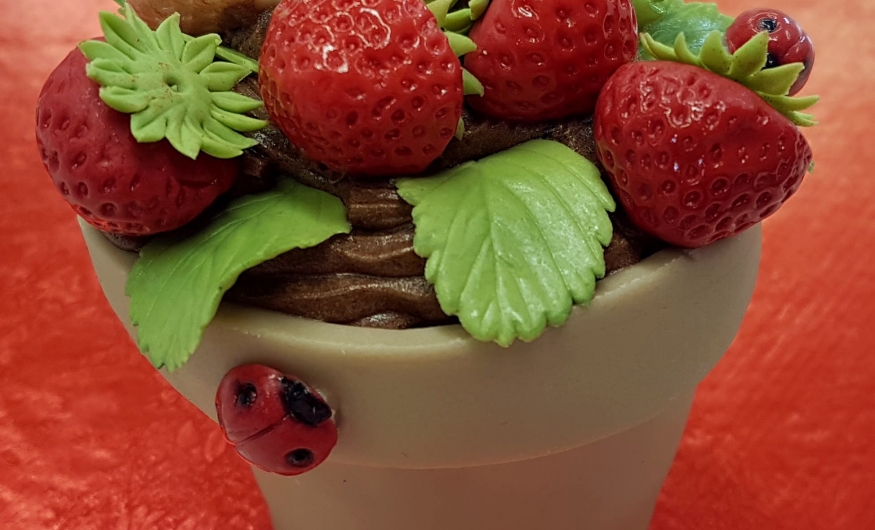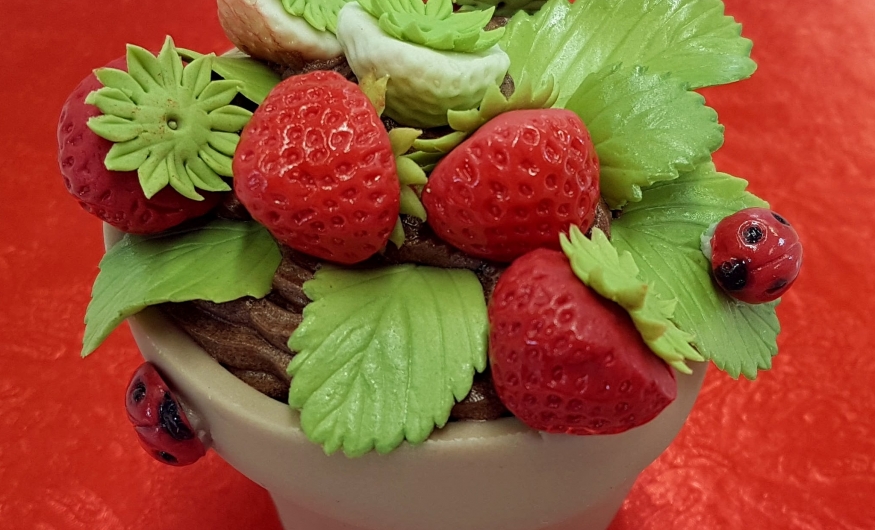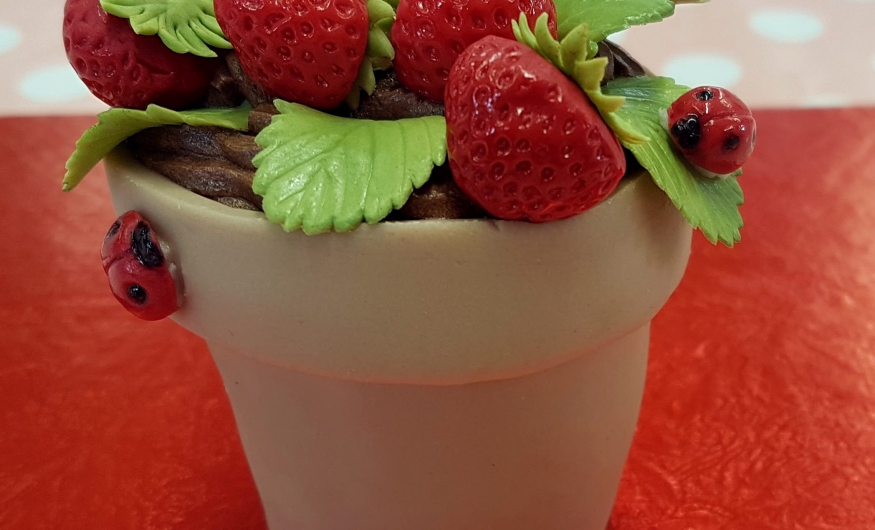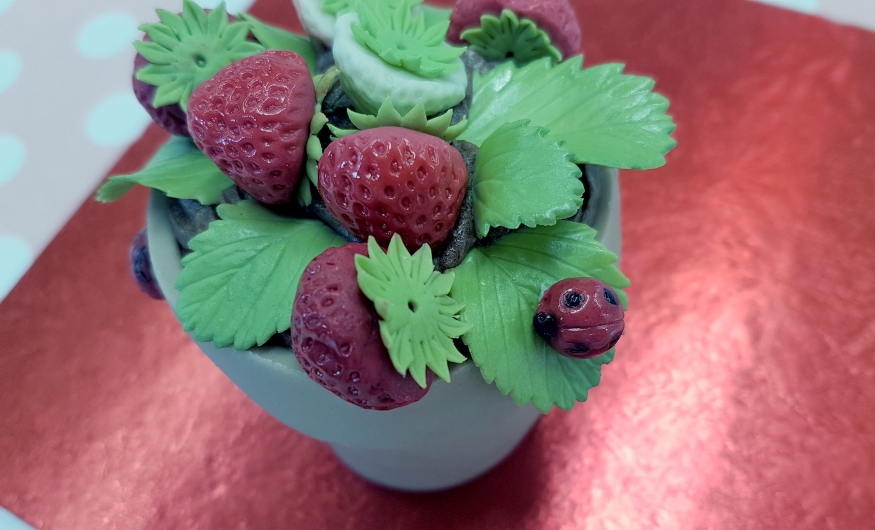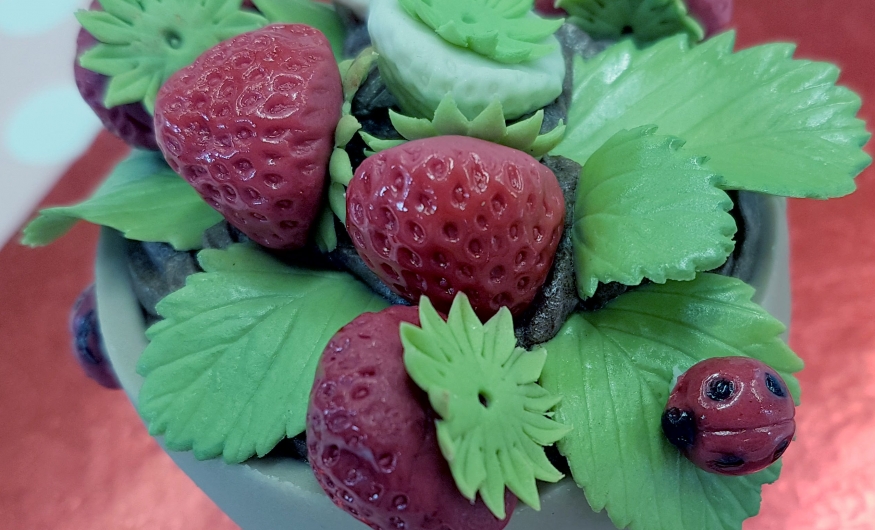 A delightful course packed full of new skills.
We will bake you a yummy Madeira cake. You will learn (under the guidance of Annabelle)
How to ice the cake to look like a flower pot. (Including top tips on how to use sugarpaste without cracks, lumps or bumps)
How to use the cupcake filling nozzle
How to use the grass piping nozzle to create 'compost'
How to make realistic strawberries from sugar
How to make leaves, including veining detail
How to make a ladybird (or you may prefer a bee) from sugar
How to make 'raindrops'
How to use dust colours to best effect and how to apply glaze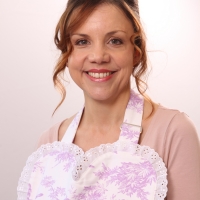 Annabelle
Annabelle
Director
Annabelle established Confection Perfection (now re-branded as Annabelle Jane Cake School) in 1996 from her kitchen table; bought her first retail premises in 2000 and is now settled in a delightful setting in Bearsted, just outside Maidstone. Annabelle has extensive cake decorating experience and is highly creative and artistic. Annabelle is an accredited tutor for the PME Diplomas in Sugar craft and also designs and delivers a wide range of other highly successful cake baking and decorating classes. Annabelle has a huge vision for our Cake School and ensures that the strong reputation we have earned continues to grow lead by her consistently high standards.
Everything is included. You may like to bring an apron
Loved this course. What I expected and more. Wonderful tutor.
— Annie, 31st July 2020
Courses are fantastic. A relaxed atmosphere with friendly people learning new skills at a fun pace. Suitable for all abilities. Informative and knowledgeable tutor.
— Sharon Rochester, 31st July 2020
Thoroughly recommend, lovely way to spend a few hours learning something new in great company. Really thorough + patient tutor, clear, helpful hints + tips, friendly.
— Lee, 31st July 2020
Worth coming & learning new skills from professional tutors - excellent, very knowledgeable, friendly & created a relaxed atmosphere. Enjoyed every moment.
— Pauline Forder, 31st July 2020
A very enjoyable day - lots of fun & laughter whilst learning Tutor excellent as always.
— Julie Stoneman, 31st July 2020
Amazing. Learn so much. Friendly. Linda is amazing and made me Gluten free. Health & safety well considered.
— Debbie Gregory, 29th July 2020
An excellent course that helped me to build on skills I developed on previous courses at Annabelle's. Linda is a fun, patient tutor always willing to go over things again if asked to.
— Chris Huckle, 29th July 2020
Excellent instruction, good fun & feels safe. Linda is a very experienced tutor who makes every course real fun. Very knowledgeable, lots of tips & ideas. Course what I expected though cake smaller than expected.
— Jean Lennon, 29th July 2020
Very friendly and a great place to learn, fantastic tutors. 4th course attended and you allways go away with a smile on your face and a lot of new skills learnt.
— Brian Fulthorpe, 2nd June 2018
Friendly, fun + informative. Amazing tutor, answered questions + went at a good pace. Very fun, can't wait to make these at home!
— Vicci Farrow, 2nd June 2018
Excellent way to learn. What I expected + more. Linda is a wonderful tutor - informative, patient and entertaining.
— Jacqui, 2nd June 2018
An enjoyable, informative morning with friendly, helpful tutors. Linda has a reassuring, friendly manner that helps build confidence. Shan is super helpful and Annabelle is a fountain of knowledge. All the ladies go over and above the help and answer any questions no matter how silly.
— Amy McLaughlin, 2nd June 2018
Lovely class for all levels Very friendly, helpful and patient tutor.
— Tracey Mahaffey, 2nd June 2018
I absolutely loved this class, everyone should know how to do a flower/fruit pot. They're so great.
— Delenda James, 23rd July 2017
Really enjoyed this & can't wait to come back. Great time & productive. Amazing tutor, really learnt something.
— Wendie Newman, 23rd July 2017
What I expected and more, it was perfect. Every course is individual but so informative. I've learnt so much from every one. Annabelle is so kind and helpful and so very knowledgeable.
— Diane Bradley, 23rd July 2017
Brilliant course. Annabelle is so good and explains the course in so much detail that she makes it so easy to replicate.. and so patient.
— Sue Butcher, 23rd July 2017
Great course thank you. First time I've come & did any kind of cake decorating. Made to feel welcome & not silly!!
— Angela Ashworth, 11th July 2017
Good courses, excellent & very patient tutor.
— Sally Price, 11th July 2017
Great course as always and love the tips & hints given that you don't find in books. Great evening out!
— Dawn Burr, 11th July 2017
Annabelle is delightfully bonkers and after a course you are ever so slightly more bonkers yourself. Which is brilliant! 5*s.
— Kerry Gregory, 11th July 2017
I love coming to learn new things. Great fun to enjoy learning a new hobby. Fabulous, amazing, encouraging, enthusiastic tutor and technique explained very well.
— Amy Simpson, 11th July 2017
Very friendly – great learning environment. Knowledgeable, helpful tutor and gives encouragement. A lovely enjoyable course.
— , 11th July 2017
Fun, friendly and all things made simple & possible.
— Sarah, 11th July 2017