Stack of presents, 2 Sundays Christmas course
Decorate 5 fruit cakes in different styles to create a stack of beautiful presents with mini gift box and a mini bag - a real centre piece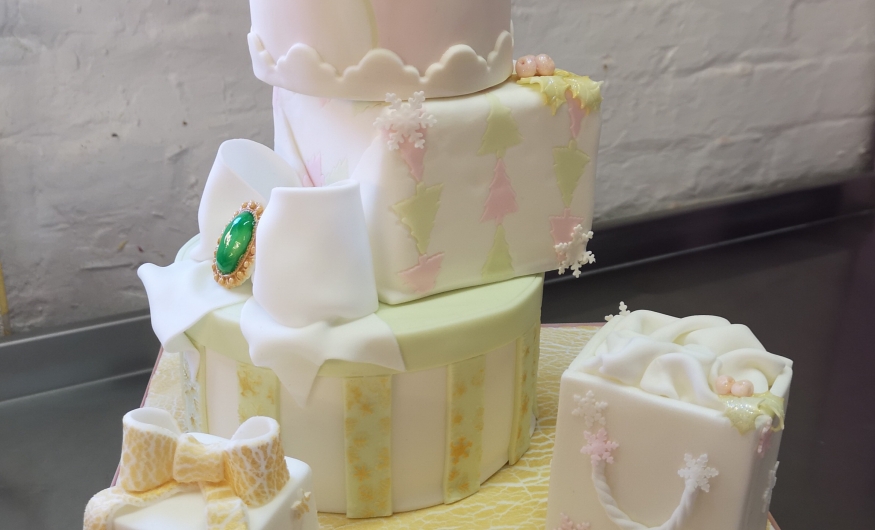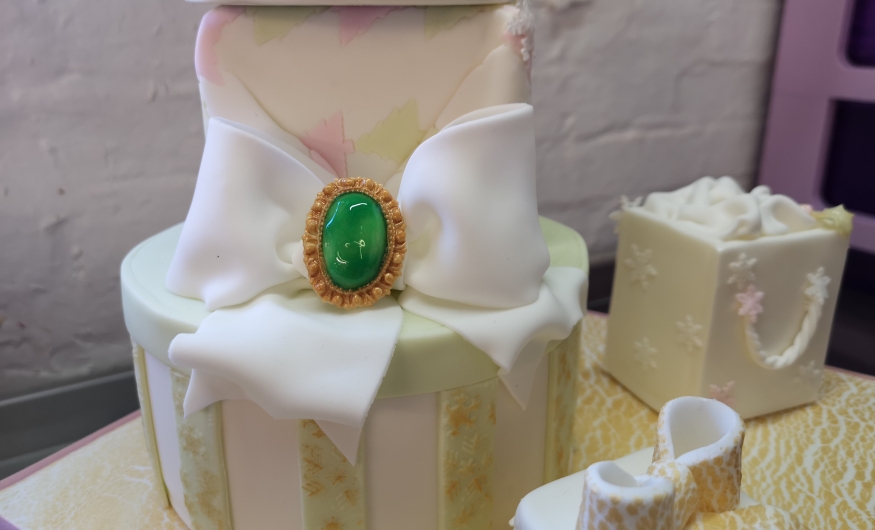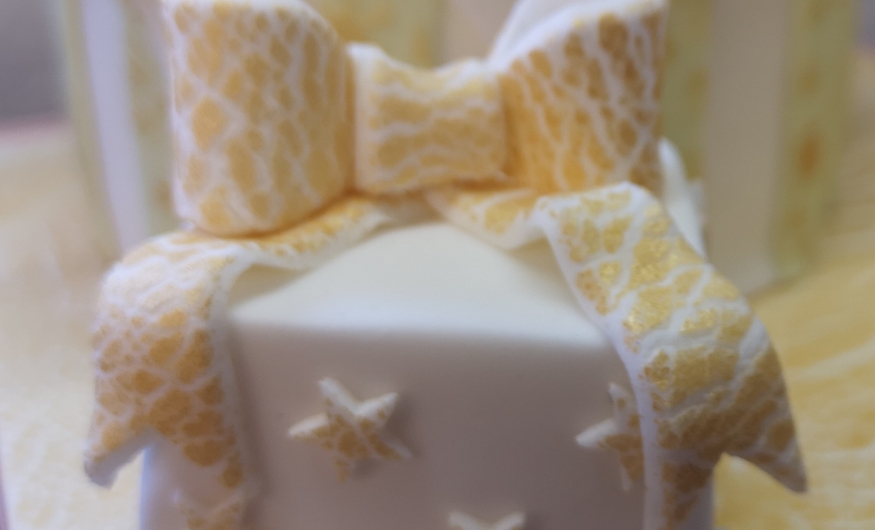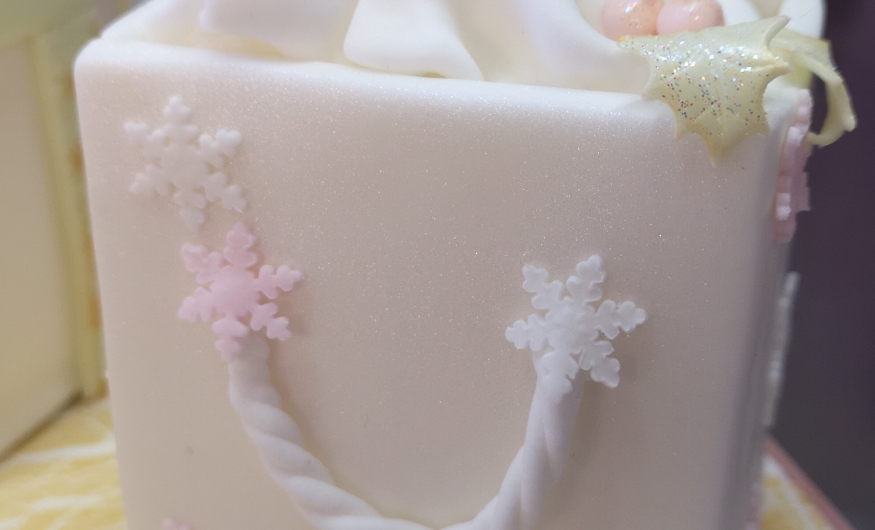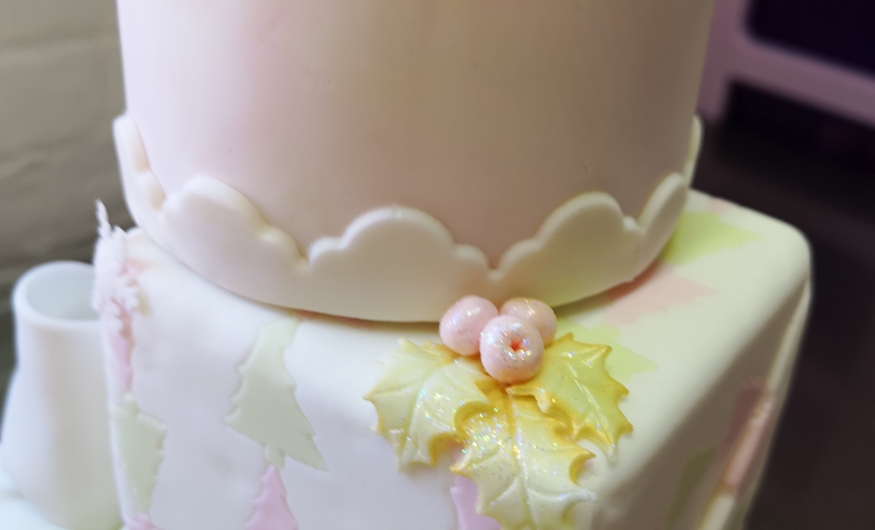 This fast paced course is jam- packed with techniques - be amazed at how much you learn and go home with a real show-stopper for your Christmas centrepiece.
Choose your preferred colour scheme - The display cake has been decorated using pastel shades with hints of gold. You may prefer more opulant rich reds, purples and golds or cooler white, silver and hints of blue or more traditional reds and greens.
Marzipan your cakes using both the all in one method and also the panel method.
Ice your cakes in sugarpaste using both the all in one method and also the panel method.
Create marbled paste
Create patterned paste
Stripes
Hat box technique
Textured paste
Gold crackle technique
3 different styles of bow
Curling ribbons
Jewelled brooch
Cutter techniques
How to use the sugar gun
How to create edible 'tissue' paper
Colouring techniques
Use of glaze and lustre sprays
How to stack cakes, the use of dowels and transportation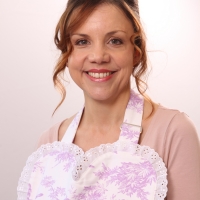 Annabelle
Annabelle
Director
Annabelle established Confection Perfection (now re-branded as Annabelle Jane Cake School) in 1996 from her kitchen table; bought her first retail premises in 2000 and is now settled in a delightful setting in Bearsted, just outside Maidstone. Annabelle has extensive cake decorating experience and is highly creative and artistic. Annabelle is an accredited tutor for the PME Diplomas in Sugar craft and also designs and delivers a wide range of other highly successful cake baking and decorating classes. Annabelle has a huge vision for our Cake School and ensures that the strong reputation we have earned continues to grow lead by her consistently high standards.
Everything is included - the 5 fruit cakes, marzipan, icing, boards, box, dowels, colours and use of equipment. Students also receive a comprehensive set of notes and a 10% on shop purchases (on items used on the course) for the duration of the course. We provide tea, coffee, drinking water and cake. You may like to bring lunch and an apron.
Loved it loved it. Learnt more again with what you can do with icing. Learnt so much.
— Sarah Jane Land, 11th December 2018
Another fantastic and enjoyable course. Such a friendly and welcoming atmosphere. Learnt lots of new and exciting techniques and have left feeling very inspired to go and practise new skills learnt. Annabelle was as brilliant as ever. She makes you feel very at ease and takes time to show you anything you are unsure of.
— Dan Boulton, 11th December 2018
Great course, wonderful tutor & great buddies. Also tea & cake are great!! It's fun to learn with like minded people. Excellent tutor - made the tricky seem do-able. Thank you, it was amazing.
— Sarah Morrison-Lane, 11th December 2018
Course even more than I expected. Amazing tutor, so friendly and approachable. Always happy to explain methods again. Amazing course, great group of people, lots of laughs and cake of course! Thank you.
— Laura Morford, 11th December 2018
Great courses, always fun and informative. As always, Annabelle has so much knowledge to share and always provides tea + cake and lots of fun. The cakes speak for themselves.
— Lucy, 11th December 2018
Course everything I expected and more. Annabelle is always informative and full of fun.
— Jane Lawrence, 11th December 2018
Amazing new techniques, love the different ways to make cake beautiful. Tutor amazing. Couldn't have asked for more. Clear instructions and easy to follow. Thank you for being so helpful with the Gluten free and being so accommodating.
— , 11th December 2018
Fab atmosphere, excellent tuition. Best way to spend 2hrs a week in the build up to Xmas. Thank you!
— Katie Robinson, 11th December 2018
Annabelle, as usual, was superb. Course was what I expected and more.
— Delenda James, 11th December 2018
Excellent & very patient tutor! Course much more than expected.
— Janet Owen, 11th December 2018