6 week Professional Wedding Cake Course
Over six evenings, learn how to create a contemporary style 3 tier stacked wedding cake - decorated with piped dots and beading and edible ribbons.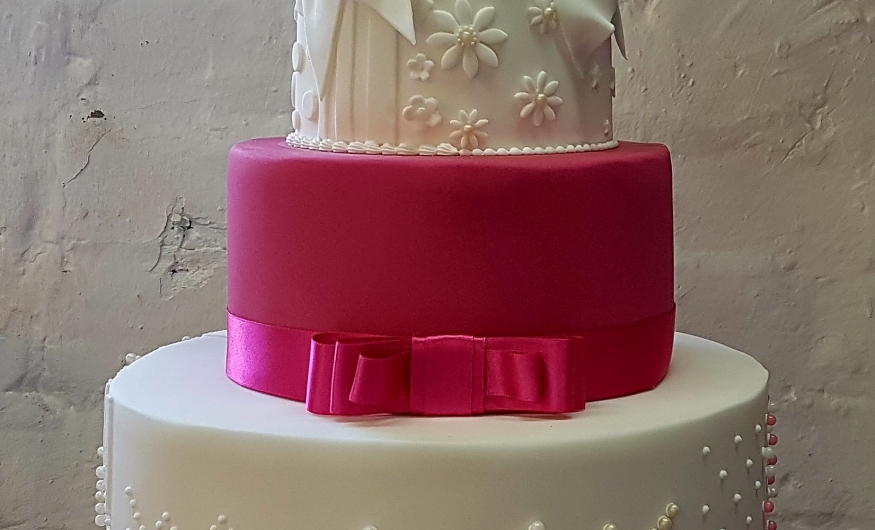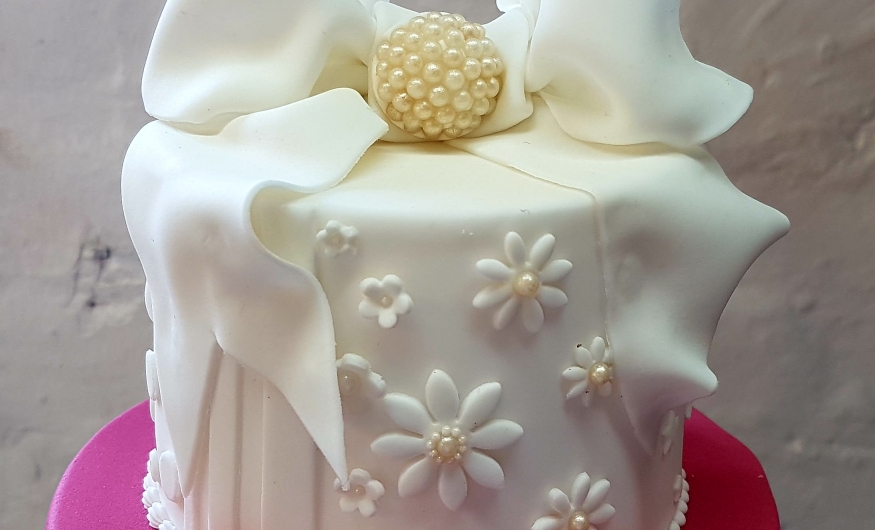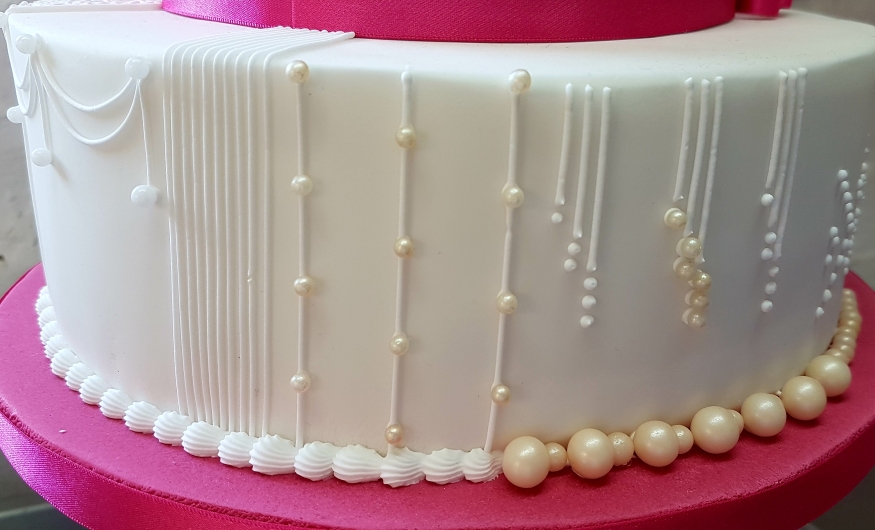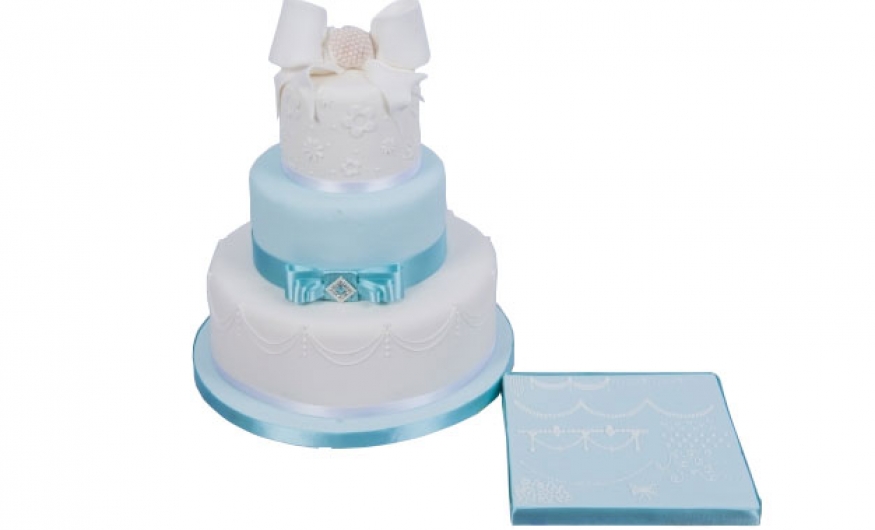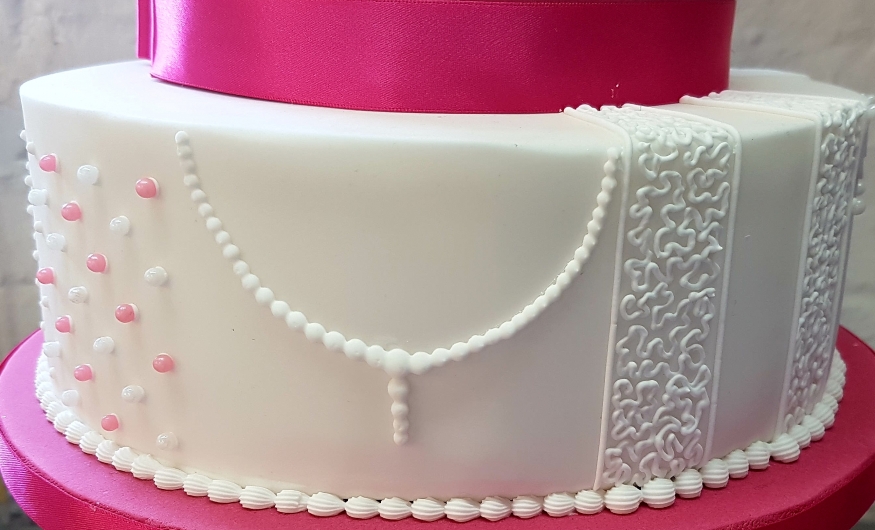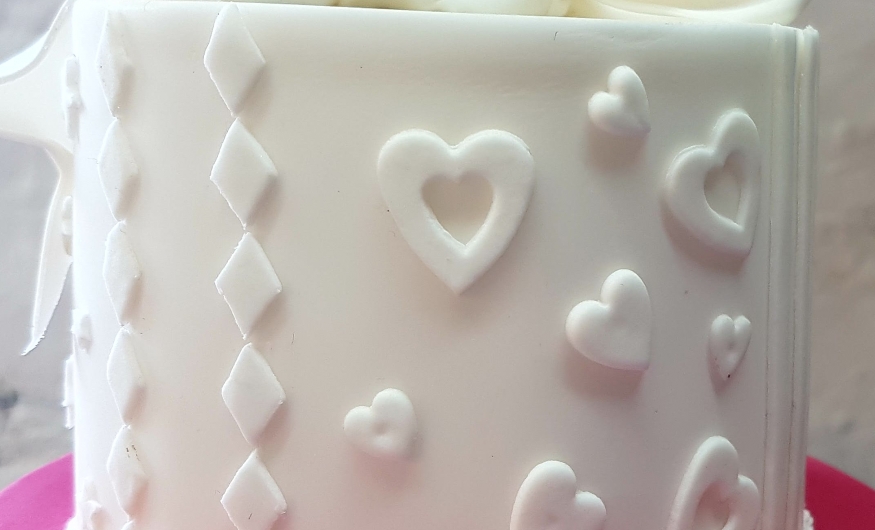 Over six evenings you will learn how to create a contemporary style 3 tier stacked wedding cake, decorated with piped dots and beading, cut outs, edible ribbons and pearl centred bows.
You'll learn how to professionally marzipan and ice your cakes to give a professionally smooth finish and then seamlessly stack them, with a technique that works for up to 5 tiers. The skills you'll learn over the six weeks can be adapted to create many different styles and effects and we'll share our insider secrets, learnt over years as professional cake decorators, that can help you create unique, professional looking, show stopping cakes.
A great course if you are embarking on your first ever wedding cake, have taken our back to basics course and want to develop your skills or are an experienced cake decorator wanting to learn a contemporary style of cake decorating.
We will supply everything you need including a rich fruit cake, a maderia cake and a dummy cake, all you need to bring is an apron!
How to ice a cake board
How to professionally cover a fruit cake with marzipan and sugar paste icing
How to split, fill and crumb coat a madeira cake
How to professionally ice a madeira cake with sugar paste
How to professionally ice a dummy cake with sugar paste
How to use smoothers to best effect
Tutorial – how to use colour to best effect
Tutorial – how to make royal icing
Piping – line work, dots and bulbs, pearl beading, scrolls
How to design piped side designs
How to correctly space piped designs
How to attach ribbon to a cake board
How to attach ribbon to a celebration cake
How to create a multi layered ribbon bow
How to use diamante buckles and brooches within cake design
How to make a bow from icing
Pearl centred bows
How to stack cakes together using dowels
Each week we will discuss an essential element when planning and creating wedding cakes (or other multi tiered cake designs including your skill level, length of time available, type of cake – fruit, sponge etc/ covering , size of cakes & how many tiers – part design/ part portions – cutting cake(s), shape of cakes, design, display options, decoration ideas, colour schemes, storage & transportation of your cake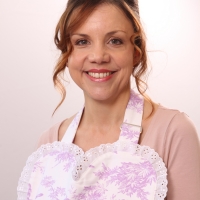 Annabelle
Annabelle
Director
Annabelle established Confection Perfection (now re-branded as Annabelle Jane Cake School) in 1996 from her kitchen table; bought her first retail premises in 2000 and is now settled in a delightful setting in Bearsted, just outside Maidstone. Annabelle has extensive cake decorating experience and is highly creative and artistic. Annabelle is an accredited tutor for the PME Diplomas in Sugar craft and also designs and delivers a wide range of other highly successful cake baking and decorating classes. Annabelle has a huge vision for our Cake School and ensures that the strong reputation we have earned continues to grow lead by her consistently high standards.
The course price includes everything you need to decorate your cake and even the box and cake bag to take it home. We will provide a fruit cake, a madeira cake, cake fillings, a dummy cake, all of the materials, all sugarcraft tools, equipment and refreshments. Course attendees will also receive a full set of course notes and a discount sheet which gives exclusive discounts on the items used during the course purchased in the cake decorating supplies shop for the duration of your course.
What's the skill level?

We suggest you have had some experience of working with sugar paste, our Back to Basics and Introduction to cake baking and decorating are ideal

Are there any age restrictions?

What are the course times?

This course consists of six two hour lessons 7.30 – 9.30pm

What do I need to bring?

You need to bring an apron (or we have disposable aprons 50p each). Optional – you may like a diamante buckle or brooch to accessorise your cake.
Fun, creative. A must do course. So pleased with my cake. So many tips and skills learnt,.
— Karen Williams, 2nd April 2019
I absolutely enjoyed the course. It was brilliant. Annabelle was fantastic and awesome.
— Marian, 2nd April 2019
So enjoyable cake heaven. More than I expected. Fantastic tutor.
— Sharon Henderson, 2nd April 2019
Brilliant, fantastic tutor. Beautifully explained.
— Sheila Cheeseman, 2nd April 2019
Very informative on how to make a wedding cake and put it together. Very good tutor.
— Paula Whitthread, 2nd April 2019
The 6 week wedding course is well worth the money. There are so many tips and ideas I can use in other cakes. Very informative. Linda extremely good!!! So funny and helps when it goes wrong! Good ideas and answers all questions. Just wanted more time but fab time. Thank you.
— Diane Hall, 16th October 2018
A fantastic course. The tutor was very informative, patient, friendly and helpful and passed on lots of tips. The course has given me confidence and the ability to have a go at another wedding cake. Fantastic, thank you.
— Chris Harris, 16th October 2018
Linda was excellent. The course was detailed. Would have liked more time. Hope to be back soon.
— Adebola Adegoke, 16th October 2018
This is an excellent course to do having done the back to basics course. Learn so many skills & always lots of fun. Excellent tutor, so helpful, thank you Linda.
— Natasha Turnbull, 16th October 2018
Lynda was excellent. Was good in her delivery of the course & was able to give us individual attention. Thank you to Lynda for all her patience & support to achieve my goal.
— Maureen Gopaul, 16th October 2018
Excellent course with a great tutor - absolutely excellent, so patient and knowledgeable. I have loved this course.
— Janet Owen, 22nd May 2018
The course was very helpful. Learnt a lot. Loved the 6 weeks. Very fun, and done at a good pace. Tutor is very nice and helpful, calm and friendly Talt me a lot of new skills. Grate 6 weeks.
— Lee Drury, 22nd May 2018
I decided to do this course to help build on my knowledge. I have learnt a lot of skills and it has boosted my confidence with my cake making. I will be back. LOVE IT!
— Hannah Beaumont, 22nd May 2018
So helpful, lovely people, good price. Excellent knowledge. You learn so much more than what was advertised. Met some lovely people & I learnt so much. Thank you!
— Elley Bunting, 22nd May 2018
Friendly atomosphere & learnt as much.
— Kuhapperiya Ranjithkumar, 22nd May 2018
The course was great, had such fun and am filled with inspiration and confidence for my daughters wedding cake, thank you so much!!
— Judith, 15th February 2018
Annabelle is a fantastic tutor, and always there to help. Learnt so much! Having never made a cake before, I've been able to create a 3 tier wedding cake which I never thought I'd be able to do!
— Emily Cullis, 23rd May 2017
So friendly + welcoming + helpful. Amazing tutor! The course was what I expected, and more…. I'm in love with my cake!
— Claire Adams, 23rd May 2017
I have learnt SO much & enjoyed meeting the other cake lovers. Brilliant teacher & lovely friendly person – all the lessons were great fun. It's great to learn a new skill, with friendly people - & step outside your comfort zone… a great experience.
— Debbie Chambers, 23rd May 2017
An excellent course. I found it challenging for me personally but it was so enjoyable Annabelle is a fantastic teacher and I am so excited to show everyone my cake.
— Rebecca, 23rd May 2017
Annabelle is an amazing, fun, bubbly lady who makes the courses very enjoyable. She's always happy to show you how to do things, no matter how many times. Me and my mum come to the courses as a way to enjoy time together.. it is our peace away from family to do something we enjoy.
— Sarah & Lyn, 23rd May 2017
The time went so quickly. I looked forward to every 1 of the 6 weeks and sad it is over. I thoroughly enjoyed it.
— Elaine, 23rd May 2017
An excellent course, with a fabulous tutor. Totally enjoyed my 6 weeks me time, with lovely classmates and amazingly helpful & experienced tutor.
— Lauren Marwood, 23rd May 2017
Such a wonderful course. So much content and I feel confident making my own now. Annabelle is such a wonderful teacher + always has time to answer all the questions we have.
— Claire Mepsted, 23rd May 2017
What a fantastic course – so informative, v. well explained. Annabelle was so encouraging, fun, informative and helpful.
— Anna Gibbs, 23rd May 2017
An fantastic course. So many new techniques learnt, which are not confined to wedding cakes. The course tutor, Annabelle, has such a good delivery technique that individuals cannot fail to learn. The course is the best I've done to date and is excellent value for money.
— Peter Atkins, 14th September 2015
Lovely and friendly welcome. There was so much to learn - was very good. Amazing!
— Nikki, 14th September 2015
Friendly and informative staff. The tutor answered all my questions and was friendly and helpful.
— Simon Jung, 6th May 2015
Warm and friendly welcome. Fun as always!
— Happy student, 6th May 2015
Fantastic!
— Lisa Cribbens, 6th May 2015
My tutor was fab - a font of all knowledge. I have learnt all I expected and much more.
— Jane Lawrence, 25th February 2015
Fabulous tutor. Learnt so many little facts.
— Louise Montgomery, 25th February 2015
Fantastic! Very friendly welcome. My tutor was very knowledgeable and friendly.
— Emma Bowler, 25th February 2015
Very welcoming. Excellent tutor.
— Vicky Brown, 25th February 2015
So many tips and a friendly and informative class.Very approachable and knowledgeable tutors
— Jessica Malpas, 12th January 2015
So friendly, really helpful and lots of fun too!
— Happy student, 12th January 2015
Lovely atmosphere and made to feel very welcome. Explained everything. Very concise, clear and helpful
— Happy student, 12th January 2015
Great place to learn. Brilliant tutor. Looking forward to next one!
— Emma Chandler, 12th January 2015
Annabelle did a lovely job of teaching the course, made it very enjoyable and interesting. Excellent!
— Judy Homewood, 12th January 2015
I learned so much. My tutor was encouraging and patient and just knows how to pace the lesson giving all the support needed. - beyond excellent!
— Barbara, 11th April 2014
Mt tutor was excellent and very patient – very encouraging! Excellent course – I am so proud of my creation!
— Sarah, 11th April 2014
Thank you – my tutor was excellent!
— Meera, 11th April 2014
Fantastic course – Can't wait till the next one!
— Ricci, 11th April 2014