Piped Cupcake Posy (mini, 3-cupcake bouquet)
Pipe 3 different styles of flower in buttercream, leaves and gyp; then assemble a baby cupcake posy. Social Distancing & safety measures in place.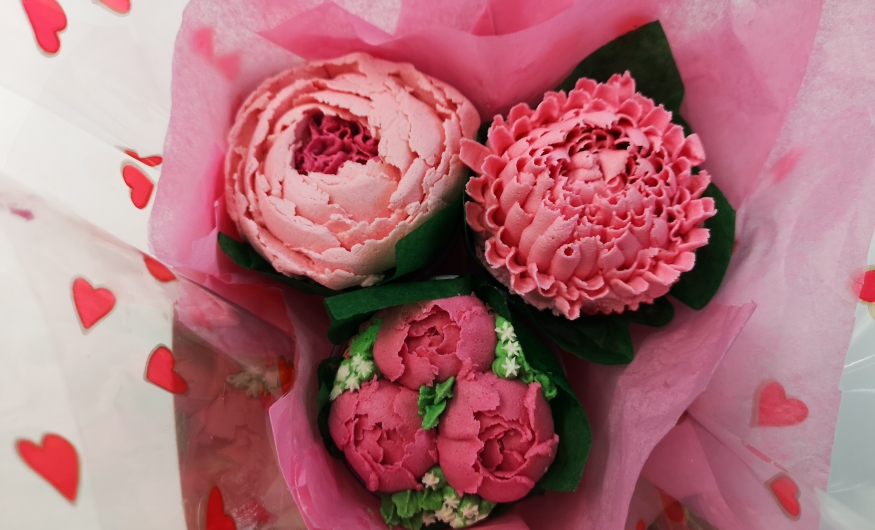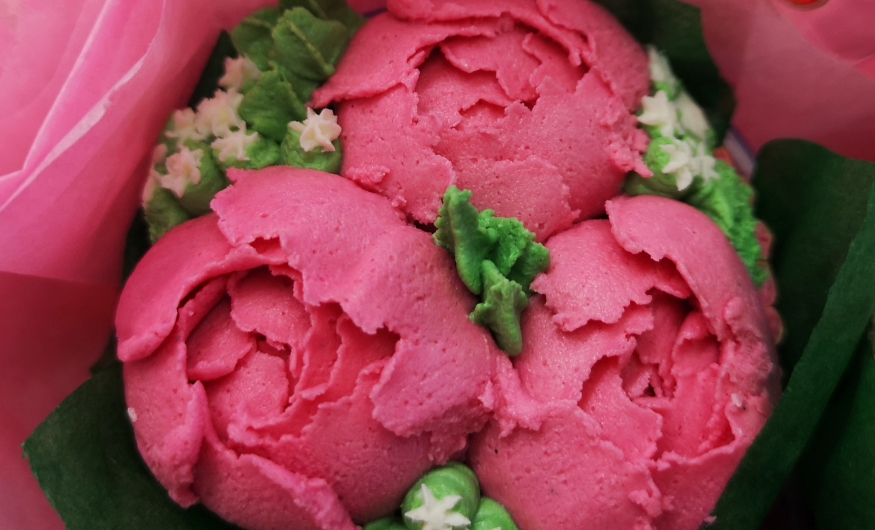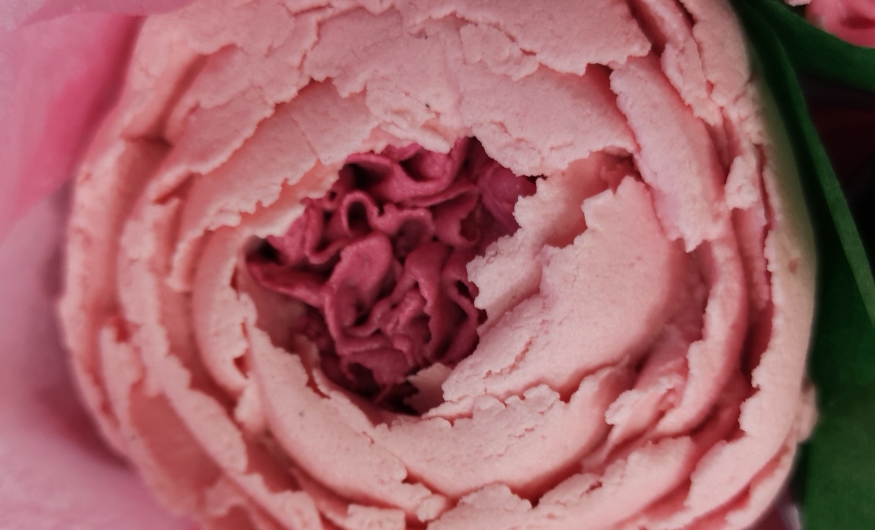 We will bake 3 cupcakes for you and provide buttercream. Under the guidance of our expert tutors you will learn to pipe different individual petal style flowers in buttercream. You will learn how to assemble your cupcake posy and gift wrap it with cellophane.
Tutorial - all about buttercream - how to make it, achieving the right consistency, storage and colouring techniques
How to filling a piping bag
How to use an adapter
How to pipe a chrysanthemum ball
How to pipe a peony buds
How to pipe gypsophila
How to pipe leaves
how to pipe a closed David Austen rose
How to create a mini 3 cupcake posy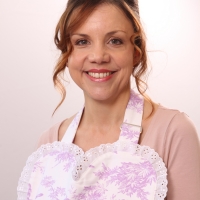 Annabelle
Annabelle
Director
Annabelle established Confection Perfection (now re-branded as Annabelle Jane Cake School) in 1996 from her kitchen table; bought her first retail premises in 2000 and is now settled in a delightful setting in Bearsted, just outside Maidstone. Annabelle has extensive cake decorating experience and is highly creative and artistic. Annabelle is an accredited tutor for the PME Diplomas in Sugar craft and also designs and delivers a wide range of other highly successful cake baking and decorating classes. Annabelle has a huge vision for our Cake School and ensures that the strong reputation we have earned continues to grow lead by her consistently high standards.
Everything provided including the cupcakes, all icings and a box. Course attendees will also receive comprehensive course notes and 10% discount on items purchased in the cake decorating supplies shop on the day of your course.
For anybody that is undecided, go for it. It's fab! Relaxed friendly classroom. Very good tutor, clear & helpful. Very knowledgeable + learning fun.
— Sharon Rochester, 8th August 2020
All perfect. Tutor wonderful as always.
— Julia Smith, 8th August 2020
So very enjoyable - knowledgeable tutor - great time! Tutor answered any questions and really great explanations. Health & safety considered - very well done. Thank you very much!
— Alice Sheppard, 8th August 2020
Friendly & fun day. Very likely to come back.
— Charlie Wilson, 8th August 2020
Friendly, informative & fun. Lots of new skills. First course with Linda - fantastic - steady pace in the heat. It was great.
— Elaine Painter, 8th August 2020
Excellent course - I learnt loads! Lovely evening:) Such a lovely place & always so much fun.
— Natalie Deacon, 24th June 2020
Very good, informative, friendly & supportive tutor.
— Pamela Nkune, 24th June 2020
Lovely people. Tutor very helpful and friendly. Explained every-thing clearly. It was a great experience.
— Alice, 24th June 2020
Friendly supported group. Excellent tutor. Linda always informative. Friendly. Smiley. Health & safety measures definately successful, considered & reassuring.
— Sue, 24th June 2020
Excellent course & tutors! Brilliant system for social distancing! Very pleased we were all safe, well done to you all!
— Nicola Paine, 24th June 2020
More than expected. Just fantastic!
— Chrissy Dove, 9th July 2019
More than I expected really loved it! Very enjoyable and easy to follow. Lovely tutor very clear in her instructions.
— Kate Boulton, 9th July 2019
Such a fun, informative and helpful course. More informative than I expected. Very good tutor. Thank you.
— Tina, 9th July 2019
Course what I expected and more. Tutor very kind, knowledgeable, and helpful tips.
— Jo Craic, 9th July 2019
Good fun & now want to try at home. Tutor very helpful, knowledgeable, friendly, Lovely delivery, made it an accessible technique.
— Elizabeth Turner, 9th July 2019
Excellent course, very happy with everything I learnt.
— Lindsay Walker, 27th June 2019
As a beginner, I found it a bit fast paced but Linda was excellent and very patient. Definitely going to come back.
— , 27th June 2019
The course was so fun & informative - another new skill set. Excellent tutor - very knowledgeable & had handy tips. Already booked the next course.
— Marie, 27th June 2019
A great experience and lots of fun too! As always a fun and interesting course, lots to learn - Linda was excellent. So friendly, helpful and knowledgeable. Very patient too. I love Cake School!
— Diane Bradley, 27th June 2019
Brilliant course. Perfect. Linda was brilliant so patient & calm even on a hot day.
— Sue Butcher, 27th June 2019
Courses are always fun & very relaxed, timed well, value for money and it is great to learn new skills.
— Hayley Morgan, 24th May 2019
This is an excellent course and finished result would make a wonderful gift for someone. Would definitely come again. Annabelle is a super teacher.
— Chris Vaughan, 24th May 2019
Thank you as always for an informative, enjoyable course. Learning lots of new skills, lovely group of cakey people, a great 2 hours.
— Michelle, 24th May 2019
Tutor very good - friendly, helpful + knowledgeable. Course was just right.
— Amy Mumford, 24th May 2019
Better than I expected. My first time at class and really enjoyed myself. Tutor was lovely and very informative.
— Georgina Willson, 24th May 2019
Tutor excellent, course not rushed & explained very thoroughly.
— Karen Macleod, 24th May 2019
5 stars. Fab tutor.
— Vanessa, 24th May 2019
Fantastic results, excellent tuition - calm & friendly.
— Sam Joseph, 24th May 2019
Lovely morning, cannot wait to come back. Amazing tutor.
— Becky Sunley, 24th May 2019
Tutor was excellent. Very calm and clear at explaining. Thoroughly enjoyed the course - will definitely be back for more. I'd never really piped a cake before so wasn't expecting to produce something that looked good!
— Emma Dobbs, 24th May 2019
Fantastic course. Amazing how the techniques pull together to produce flowers. Excellent tutor, super helpful and patient.
— Jackie Frost, 24th May 2019
Great way to spend an evening. Good fun, very knowledgeable tutor. Wonderful.
— Deborah Bruce, 24th May 2019
Fun, relaxed, enjoyable session & a lovely creation to take home. Very friendly & helpful tutor.
— Beth, 24th May 2019
Absolutely amazing. Even I could do it. Brilliant tutor.
— Linda Wright, 24th May 2019
Wonderful experience - equally challenging and supportive. Thanks!
— Barbara Donahue, 24th May 2019
Brilliant course, I learned a lot in 2 hours! Brilliant tutor.
— Laurie Neale, 24th May 2019
Brilliant course. Really pleased with my results. Tutor excellent - very friendly and answered all our questions patiently.
— Tracey, 24th May 2019
I'd recommend. Very lovely tutor.
— Sally, 24th May 2019
Very enjoyable and rewarding and good fun relaxed approach. Tutor very informative and explained in easy to follow instructions.
— Lindsey Seddon, 24th May 2019
Such fun. Excellent, patient tutor!
— Justine Wills, 24th May 2019