Piped Cactus cupcakes
Master a range of buttercream piping techniques to create these charming 'on-trend' cactus cupcakes. Social Distancing & safety measures in place.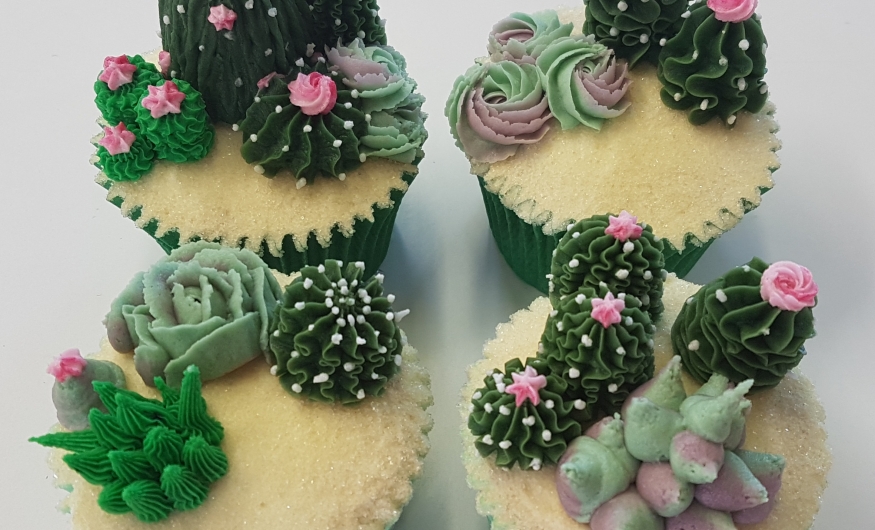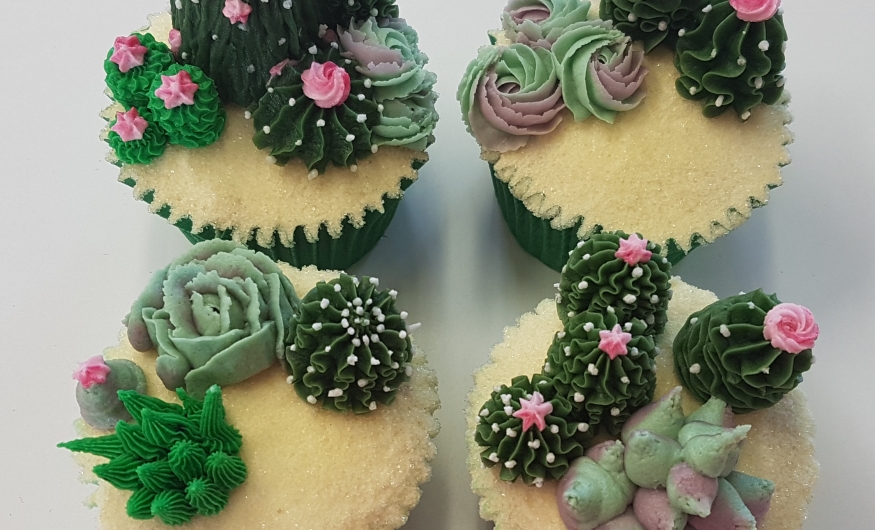 If you want to master a range of buttercream piping techniques then this is the course for you.
We will bake you four scrummy cupcakes. Over the 2-hour workshop you will learn how to flat ice your cupcakes in buttercream and create 'sand'. Moving on you will use a range of piping nozzles to create different cactus and succulent designs. This is a delightful work shop which covers many new skills and even better, you take four delicious (and very cute) cupcakes home with you!
Tutorial – all about piping mediums. Buttercream versus frosting, what they are, advantages/ disadvantages and how to choose
Tutorial - how to fill a piping bag
Tutorial - how to use an adapter and the key benefits
Tutorial - how to create two tone piping
How to flat ice a cupcake in buttercream and then create edible 'sand'
Using a wide selection of different nozzles learn an array of piping skills
Pipe a range of cactus and succulent designs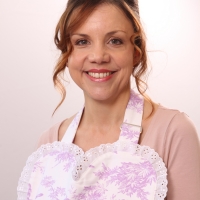 Annabelle
Annabelle
Director
Annabelle established Confection Perfection (now re-branded as Annabelle Jane Cake School) in 1996 from her kitchen table; bought her first retail premises in 2000 and is now settled in a delightful setting in Bearsted, just outside Maidstone. Annabelle has extensive cake decorating experience and is highly creative and artistic. Annabelle is an accredited tutor for the PME Diplomas in Sugar craft and also designs and delivers a wide range of other highly successful cake baking and decorating classes. Annabelle has a huge vision for our Cake School and ensures that the strong reputation we have earned continues to grow lead by her consistently high standards.
Everything is included - the cupcakes, icings and use of equipment. A box is provided for you to transport your cupcakes home. Students receive a set of course notes. Students also receive a 10% discount on shop purchases on items used on the course.
We provide tea/ coffee/ drinking water and cake.
You may like to bring an apron
The courses are so much fun & the tutors are fabulous. This course better than I expected and tutor excellent.
— Zelda Heath, 20th June 2020
Fantastic course, informative & good fun. Excellent, informative, friendly, helpful & fun tutor.
— Lauren Brender, 20th June 2020
It was fun. Tutor was good.
— , 20th June 2020
Brilliant fun course - watch your cactus grow. Every bit what I expected and excellent as it is. Excellent tutor
— Jane Brender, 20th June 2020
Very interesting course - different techniques learnt. Incredible teaching and confidence boosting. Linda is amazing - she is so aware of what is going on. Brilliant.
— Dorothy Nicholson, 7th August 2019
A fun course with lots of different techniques to learn. Linda was excellent. She explained everything clearly and was friendly and encouraging throughout. A great, fun learning experience.
— Diane Bradley, 7th August 2019
Absolutely loved this class, one of the best I've attended! Fabulous class.
— Debbie, 21st August 2018
The course was great and people that attended friendly.. Very accommodating for my daughter's mobility needs. Fantastic tutor - very professional & lovely. Thank you.
— Taylor Scott, 21st August 2018
Lovely atmosphere. Linda was patient & very helpful. Showed us everything at a good pace.
— Dawn Burr, 21st August 2018
Good fun + informative. Excellent tutor, lots of additional info. For complete beginners it would be good to demo how to make/colour the icing, but I appreciate this takes longer. Even though I don't get much time to practice at home I love these courses!
— Michelle Neep, 21st August 2018
Very interesting and enjoyable. Tutor was very good, friendly, explained process really well. Very enjoyable and fun. Very relaxed evening.
— Jenny, 21st August 2018
A perfect course. Just enough content to produce delightful cupcakes. So pleased I came. Linda is so good.
— Thelma Olymbiou, 21st August 2018
Would recommend as such good fun. Excellent tutor. Absolutely love these mini courses. You learn so much. LOVE IT.
— Delenda James, 21st August 2018
Friendly. Professional. Very educational and fun.
— Hilary Newcomb, 21st August 2018
Much more what I expected. Very good tutor.
— , 21st August 2018
Very enjoyable, well explained and easy to follow.
— Anna, 21st August 2018