Peonies
These beautiful flowers are a real head turner – they are showy and very 'in vogue'. Learn to make these gorgeous wired flowers step by step. Social distancing & safety measures in place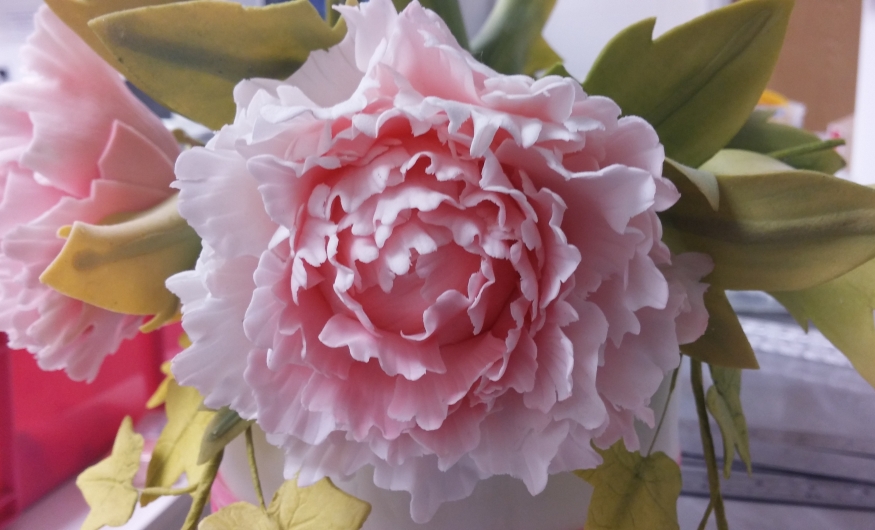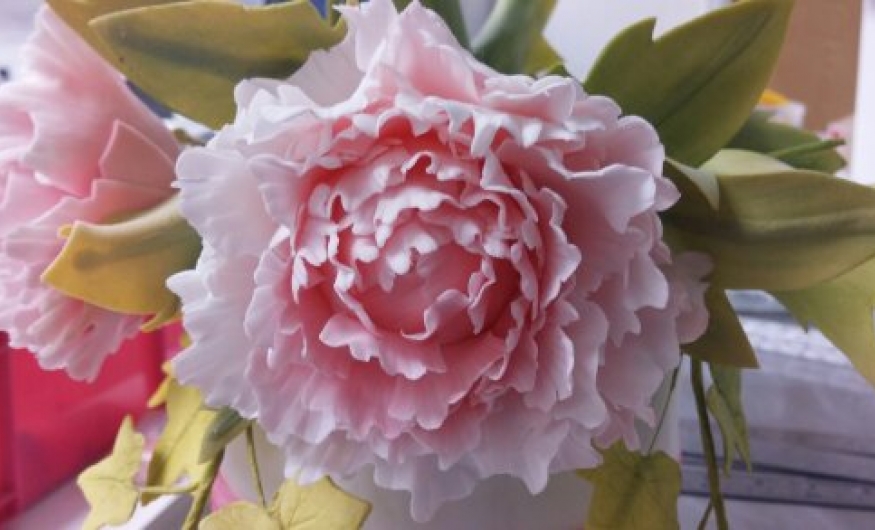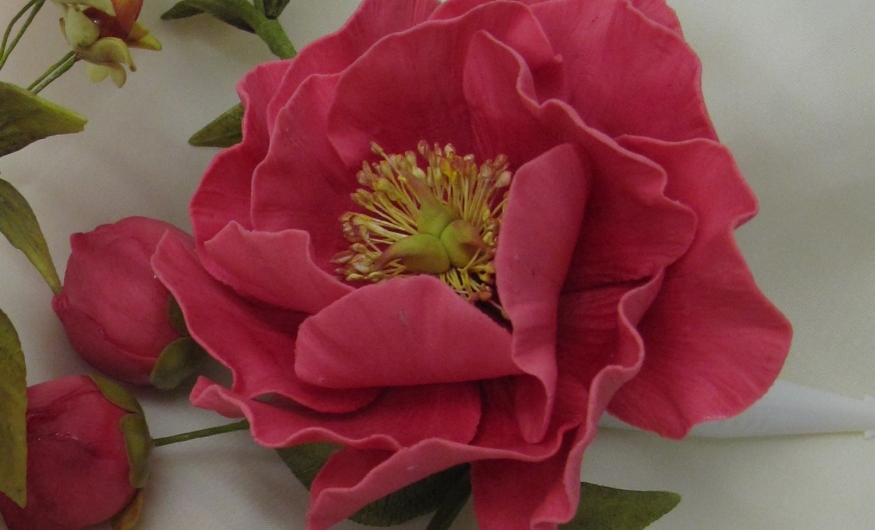 These beautiful flowers are a real head turner – they are showy….
If you want to wow, amaze and astound – these are the flowers to do it. Peonies are in the midst of a real comeback and they now one of the most popular wedding flowers. Although these flowers are a bit more tricky than some others to make we will show you step by step.
How to create realistic flower centres
How to create individually wired petals
How to assemble and create a peony flower
How to add dust colour to enhance your flower
How to use a steamer to set the colour
How to create peony buds
Storage & transportation of your flowers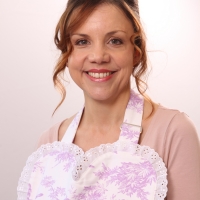 Annabelle
Annabelle
Director
Annabelle established Confection Perfection (now re-branded as Annabelle Jane Cake School) in 1996 from her kitchen table; bought her first retail premises in 2000 and is now settled in a delightful setting in Bearsted, just outside Maidstone. Annabelle has extensive cake decorating experience and is highly creative and artistic. Annabelle is an accredited tutor for the PME Diplomas in Sugar craft and also designs and delivers a wide range of other highly successful cake baking and decorating classes. Annabelle has a huge vision for our Cake School and ensures that the strong reputation we have earned continues to grow lead by her consistently high standards.
The course price includes everything you need to create your sugar flowers. We will provide all the materials, all sugarcraft tools, equipment and refreshments. Course attendees will also receive a full set of course notes and a 10% discount on items used during the course purchased in the cake decorating supplies shop on the day of your course.
What's the skill level?

We would suggest you have some experience of flower making as they are a bit trickier to make than some other flowers.

Are there any age restrictions?

What are the course times?

What do I need to bring?

We provide everything you need.
I couldn't recommend the course enough, we had a lovely afternoon. Amazing tutor. Really patient and knowledgeable. Friendly and easy to follow instruction.
— Heather, 17th August 2019
Tutors very patient & help you every step of the way. Whether you are a beginner or experienced Linda gives you the same amount of time. Excellent.
— Lynne Smith, 14th April 2019
The course caters for beginners & professionals alike. Being the former I felt extremely well looked after. Excellent tutor.
— Justine Wills, 14th April 2019
Thoroughly enjoyable & informative. Annabelle is always friendly and patient. She explains everything well and everyone produced an equally lovely peony, regardless of their experience.
— Elaine Katter, 19th May 2018
As always I really enjoyed my course with Annabelle. I have learnt loads.
— Emma Lovegrove, 19th May 2018
Wow, had an amazing time at the Peonie class today. I'm not a confident person but Annabelle has a magical way of making you at ease straight away. Everyone in the class did so well and the atmosphere was welcoming and friendly. Looking forward to attending many more.
— Sandra Wilkinson, 19th May 2018
Wonderful course, really informative, lots to learn. Fab tutor, really professional, friendly & helful + fun. I'll be back!
— Jayne, 17th June 2017
I'd recommend. Annabelle is very patient and gives great support & time. Had an amazing day.
— Sarah Land, 17th June 2017
A really lovely, relaxed day. I have made sugar flowers before but sill learned plenty. Nice company, really friendly Just what I have come to expect. Fully met my expectations. Annabelle was excellent as ever, hugely knowledgeable, answering questions & offering tips. Thank you so much!
— Margaret Hutchinson, 17th June 2017
Very patient tutor & informative - very knowledgeable, very helpful. Thoroughly enjoyed the peony course, would definitely recomment
— Tracey Martin, 17th June 2017
It was a brilliant day, the time went so quickly. Annabelle was brilliant & very patient.
— Sue Butcher, 17th June 2017
I'd recommend because of the friendliness & brilliant teaching. It was an amazing course and a stunning peony flower made.
— Stephanie Harris, 17th June 2017
Very informative. A good day. Learnt a lot.
— Linda Marmont, 17th June 2017
As always a lovely, detailied & informative course. Excellent tutor.
— Ann Thompson, 17th June 2017
I enjoyed the course: its contents were very detailed and the tutor is very thorough with her teaching methods - I like her teaching style, and she gives everyone individual tips, which is very much appreciated. More than what I expected. Excellent.
— Maureen GoPaul, 17th June 2017
Very good tutor & teaching. I'd like a bit more time for the last bit of the course. Annabelle's reply - the course time has now been extended
— , 17th June 2017
Would recommend as such a nice environment, so patient and learn loads!
— Kathryn Waller, 19th June 2015
Annabelle is an excellent tutor. she is very knowledgeable and extremely patient, full of helpful tips and expertise.
— D Chamberlain, 19th June 2015
Fabulous flowery morning!
— Fran, 19th June 2015
Brilliant!
— Sharon Marlow, 19th June 2015