One-day Professional Cake Decorating
This is the perfect course to learn how to achieve a smooth professional finish on your icing and on trend decorative techniques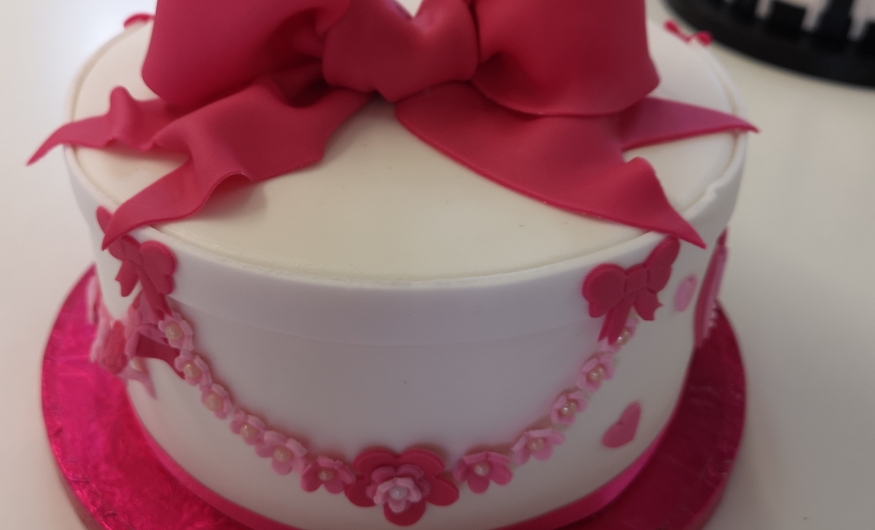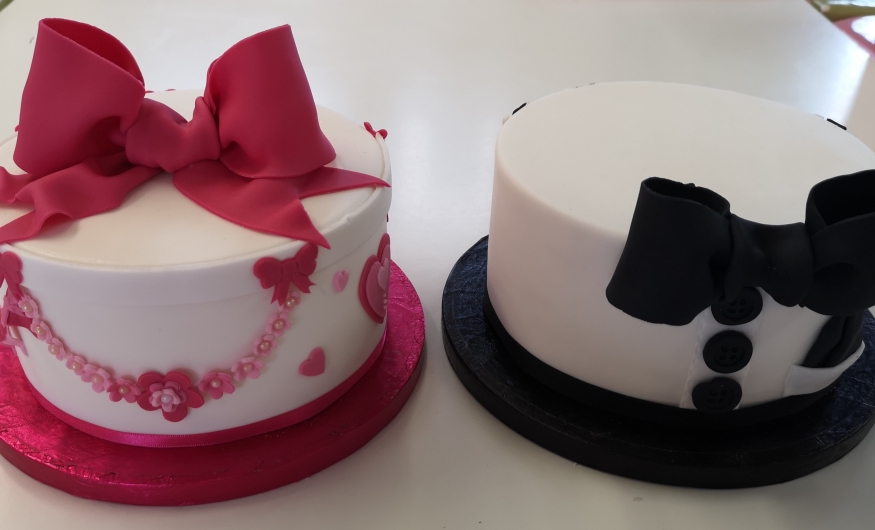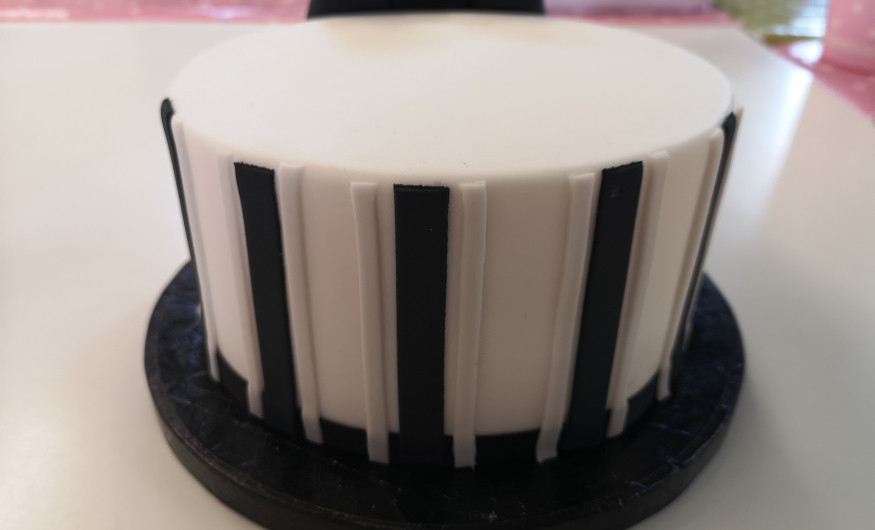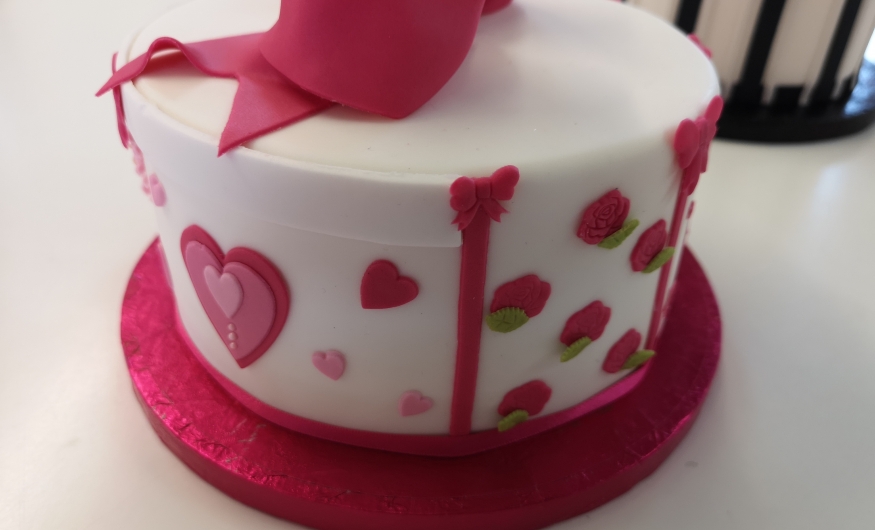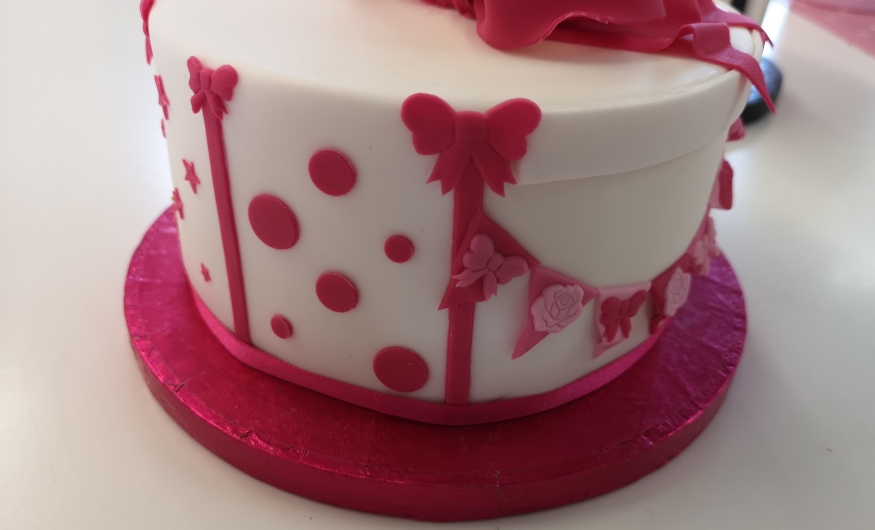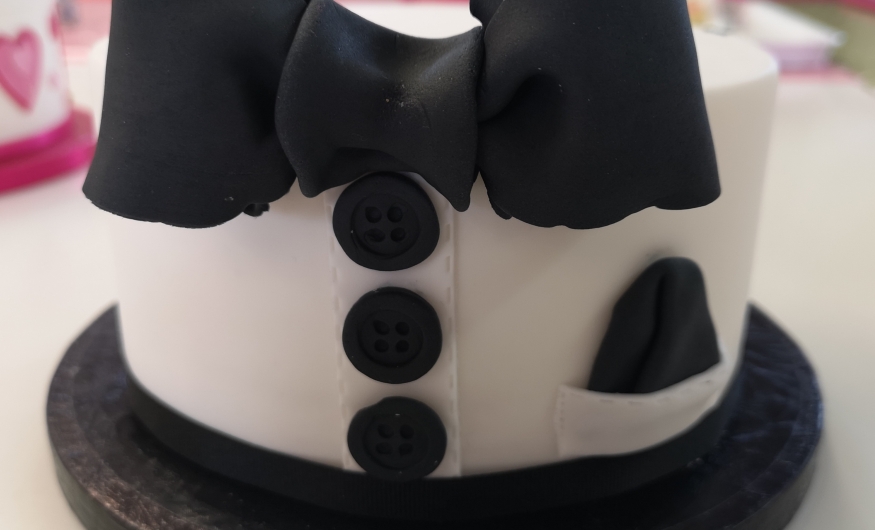 This is the perfect course to learn to achieve a smooth professional finish on your icing and on trend decorative techniques.
Learn how to split, fill and ice your cake to achieve a professional, smooth finish. Then you'll learn finishing touches including how to make the perfect bow. Choose your colour scheme and what style you would like - make a 'man' style shirt and bow tie or a flouncy bow with blossoms, hearts, stripes, polka dots or stars.
How to split and fill your cake with jam and buttercream
How to apply a crumb coat
How to professionally cover your cake with sugar paste icing
How to use smoothers to best effect to achieve a sharp edge to your cake
Crimping
Tutorial – how to use colour to best effect
Tutorial - different types of icing and their best uses
How to create a range of decorative techniques (you can then choose how you'd like to decorate your cake)
How to attach ribbon to a celebration cake
How to create an edible bow
Storage & transportation of your cake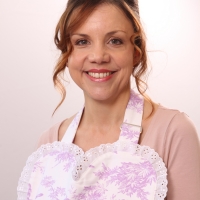 Annabelle
Annabelle
Director
Annabelle established Confection Perfection (now re-branded as Annabelle Jane Cake School) in 1996 from her kitchen table; bought her first retail premises in 2000 and is now settled in a delightful setting in Bearsted, just outside Maidstone. Annabelle has extensive cake decorating experience and is highly creative and artistic. Annabelle is an accredited tutor for the PME Diplomas in Sugar craft and also designs and delivers a wide range of other highly successful cake baking and decorating classes. Annabelle has a huge vision for our Cake School and ensures that the strong reputation we have earned continues to grow lead by her consistently high standards.
Everything provided including a Madeira cake, all icings, board and box. Course attendees will also receive comprehensive course notes and 10% discount on items purchased in the cake decorating supplies shop on the day of your course.
What's the skill level?

Any level, beginners and upwards

Are there any age restrictions?

What are the course times?

This course is a day long course starting at 10.30am and finishing by around 3:30pm.

What do I need to bring?

An apron if you have one. You will need to bring a packed lunch or alternatively you can walk to the local deli.
A really great introduction to decorating and a proffessional approach. A really useful and proffessional course. Very helpful and supportive tutor. A truely inspirational day! Thank you.
— Helen Matthews, 12th January 2019
A good atmosphere for complete beginners such as myself, when it comes to decorating and a huge variety of techniques learnt. Annabelle was fantastic and patient with me. Really friendly, knowledgeable and willing to go beyond what was planned in the course.
— Jonathan Gardner, 12th January 2019
Great fun! Easy to follow. Very professional. Much more than expected! I feel so enthused now to go home and bake more. I didn't know that I was capable of decorating a cake like this!
— Theresa Stanton, 12th January 2019
if you are new to baking or want some top tips - this course is packed with it all. The course is a great pace but packed with knowledge and good tips. Thank you.
— Elaine Painter, 12th January 2019
I would recommend. Annabelle is so good & so friendly + helpful. Amazing encouraging teacher.
— Mary Bigwood, 12th January 2019
Very detailed and worth the money. Full of information, lots of equipment and different things to use. Loads of choices to choose from when decorating. Tutor is very helpful and always there to help when needed, both members of staff friendly. All questions were answered in full detail.
— Sadie Cleaver, 12th January 2019
Very friendly, helpful and encourageing even if you think yours is no good and to help to improve what you have done. Brilliant.
— , 12th January 2019
Very informative. Amazing tutor as always. All perfect.
— Natasha Gray, 12th January 2019
I really didn't want my day to end. Very good tutor. Such a good day.
— Justine Wills, 12th January 2019
A really lovely day out and you can learn useful techniques too. Very good, helpful tutor, full on all day.
— Veronica Edward, 9th January 2019
Had a lovely day - nice surroundings, friendly students & competent, professional staff tutor - explained actions in very manageable chunks. Course delivers what it says it will! Thoroughly enjoyed my day. Thank you.
— Ragna, 9th January 2019
Very relaxing and well informtive. Very good tutor, explained every thing very well.
— , 9th January 2019
Such a great course full of useful information when creating cakes. It's a very informative day and useful to anyone wanting to learn. Knowledgeable, friendly + helpful tutor. Nothing was too much from showing techniques again to answering any questions.
— Susanne Clinch, 9th January 2019
Really enjoyed the experience. Great tips, very helpful and you are not made to feel silly. Great fun and the time goes very quickly and it's for all stages of experience.
— Karen Potter, 9th January 2019
Good for all levels. Very friendly, informative and easy to follow for beginners; very knowledgeable + helpful tutor.
— Charlotte DeRosa, 9th January 2019
Thoroughly enjoyable day. Annabelle was a great teacher - very friendly, patient + knowledgeable with very handy tips.
— Isabella, 9th January 2019
Relaxed, friendly atmosphere to learn. Excellent tutor; light-hearted, professional, knowledgeable. Clear concise explanations & willingness to assist & reiterate instructions. Fantastic, great fun, excellent day.
— , 22nd September 2018
Most informative. Linda is such a wonderful lady so learning from her is easy.
— Delenda James, 22nd September 2018
5 stars. Excellent tutor.
— Gill Newton, 22nd September 2018
Very good tutor. Lots of tips. Could add moulds.
— Lindsey Walker, 22nd September 2018
Very friendly, learned lots. Tutor perfect! Very professional, great skill set, made me feel very comfortable.
— Simone Wicks, 22nd September 2018
Annabelle is the best tutor & would recommend her teaching skills, fantastic & so engaging - great inspiration. Loved it.
— Linda Stringer.., 23rd June 2018
Everyone should do this course. Learn so much. Thank you.
— Natasha Turnbull, 23rd June 2018
Such a friendly place to come & either improve skills or learn from scratch. Covered lots of things that despite baking for years, have given me ideas to make things easier. The perfect course for someone with skills to find new & improved ideas or easy shortcuts! Thank you for perfect day!
— Yvonne Riley, 23rd June 2018
Excellent course especially on how to split and ice a cake. Decoration is lovely. Brilliant course: LOVE IT!
— Chloe Willson, 23rd June 2018
Excellent experience, clear instructions. A great place to start or learn professional touches for cakes. Fab.
— Jackie Frost, 23rd June 2018
Really lovely day.
— Angela Reeves, 23rd June 2018
I learnt a lot in just 1 day. I really struggled with icing but after today I think I've got the hang of it. Tutor was very helpful, explained everything and if got stuck on anything she would come over and talk through it again.
— Jaime-Leigh Kennedy, 23rd June 2018
Loved this & the tutor! Learnt such a lot in a fun enjoyable atmosphere.
— , 23rd June 2018
Well detailed course in a relaxed atmosphere. Knowledgeable and accommodating tutor
— Ola Olamiran, 23rd June 2018
What I expected and more. Fantastic, friendly, amusing and helpful tutor.
— Angela, 17th March 2018
Had a wonderful day. Annabelle was an amazing instructor. Nothing I can suggest to improve. Loved it!
— Nicola, 17th March 2018
Despite making cakes for years now, I still learnt things that will make my cakes better + my life easier!
— , 17th March 2018
I had a wonderful day. Loved the course, learnt lots + lots of techniques and skills, and met some lovely women on the course. I will be back.
— Jo Kiely, 17th March 2018
I was bought this day as a birthday present & I honestly didn't realise how much fun I would have. Was looking forward to it but it really surpassed my expectations! Have learnt so much & means I won't have to wing my cake decorating again! Thank you loads! 10*!!
— Zoe, 17th March 2018
I had a wonderful time. Even though I was nervous, I was reassured at every stage. Very well taught course and paced just right. Thank you.
— , 17th March 2018
Had a fantastic day at Professional Cake Decorating. The day was very helpful and fun. Thank you again Annabelle.
— Diane, 17th March 2018
A very informative course, I learnt how to professionally decorate a cake with very little previous experience. Thank you Annabelle, you are a fantastic tutor.
— Emma Baker, 17th March 2018
Thank you for a brilliant day. I've learnt so much and will definitely be back in the future.
— Hayley, 17th March 2018
Course was perfect. Annabelle is a fantastic tutor with amazing tips. Extremely knowledgeable, very friendly and patient. Has time for everyone. I learnt lots more than I anticipated. Great course.
— Annette Blake, 22nd July 2017
Course content was what I expected and more. Enjoyed the freedom of design. Amazing course – most informative one I have done to date. Left with more knowledge and confidence. And left with a beautiful cake for my niece.
— Michelle, 22nd July 2017
Excellent tutor. Loved this course.
— E. Lovegrove, 22nd July 2017
I'd recommend – friendly tuition, not made to feel inadequate. 5*+. Interesting, informative, fun. Content more than expected. Thank you.
— Barbara Huckstep, 22nd July 2017
I love coming to Cake School. Annabelle & Chan are so welcoming & helpful, and I've learnt so much.
— Alison, 22nd July 2017
Very good tutor, explained everything clearly. Brilliant!
— Claire Mepsted, 24th January 2015
Brilliant! My tutor was excellent.
— Val Savage, 24th January 2015
My tutor was brilliant and I had a really lovely day
— Wendy, 5th February 2014
Brilliant day
— Jan, 5th February 2014
My tutor was brilliant and I had a really lovely day.
— Amanda, 1st February 2014
I had an amazing time. Everything was explained clearly and so I felt confident attempting everything.
— Sarah, 1st February 2014
Excellent day I will be back again!
— Kate, 15th September 2013
I really enjoyed myself and learnt more than I expected
— Helen, 14th September 2013
Excellent - can't wait to book another day
— Lisa, 14th September 2013