Mini primrose flower pot cake
Ice a mini cake as a flower pot and then make primrose flowers and leaves from sugar to complete the decoration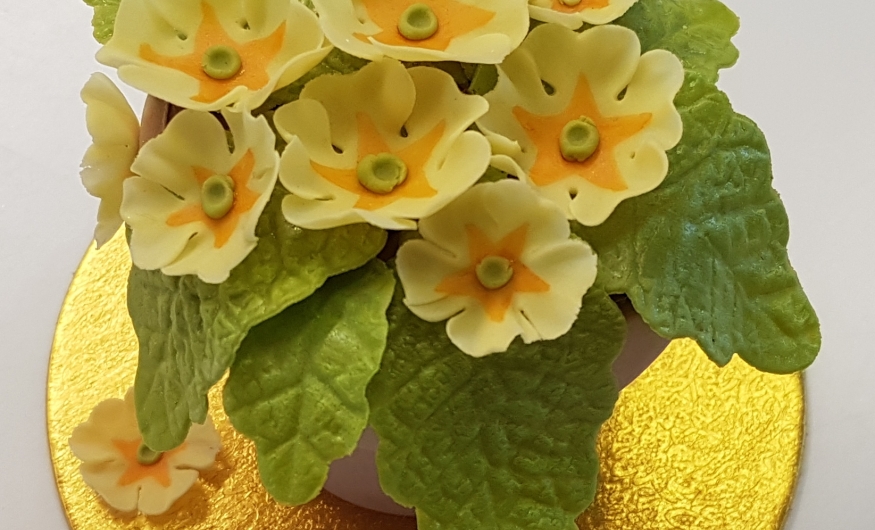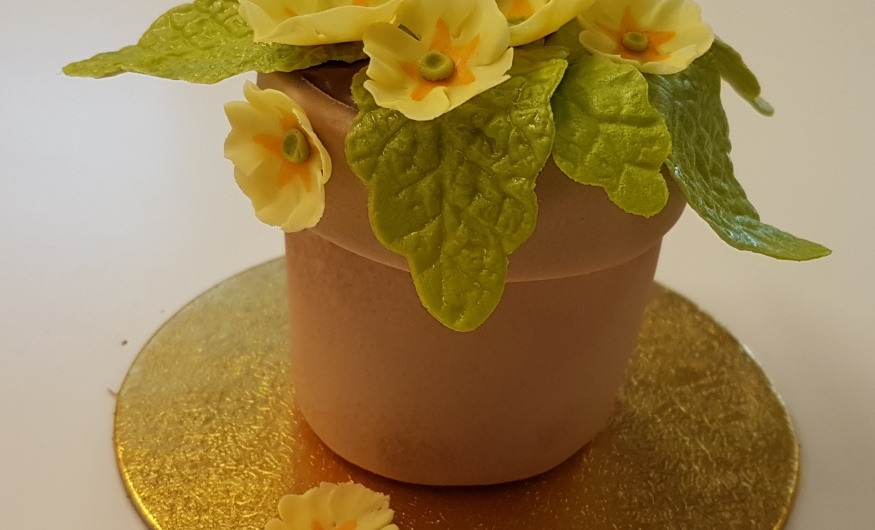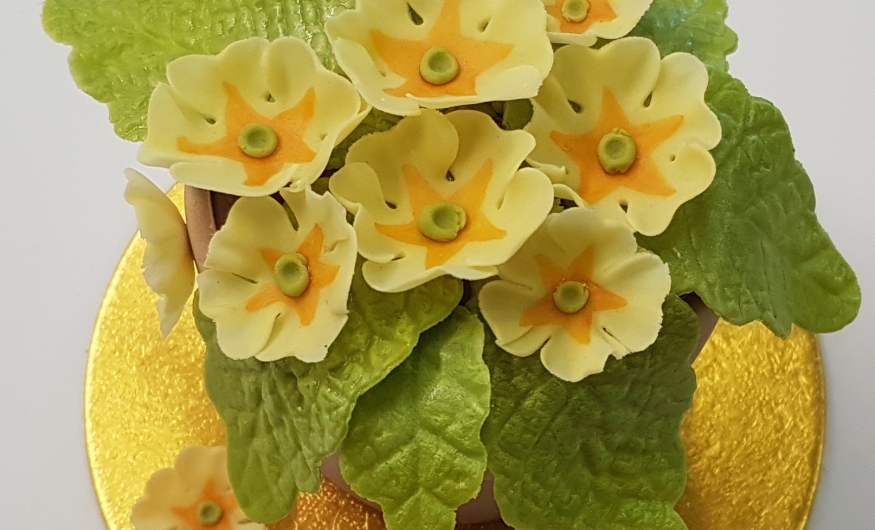 A delightful course packed full of new skills.
We will bake you a yummy maderia cake. You will learn (under the guidance of Annabelle)
How to ice the cake to look like a flower pot. (Including top tips on how to use sugarpaste without cracks, lumps or bumps)
How to use the cupcake filling nozzle
How to use the grass piping nozzle to create 'compost'
How to make realistic primroses from sugar
How to make leaves, including veining detail
How to use dust colours to best effect and how to apply glaze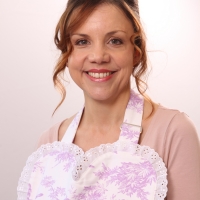 Annabelle
Annabelle
Director
Annabelle established Confection Perfection (now re-branded as Annabelle Jane Cake School) in 1996 from her kitchen table; bought her first retail premises in 2000 and is now settled in a delightful setting in Bearsted, just outside Maidstone. Annabelle has extensive cake decorating experience and is highly creative and artistic. Annabelle is an accredited tutor for the PME Diplomas in Sugar craft and also designs and delivers a wide range of other highly successful cake baking and decorating classes. Annabelle has a huge vision for our Cake School and ensures that the strong reputation we have earned continues to grow lead by her consistently high standards.
Everything is included. You may like to bring an apron
Brilliant! You learn so much things and meet so many people. Love the mini courses.
— Lindsay Walker, 21st January 2020
Smiled all the way throughout the course:) 5-star. Tutor excellent!
— Wendy Mullings, 21st January 2020
Very good, patient tutor, ensured understanding throughout. Not too many people so felt comfortable to ask questions.
— Kay Speed, 21st January 2020
Always full of ideas & inspiration & learn so much about the course & more. Tutor very knowledgeable.
— Jane Hextall, 21st January 2020
Always a great experience; lots of great techniques to learn.
— Liz Acland, 21st January 2020
Such lovely little cake to learn to make. Learnt new techniques. Annabelle is such a lovely lady, as always. Very polite, professional yet friendly. Highly recommend trying out a course here.
— Lynsey Bryant, 21st January 2020
Amazing course, lots of information given and a great course to do with younger people. A great xmas pressie.
— Sarah Land, 10th March 2018
What a fab afternoon. Lots of great info, so pleased with the primrose flower pot. Can't wait to book another course.
— Jayne Cawsey, 10th March 2018
Another wonderful and informative course. Thoroughly enjoyed it.
— Sandra Dean, 10th March 2018
Had a fantastic afternoon making primroses in a flowerpot. Annabelle is an excellent teacher + great fun.
— , 10th March 2018
Very fun and taught me how to make very nice flowers.
— Sofia (age 13), 10th March 2018
A great experience thank you.
— Lucy (age 12), 10th March 2018
Lovely way to spend an afternoon as always. Annabelle is helpful, talented and good fun!
— , 10th March 2018