Mermaid cupcakes
Spend a delightful 2 hours decorating 4 underwater themed cupcakes using a variety of different techniques and icings.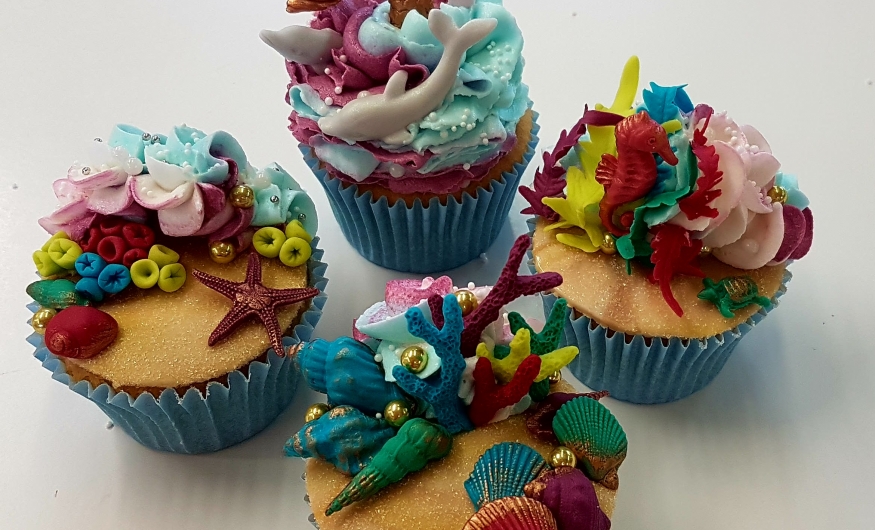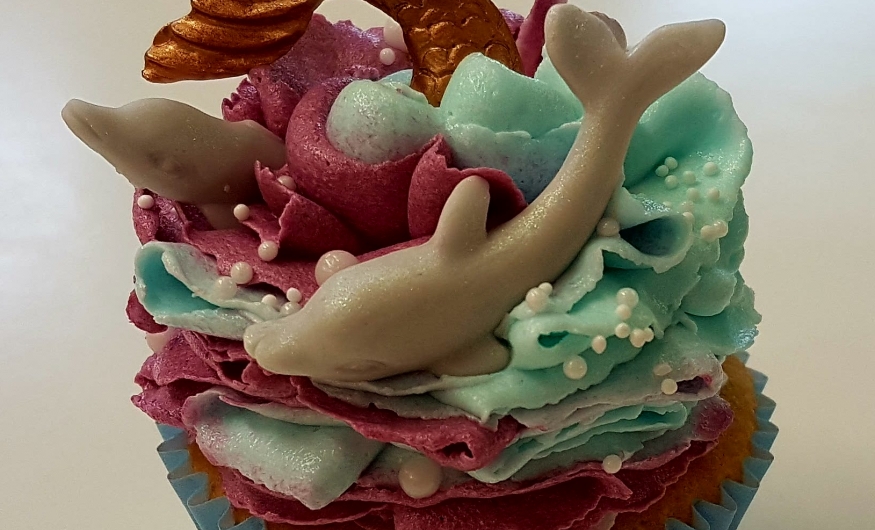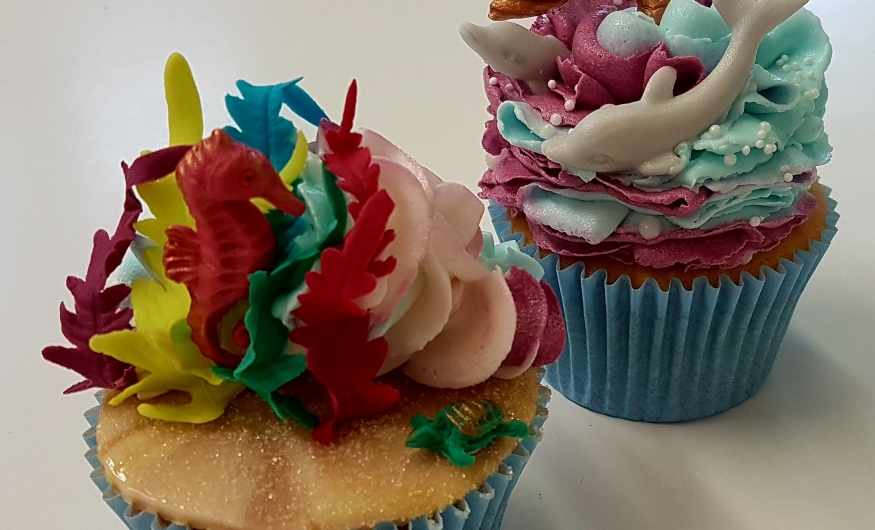 We will bake you four yummy cupcakes. Over the 2 hour workshop you will create 4 different designs. The skills learnt are suitable not only for cupcakes but also cookies and celebration cakes. We will explain stage step by step so whether you are a complete beginner or a more experienced cake decorator looking for new ideas you will go home inspired and delighted.
This is a charming work shop which covers many new skills and even better, you take four delicious cupcakes home with you!
Tutorial - effective use of colour techniques in cake decorating

How to ice a cupcake with marbled sugarpaste.
How to create sand and water effects.
Effective use of edible pearls, sprinkles, lustre colours and metallic paints
How to use cutters and veiners to create seaweed
How to use a selection of simple modelling techniques and tools to create coral
How to use moulds to create seahorses, shells, dolphins, mermaid tail,turtle and coral
How to fill a piping bag including using an adapter and changing piping nozzles.
How to use the 'twist twist' nozzles to pipe a ruffle swirl
How to pipe mini rose swirls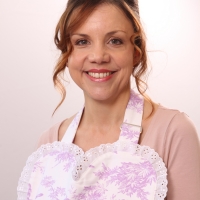 Annabelle
Annabelle
Director
Annabelle established Confection Perfection (now re-branded as Annabelle Jane Cake School) in 1996 from her kitchen table; bought her first retail premises in 2000 and is now settled in a delightful setting in Bearsted, just outside Maidstone. Annabelle has extensive cake decorating experience and is highly creative and artistic. Annabelle is an accredited tutor for the PME Diplomas in Sugar craft and also designs and delivers a wide range of other highly successful cake baking and decorating classes. Annabelle has a huge vision for our Cake School and ensures that the strong reputation we have earned continues to grow lead by her consistently high standards.
Everything is included. You may like to bring an apron.
Great experience, especially as beginners to most techniques. Lovely tutor very pleased with my cupcakes!
— Rebecca Ayres, 17th August 2019
A great morning, learnt lots, very happy w.my cupcakes + lovely group.
— Hannah, 17th August 2019
This was such a fun course, learn new skills + go home with very pretty cupcakes. Excellent tutor as always, Linda always so helpful and happy:)
— Tash Turnbull, 17th August 2019
Another fantastic course. 3rd one I have done and will be doing more. Learn new things every time. Very friendly, fantastic run courses.
— Brian Fulthorpe, 21st April 2018
So relaxing, tuitive and really friendly. Lovely pace. Really, really enjoyable.
— Julie Rattenbury, 21st April 2018
Everything I expected and more. Another fantastic morning. Learnt loads.
— Sharon Henderson, 21st April 2018
Lovely day! Very fun & therapeutic.
— Lisa Miles, 21st April 2018
Really enjoyed the morning - have learnt new skills & techniques - will definitely come back for another course.
— Deidre Hawkins, 21st April 2018
A great morning, with lots of information. Excellent, knowledgeable tutor.
— J. Stykianides, 21st April 2018
Such a professional, well organised morning. Fabulous tutor. Lovely.
— , 21st April 2018
Very good course, fun and friendly atmosphere.
— Rasa, 19th August 2017
Excellent tuition & fun.
— Susan, 19th August 2017
Amazing tutor! What I expected + more! A fantastic Saturday afternoon! Thank you!
— Gemma Streatfield, 19th August 2017
Good price, good quality. Excellent tutor. Extra ½ hour would be good.
— , 19th August 2017
Fun, informative, but casual. Tutor brilliant. Takes time to explain, was happy to re-explain & demonstrate. More time would maybe be good. It seemed to go so quickly. A really fun course & Annabelle was lovely as always. I love Cake School!
— Pauline Scaysbrook, 19th August 2017
Great fun & learning new skills. My creative side has exploded since I started coming to Cake School. Absolutely delighted every time I come!
— Thelma Olymbiou, 19th August 2017
Annabelle was friendly, witty and patient. She is keen to help positive and encouraging. It was soooo fun!
— , 19th August 2017
Amazing tutor, everything explained clearly & made fun. I was so excited when I saw this course & loved every minute. These cupcakes are so pretty.
— Alexis, 19th August 2017
Really good, learnt loads. Very likely to do more! 5*!!
— Sally Hopson, 19th August 2017
Fantastic experience.
— Amy, 19th August 2017
Amazing tutor and very happy with the outcome.
— Becky Sunley, 19th August 2017
Fantastic evening had. Will be back for more courses. Friendly atmosphere. Extremely knowledgeable tutor.
— Hayley Wimpory, 8th August 2017
Very informative and enjoyable. Good fun. Very friendly tutor, helpful, full of lots of advice. Great evening.
— Yvonne Jones, 8th August 2017
Very happy evening, the course more than expected. Brilliant tutor. Very positive, relaxed but informative hands-on evening.
— Wendy Wimpory, 8th August 2017
I highly recommend this course. So enjoyable, and creating your own artistic knowledge to put in perspective.
— N. Luchman, 8th August 2017
Fantastic little course incorporating many useful skills. Knowledgeable tutor, exceptionally friendly + welcoming.
— Hayley Morgan, 8th August 2017
Excellent tutor, very kind, gentle encouragement which helps with my chronic anxiety. Thank you.
— , 8th August 2017