Flower Garden Cupcakes
You will learn how to pipe a rose swirl and how to make a selection of simple of flowers and leaves to complete the decoration.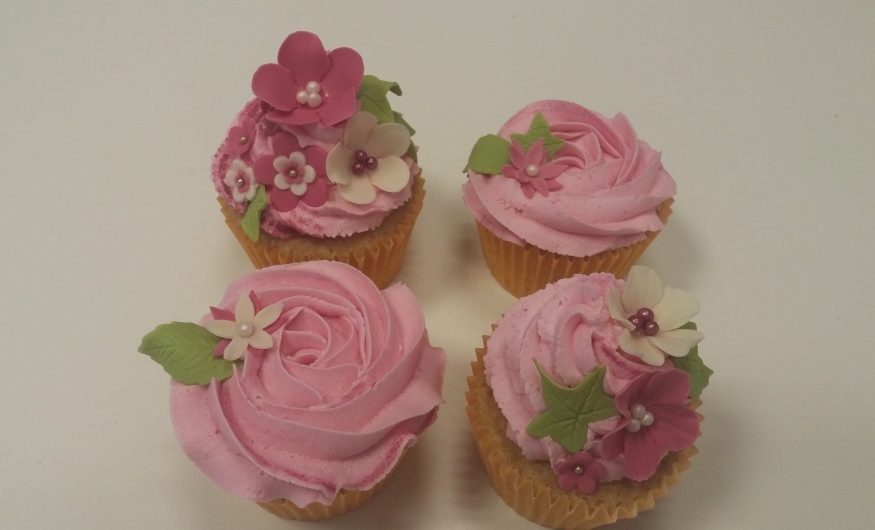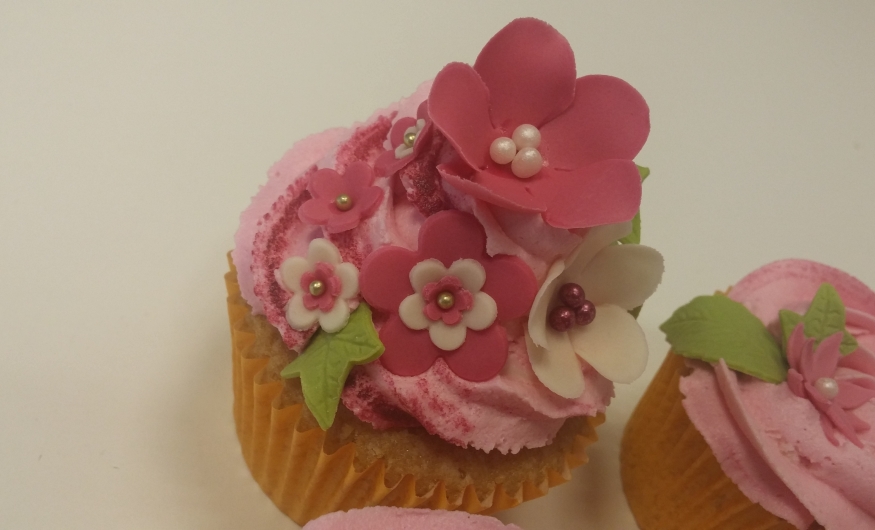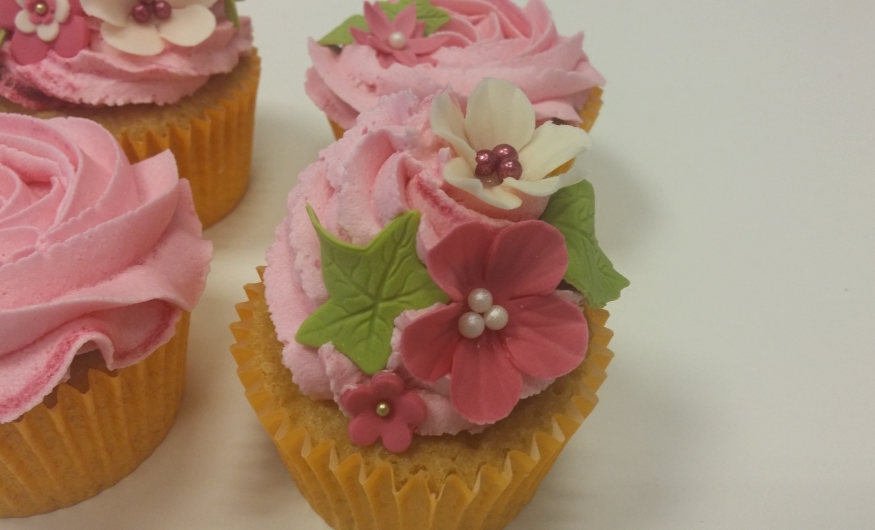 The skills covered in this work shop are different than on our other cupcake courses.
We will bake you four scrummy cupcakes. Over the 2 hour workshop you will learn how to make a selection of stunning unwired flowers suitable for cupcakes and all celebration cakes. We will explain how to use colour to its best effect and enhance the decorations with edible pearls. We will then teach you how to pipe a two tone rose swirl on the top of your cupcakes.
This is a delightful work shop which covers many new skills and even better, you take four delicious cupcakes home with you!
Tutorial – effective use of tonal and complimentary colour with particular reference to vintage and shabby chic colour schemes
How to colour flower paste
How to make a selection of flowers – blossoms, 5 petal flowers, petunias, fantasy
How to make shaped and veined leaves
Effective use of edible pearls
How to use a selection of modelling tools including the ball tool and Dresden tool.
How to pipe a two tone rose swirl
How to pipe a traditional cupcake swirl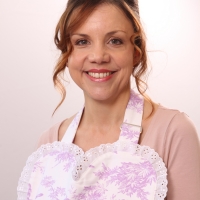 Annabelle
Annabelle
Director
Annabelle established Confection Perfection (now re-branded as Annabelle Jane Cake School) in 1996 from her kitchen table; bought her first retail premises in 2000 and is now settled in a delightful setting in Bearsted, just outside Maidstone. Annabelle has extensive cake decorating experience and is highly creative and artistic. Annabelle is an accredited tutor for the PME Diplomas in Sugar craft and also designs and delivers a wide range of other highly successful cake baking and decorating classes. Annabelle has a huge vision for our Cake School and ensures that the strong reputation we have earned continues to grow lead by her consistently high standards.
We provide the four cupcakes, frostings, flower paste, colours, edible pearls and all the equipment you need.
The course price includes everything you need to decorate your cake and a box to take them home. We will provide all the ingredients, materials, all sugarcraft tools, equipment and refreshments.Course attendees will also receive a full set of course notes and a discount sheet which gives exclusive discounts on the items used during the course purchased in the cake decorating supplies shop on the day.
What's the skill level?

Any level, beginners and upwards

Are there any age restrictions?

Age 11+ (under 16 must be accompanied by an adult partaking in the course)

What are the course times?

What do I need to bring?

You need to bring an apron (or we have disposable aprons 50p each) and your enthusiasm.
Thoroughly enjoyed it. Friendly, experienced, helpful tutor, lots of ideas, patient.
— Corrine Tucker, 21st September 2018
Friendly and informed course and relaxed atmosphere, as always. Informative and wonderful therapy. Will be back.
— Dorothy Nicholson, 21st September 2018
Extremely informative + more importantly so much fun and Annabelle makes it a memorable experience. I will certainly be back for more.
— Samantha, 10th March 2018
Had a fantastic morning making flowers and cupcakes. Can't wait till my next course. Annabelle is so kind and funny and makes learning cake making so easy. Thank you.
— Diane Hall, 10th March 2018
A great course, could've stayed all day. I will be back. Thank you Annabelle.
— Michelle, 10th March 2018
Loved this course. Enjoyed every minute. Learnt lots of new things! Would Highly recommend. Lovely ladies to learn new things with.
— Sandra, 10th March 2018
I'm so glad I found this course on the website - it's just what I need to make me feel that I can decorate my cupcakes!
— Jane, 10th March 2018
Amazing, can't believe I have made such wonderful looking cupcakes. Annabelle is a brilliant teacher. Course is a great pace, no one was ever left behind. FABULOUS!
— Joanna, 10th March 2018
Excellent course. Well organised and easy to follow instructions. Really pleased with my cupcakes - can't wait to make some more!
— Lorna, 10th March 2018
A lovely workshop, packed with techniques and ideas. Very knowledgeable and encouraging tutor.
— Helen Austin, 27th May 2017
The most fun I've had in ages! So happy with my cakes and can't believe how much I learnt in such a short time. Great, friendly tuition – amazing and made us all feel confident. Thank you.
— Julia Cleaver, 27th May 2017
Really informative & fun. It was more than what I expected. Really, really good tutor – informative, friendly, helpful, explained techniques clearly, tips and advice. Will come back again when I can.
— Sarah Starkey, 27th May 2017
Something different to do – I'd recommend & I'm very likely to do more. Would like a little more time to experiment with the new techniques; excellent – really friendly and knowledgeable tutor.
— , 27th May 2017
Great creative course. Loved it! Excellent, friendly, funny and helpful tutor.
— Francesca Jennings, 27th May 2017
Brilliant – very approachable teacher. Very pleased I came & very likely to do more.
— Rebecca, 27th May 2017
The courses are such fun and so informative. This course is all, and much more than you expect. The whole experience is great. You walk in feeling you're not that good, but walk out feeling on top of the world. Annabelle just puts you at ease. The whole set up is enjoyable.
— Sandra Dean, 27th May 2017
Time well spent; teaching at a pace that's right – not rushed & plenty of time to practice. Excellent, patient tutor + things well described.
— Patricia Harvey, 27th May 2017
Loved the course & would definitely come back. Really enjoyed it & happy with the outcome. Amazing tutor.
— Becky Sunley, 27th May 2017
Annabelle was very friendly, knowledgeable and patient.
— Deborah Mascart, 5th May 2015
Amazing day! Tutor was excellent. Explained everything very professionally and friendly.
— Karen Gray, 5th May 2015
I loved it all! Excellent tutor.
— Denise, 5th May 2015
Very friendly and helpful tutor. Very good instruction and relaxed atmosphere.
— Jo Wheeler, 28th February 2015
Had an absolutely fantastic morning with a brilliant tutor. Learnt so much in just two hours. Surprised myself at how good my cupcakes looked.
— Erika Broad, 11th November 2014
Very easy as I've never done anything like this Before. So happy with what I did and really enjoyed my time doing it. Fun and learnt a lot.
— Diane Stupples, 11th November 2014
Lovely course will be returning to do more
— Sandra Wilkinson, 11th November 2014
It's a great course with great teachers and help you learn more about decorating.
— Angeline Smith, 11th November 2014
Very informative. Lovely tutor, she was approachable and helpful. I will definitely be coming back soon.
— , 11th November 2014
Good fun & relaxed. Very friendly & helpful tutor. Answered all questions & explained everything really clearly. Perhaps at the beginning show and example of the finished cake – I made too many flowers, even though Annabelle, more than once, said we didn't need to many
— Yvonne Kinchen, 11th November 2014
Easy to do as a beginner. Really friendly tutor, went at a great pace. Had lots of helpful tips & tricks. Better than expected, learnt more skills & tips than I thought.
— Rebecca Stupples, 11th November 2014
The course gave me a lot of techniques and skills which I find I find very useful when I make my own cakes. Annabelle is very helpful. Will come back for more courses.
— Laura, 11th November 2014
Excellent - fantastic!
— Kate Porter, 28th June 2014
I will definitely be back for more courses! My tutor -was fabulous - she explains well and makes everything fun.
— georgie, 16th June 2014
I have enjoyed all my courses with you so far. Everybody is always so welcoming. My tutor explained everything thoroughly and was very patient.
— Margaret, 16th June 2014
Very friendly. My tutor was very good at explaining and showing us everything. I had a lovely time. Thank you!
— Joanne, 16th June 2014
Thank you for a gentle introduction – I am pleased I have cupcakes that look presentable! My tutor was brilliant.
— Jenny, 8th February 2014
It was very enjoyable. My tutor was very patient and explained every process well.
— Rosemary, 8th February 2014
It was a fabulous morning and I'll definitely come back. Great teaching, fun, informal and easy to pick up for me as an absolute beginner.
— Jo Meehan, 5th August 2013
The best way of spending a Saturday morning ever! Everything ran so smoothly.
— Hilary Smith, 5th August 2013