Flamingo and tropical cupcakes
Learn an amazing number of techniques whilst creating these gorgeous cupcakes. Social Distancing & safety measures in place.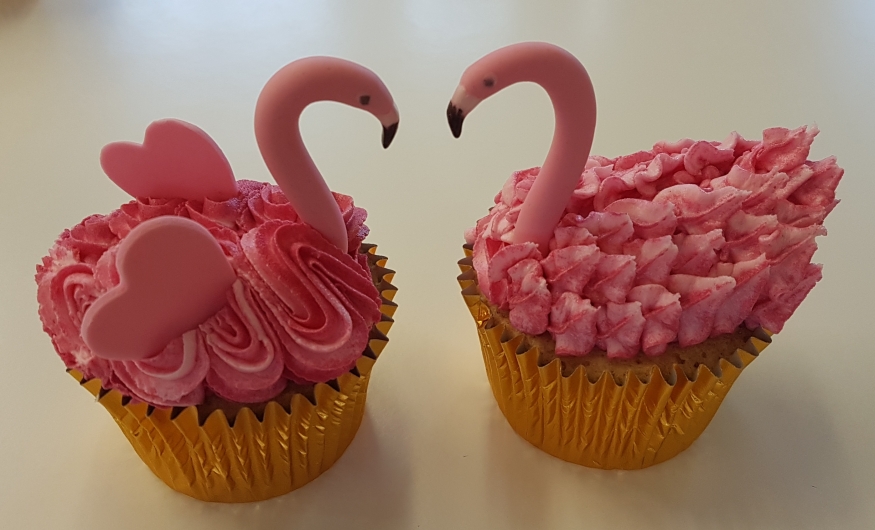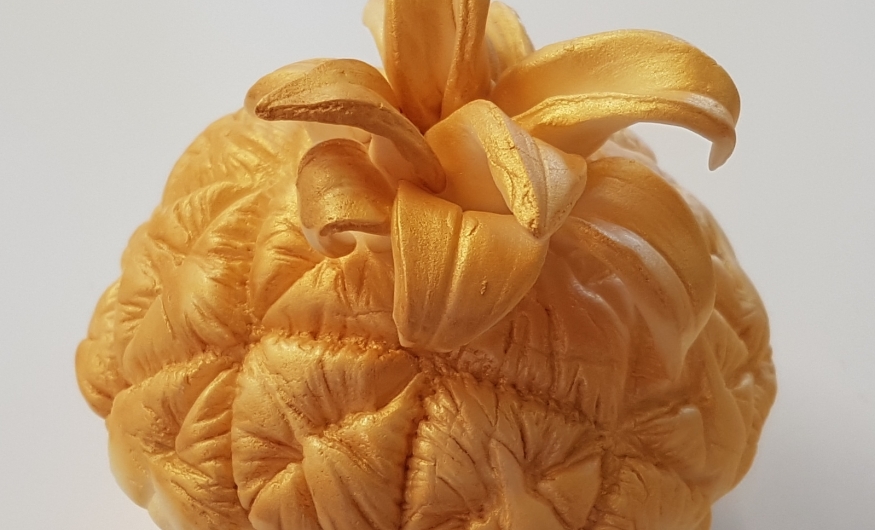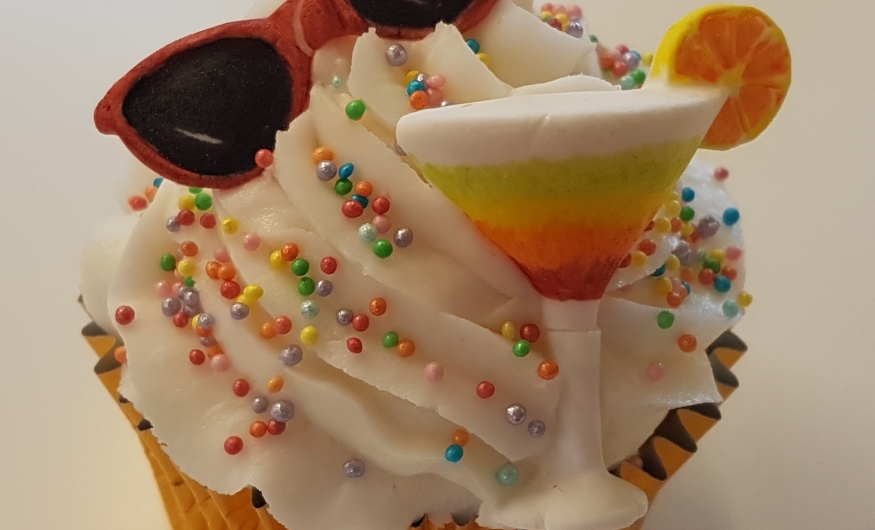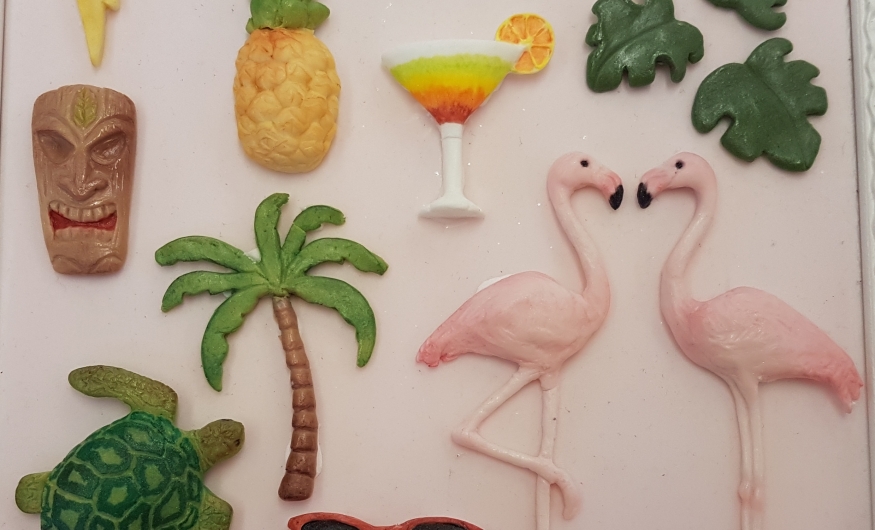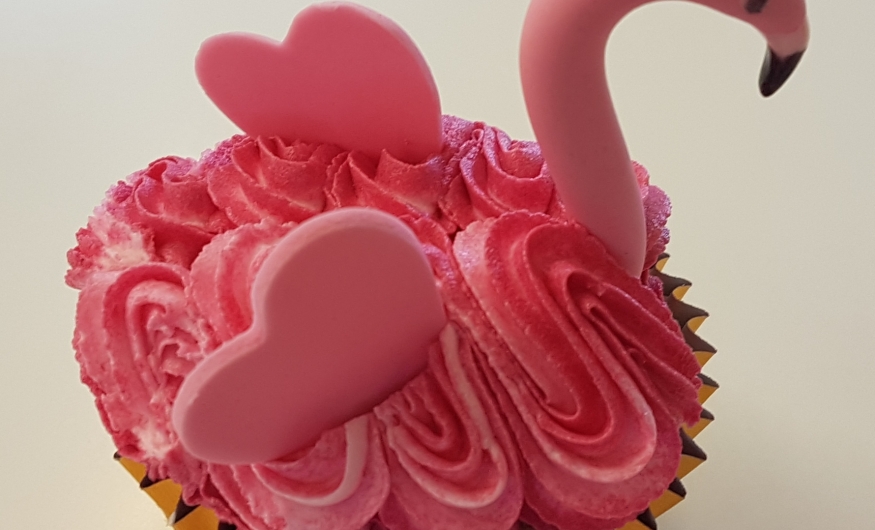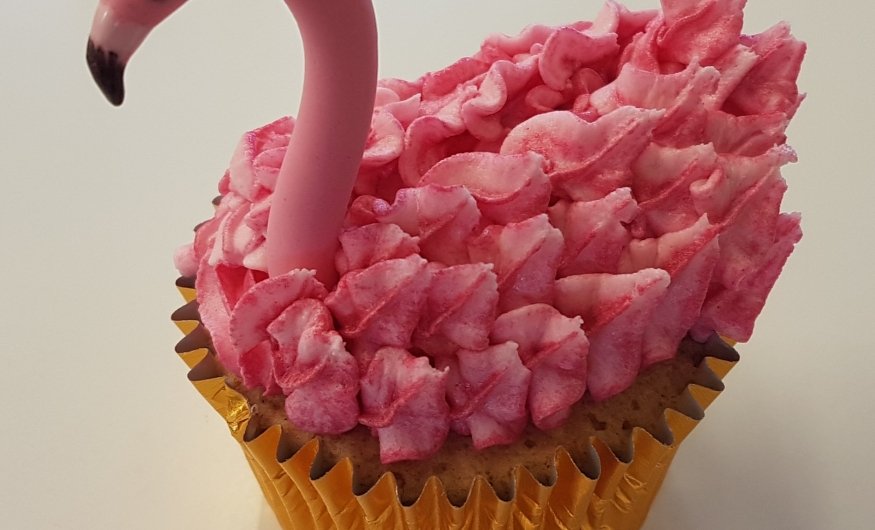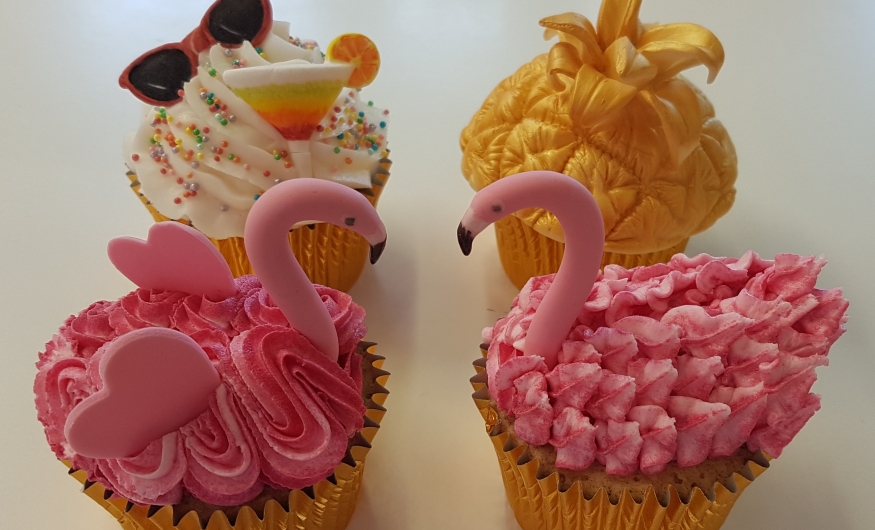 We will bake you 4 cupcakes which you will then decorate on a flamingo and tropical theme. We have packed this mini workshop full of techniques so not only will you go home with 4 charming cupcakes, you will also go home with a wealth of new techniques and top tips to transform your cake decorating.
Tutorial – all about frosting and the key advantages
Tutorial - how best to colour frosting
Tutorial - how to fill a piping bag
Tutorial - how to use an adapter and the key benefits
Tutorial - how to create marbled piping
Tutorial - what is modelling paste
How to colour modelling paste
How to use simple modelling skills to create a flamingo
How to pipe 'feathers'
How to pipe swirls
How to pipe a 'Mr Whippy' swirl
How to use a textured mould
How to create a cupcake dome
How to use moulds (you can choose what to put on the top of your cupcakes - a cocktail, sunglasses, flip flops, a turtle, tropical leaves and more
How to paint colour/ details
How to use lustre spray
Using a wide selection of different nozzles learn an array of piping skills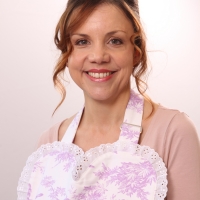 Annabelle
Annabelle
Director
Annabelle established Confection Perfection (now re-branded as Annabelle Jane Cake School) in 1996 from her kitchen table; bought her first retail premises in 2000 and is now settled in a delightful setting in Bearsted, just outside Maidstone. Annabelle has extensive cake decorating experience and is highly creative and artistic. Annabelle is an accredited tutor for the PME Diplomas in Sugar craft and also designs and delivers a wide range of other highly successful cake baking and decorating classes. Annabelle has a huge vision for our Cake School and ensures that the strong reputation we have earned continues to grow lead by her consistently high standards.
Everything is included - the cupcakes, icings and use of equipment. A box is provided for you to transport your cupcakes home. Students receive a set of course notes. Students also receive a 10% discount on shop purchases on items used on the course.
We provide tea/ coffee/ drinking water and cake.
You may like to bring an apron
Fun & relaxing. Fantastic cake course, exactly what I expected - with a friendly tutor, knowledgeable & good fun.
— Lauren, 7th July 2021
Excellent course that was fun & informative with extremely knowledgeable tutor. Good to learn new skills.
— Jane Brender, 7th July 2021
So welcoming. Fantastic tutor, made it fun!! Definitely coming back.
— Karen Hannah, 7th July 2021
What I expected and more. Enjoyed and learnt a lot. Excellent tutor - very patient & friendly. Felt very safe. Can't wait for next lesson.
— Pauline Forder, 7th July 2021
Tutor very helpful and made the course lots of fun.
— Laura Knowles, 26th August 2020
Tutor very informative & entertaining. Course what I expected. Definitely recommend Cake School.
— Julie, 26th August 2020
Linda brilliant! Clear with instructions. Right pace. Friendly. Social distancing in place. Definitely coming back!
— Wendy, 26th August 2020
Social distancing done to perfection, felt very safe. Friendly, helpful, lovely atmosphere. Excellent tutor.
— Dawn Burr, 26th August 2020
Really enjoyable. Learned a lot. Tutor very helpful and friendly. Will come back for more courses.
— , 26th August 2020
I loved it and deffinatly come again. Lots of fun. Course not what I expected but it was better. Tutor very kind and friendly 10/10:)
— Lois Stiff, 26th August 2020
Wow - this is a fantastic course with brilliant results. Anyone can achieve these results; so pretty.
— Sam, 23rd May 2019
Excellent tuition. Very professional & fun. Good value for the money.
— Sandra Pullen, 23rd May 2019
Very good, knowledgeable and friendly, very patient tutor. Friendly and easy to follow course.
— Rachel Rose, 16th August 2018
Excellent tutor. Course perfect as it is. 5*
— Delenda James, 16th August 2018
Excellent tutor - Linda is so warm & friendly. No pressures - just do the best you can. Wonderful courses, you learn lots in a cakey environment - just fab.
— Natalie Deacon, 16th August 2018
Amazing, lovely, friendly people. Easy to understand. Definetly recommend,
— Alice, 16th August 2018
Great for any age and experience. Fantastic tutor. Brilliant course.
— Vanessa, 16th August 2018
Loved the class, great fun, and fab tutor! Excellent, really enjoyed it!
— Debbie, 31st July 2018
Tutor great! There was a lot of content - perhaps only do one flamingo & 2 swirls.
— Thelma Olymbiou, 31st July 2018
Learning new skills - great fun. Fabulous tutor! Really helpful + enthusiastic.
— Michelle Hogben, 31st July 2018
My wife forced me to come [but] excellent tutor. Course rating: 5 stars.
— Martin, 31st July 2018
This is an easy starter course perfect for everyone. Linda was very nice, explained everything well and so much patience. Everything was just right.
— Penny Wilcock, 31st July 2018
A fun course with lots of new skills learnt.
— Natasha Turnbull, 31st July 2018
This was the perfect introduction for myself & my daughter. Step-by-step - great! Very friendly, fun and great results - thank you:)
— , 31st July 2018