Fault Line Cake
Learn how to create the trending fault line cake; you will also temper chocolate and make a selection of filled chocolates. Social Distancing & safety measures in place.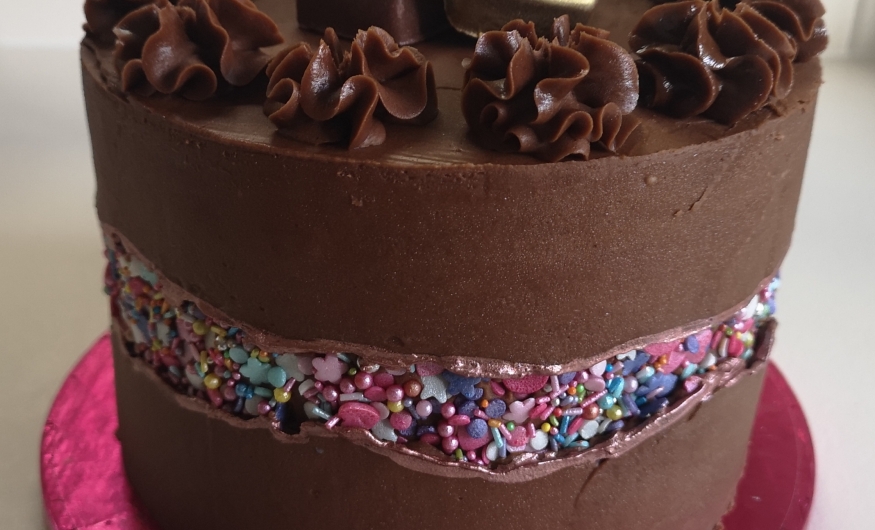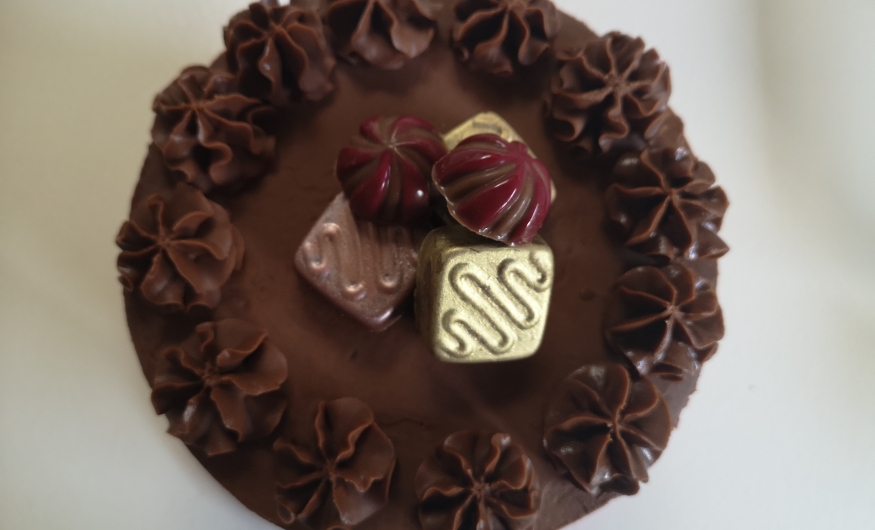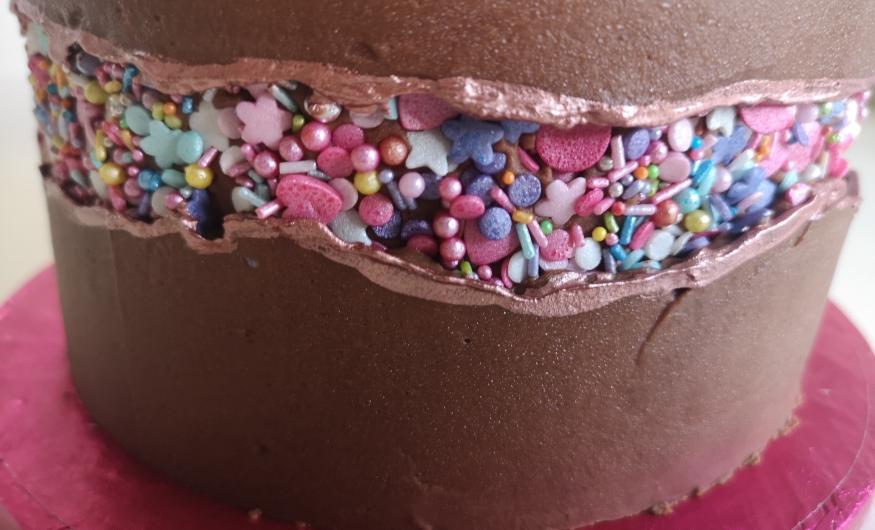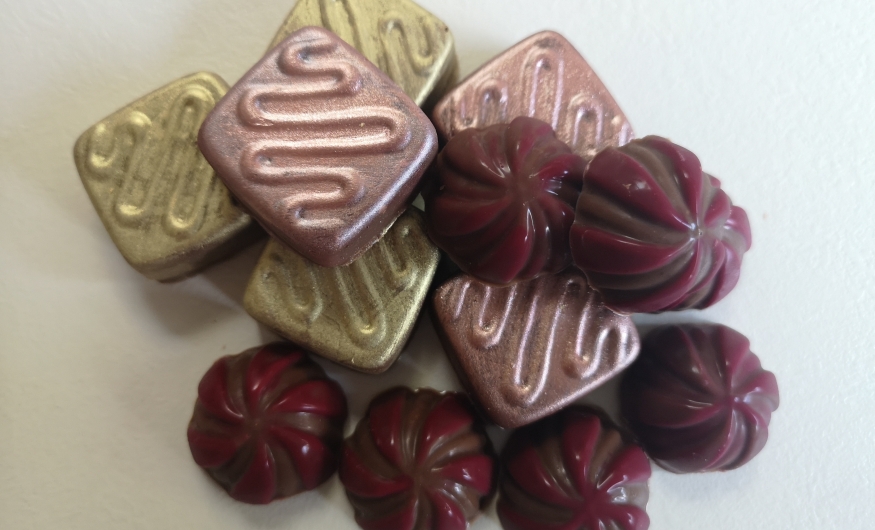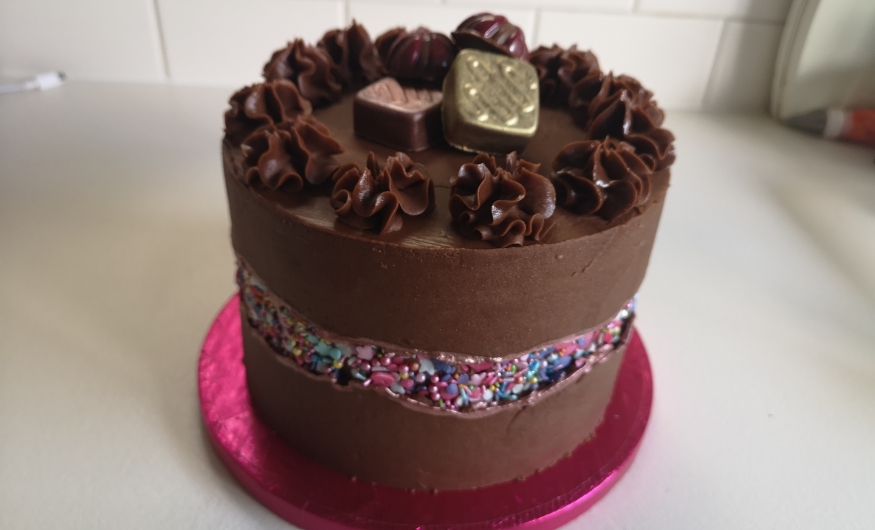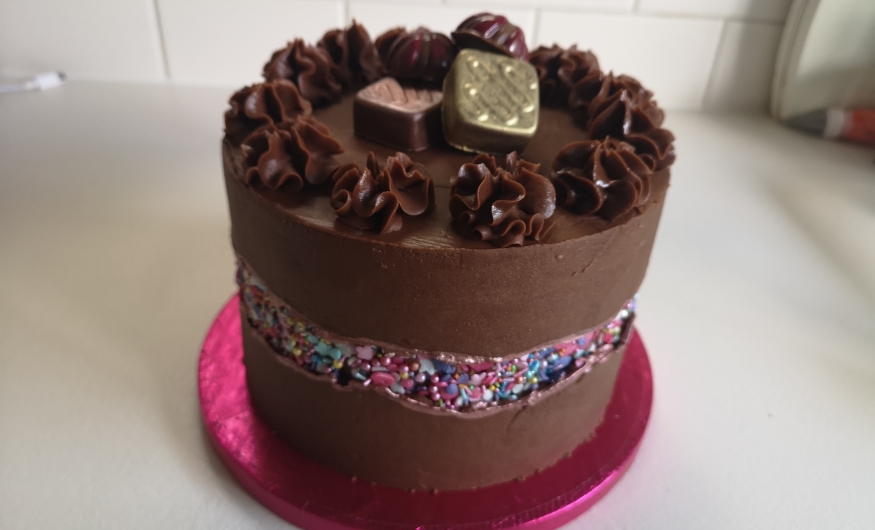 We will bake luxury chocolate Madeira cakes and prepare chocolate ganache buttercream for you. You will create your own fault line cake and also make a selection of filled chocolates to decorate your cake - it's like 2 courses in 1 - not only will you learn how to create the trending fault line cake, you will also temper chocolate and make a selection of filled chocolates.
Using chocolate ganache buttercream and your choice of curd/ jam you will split and fill your cakes.
Learn the professional crumb coat technique.
How to apply sprinkles
How to use ganache plates
How to achieve a perfect finish on your fault line buttercream cake. We share our top tips, insider secrets and professional knowledge on how to achieve a smooth, even finish, sharp edges and a perfectly level top.
How to temper chocolate (choose white, milk or dark)
How to use cocoa butter painting techniques to enhance your chocolates
How to create filled chocolates
How to use metallic lustres and iridescent colours to enhance your chocolates
How to create a metallic paint and how to paint the detail on your 'fault line'
How to pipe ruffle swirls to complete your cake design
This is a very comprehensive course covering a wide range of buttercream and chocolate skills and you will go home with an amazing cake.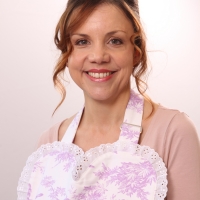 Annabelle
Annabelle
Director
Annabelle established Confection Perfection (now re-branded as Annabelle Jane Cake School) in 1996 from her kitchen table; bought her first retail premises in 2000 and is now settled in a delightful setting in Bearsted, just outside Maidstone. Annabelle has extensive cake decorating experience and is highly creative and artistic. Annabelle is an accredited tutor for the PME Diplomas in Sugar craft and also designs and delivers a wide range of other highly successful cake baking and decorating classes. Annabelle has a huge vision for our Cake School and ensures that the strong reputation we have earned continues to grow lead by her consistently high standards.
The course price includes everything you need to decorate your cake and make filled chocolates including boxes to take them home. We will provide a luxury chocolate madeira cake, cake fillings, chocolate ganache buttercream, chocolate and the fillings, all of the materials, all sugarcraft tools and equipment. Course attendees will also receive a full set of course notes and a discount sheet which gives exclusive discounts on the items used during the course purchased in the cake decorating supplies shop on the day of your course.
Course attendees receive a chocolate mould to use on the day and then take home with them!
We will provide refreshments (tea, coffee, water, cake). You may like to bring a packed lunch and an apron.
A great course and fun. Learnt everything needed to make a great fault line cake with loads of hints and tips you wouldn't have expected to have learnt. Linda is a brilliant tutor, Nothing was too much for her. She went above and beyond.
— Annette Blake, 6th September 2020
So much crammed into the time. More than I expected. So varied & fun. Excellent tutor. Very likely to come back.
— Emily, 6th September 2020
The course was full of new ideas presented in an easy to understand way at the right pace. Very happy with the health & safety measures in place & info before & on arrival... a success. Didn't feel unsafe at all. Excellent tutor 10/10.
— Fran Fearn, 6th September 2020
Fabulous course, fabulous tutor, fabulous day. Lots learnt and more than expected - didn't realise I was making chocs as well. Excellent tutor, knew what she was doing, gave lots of tips.
— Julje, 2nd August 2020
Fun, talented, expertly taught. Good friendly people to learn with. Very much what I expected & more. Would add more time!! Amazing tutor. Very supportive even at a distance!
— Ann Thompson, 2nd August 2020
This course is fantastic - not only do you learn the fault line but also how to temper chocolates and make chocolates which is an added bonus + skill all of its own. Such a fun day! Great environment, fantastic teachers.
— Annabel Griffiths, 2nd August 2020
I loved my Day Out. Everything was brilliant. Everyone was really friendly and Linda is a fantastic tutor, very helpful and great at explaining everything as we went along. Health and safety absolutely considered. It was great.
— Collette Garbett, 2nd August 2020
'Wonderful Linda' - saved my cake from being slightly short as I forgot a layer!! A full course, more than expected. Skills to impress, thank you.
— , 20th October 2019
Great course. Learnt lots. Very good tutor. Amazing. Will definatly be back.
— Yvonne Jones, 20th October 2019
Thank you for another amazing day! What I expected and more. We had a few unexpected errors and Linda was amazing at showing us exactly how to rectify. Definately coming back.
— Abbie O'Brien, 20th October 2019
Such an amazing chocolatly day. Learnt so much and had so much fun doing it. Will not be scared to go home and do again. Linda was amazing as always, very patient, lovely and happy to help.
— Michelle, 20th October 2019
How fantastic. A great day, full of skills & fun. What I expected & more. Didn't realise we were doing chocs. Fab tutor. Patient, friendly & very knowledgeable.
— Alexis Ingram, 13th October 2019
Amazing courses and really friendly. Brilliant tutor.
— Keeli, 13th October 2019
Course was great & a bonus was to take home the chocolate moulds. Linda was brilliant.
— Sue Butcher, 13th October 2019
Very good, patient and understanding tutor. Explains everything fully. The chocolate moulds were a massive surprise. 5*
— Amy J., 13th October 2019
This course shows you exactly how to construct your faultline cake & gives expert advice on decoration. What I expected & more. Fabulous tutor as always - so much personal hep & attention. Thank you!
— Sue Vallender, 13th October 2019
This course answered so many questions about this new trend of cake decoration. Linda is always such fun and really patient. Really enjoyed it.
— Delenda James, 13th October 2019