'Easy' flower cupcakes
Using the FMM range of 'easiest' flower cutters make roses, a carnation, peony & leaf and a ranunculus. Use these to top cupcakes. Social Distancing & safety measures in place.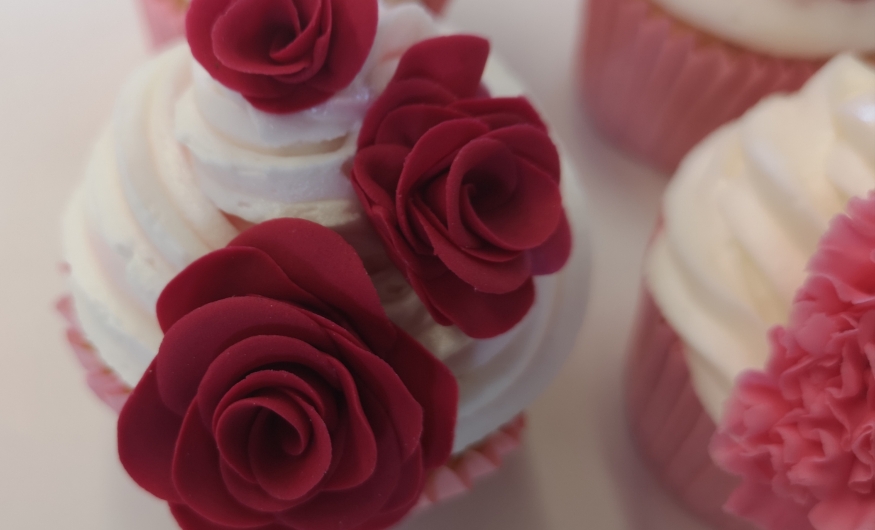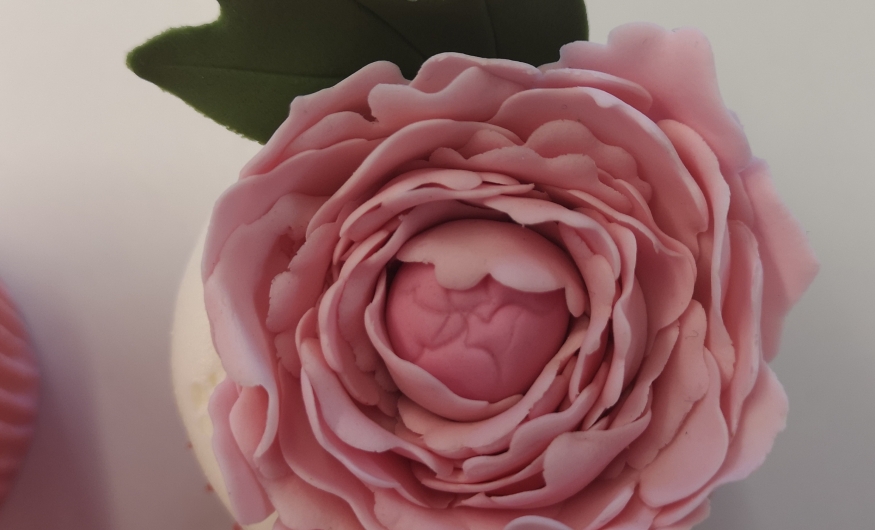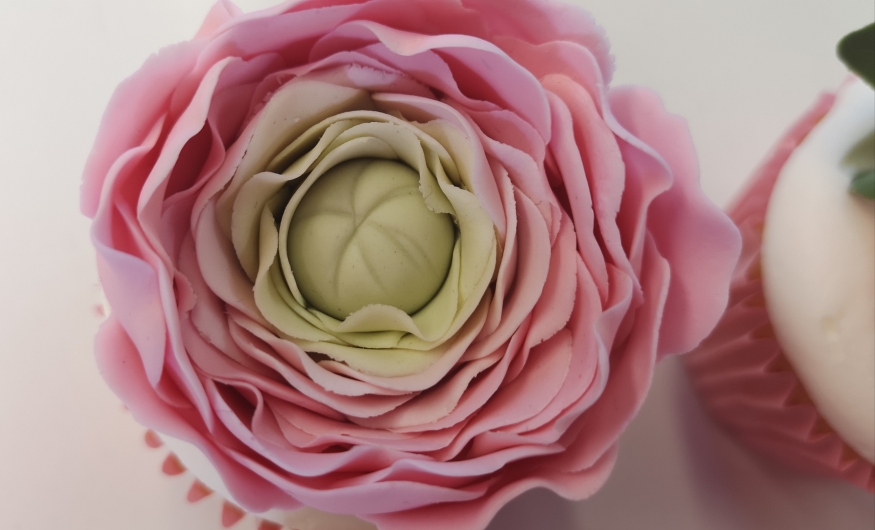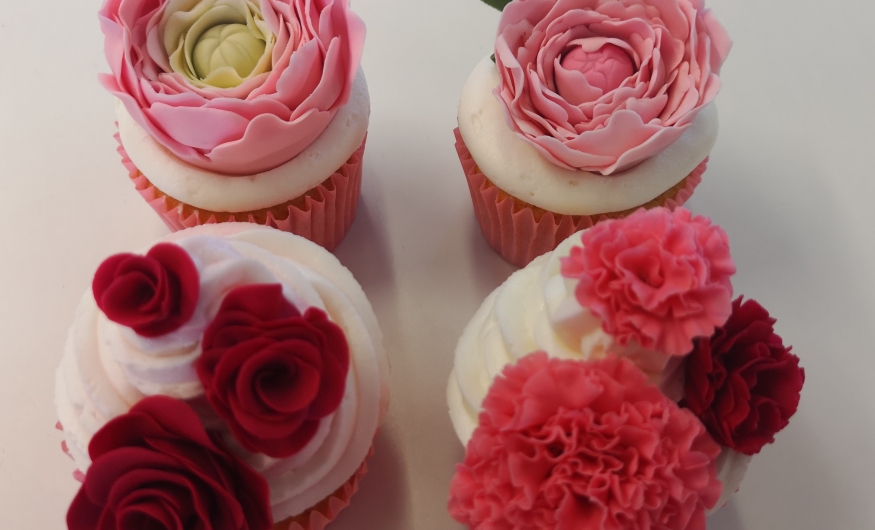 Using the FMM range of 'easiest' flower cutters make roses, a carnation, peony & leaf and a ranunculus. You will then pipe plain swirls and french swirls onto four cupcakes which you an adorn with the flowers you have made.
Tutorial - different types of icings and how to choose
Tutorial - adding colour
How to make a rose, carnation, peony, leaf, ranunculus using the FMM range of 'easiest flower cutters'
How to use professional modelling tools to shape your petals
How to soften the edges of petals
How to frill petals
How to add veining detail to leaves
How to pipe a plain swirl
How to pipe a classic swirl
How to pipe a french swirl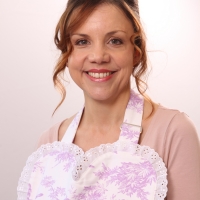 Annabelle
Annabelle
Director
Annabelle established Confection Perfection (now re-branded as Annabelle Jane Cake School) in 1996 from her kitchen table; bought her first retail premises in 2000 and is now settled in a delightful setting in Bearsted, just outside Maidstone. Annabelle has extensive cake decorating experience and is highly creative and artistic. Annabelle is an accredited tutor for the PME Diplomas in Sugar craft and also designs and delivers a wide range of other highly successful cake baking and decorating classes. Annabelle has a huge vision for our Cake School and ensures that the strong reputation we have earned continues to grow lead by her consistently high standards.
Everything is included - the cupcakes, icings and use of equipment. A box is provided for you to transport your cupcakes home. Students receive a set of course notes. Students also receive a 10% discount on shop purchases on items used on the course.
We provide tea/ coffee/ drinking water and cake.
You may like to bring an apron
Social distancing all in place so a relaxing atmosphere. Very good course if you want to make flowers quickly. Love doing a course with Linda. She makes it fun and interesting.
— Delenda James, 9th July 2020
I did not expect the flowers to be so good. Linda is amazing. She inspires confidence and is full of tips. Clear instructions. Amazing tutor and brilliant end results. Fantastic.
— Dorothy, 9th July 2020
Friendly, welcoming & non judgemental environment, with easy to follow instructions. Linda knowledgeable, patient and on hand with tips and advice. Advance information and everything in place for health and safety was successful. Linda even brought specialist wipes in. Already booked for the next course.
— Joanne, 9th July 2020
Fabulous course, great teaching & friendly atmosphere.
— Laura Morford, 17th June 2020
Very friendly & helpful. What I expected & more. Brilliant tutor. Great tips.
— Jo Sloat, 17th June 2020
Amazing evening, learning so much in a friendly relaxed atmosphere. Excellent tutor, informative and supportive. Great work at providing support from a distance too (Covid 19). Fantastic Covid 19 measures, so impressed, thought of everything!
— Becky, 17th June 2020
This course was really good and very informative... what I expected and more. The tutors are so friendly. Not only are they helpful with the course but also with everything else.
— Stef. Turner, 20th June 2019
Perfect. Excellent mentoring.
— Michelle Watts, 20th June 2019
The course is excellent for people who want to make flowers for cupcakes and to put on big cakes. The course content was just right. The teacher was so knowledgeable and very patient.... and I would recommend everyone join the cake club. The facebook is so helpful.
— Penny Wilcock, 20th June 2019
Loved it.
— Delenda James, 12th June 2019
Excellent course & very worthwhile. Very friendly & informative - easy to follow. Perfect.
— Jo Dear, 12th June 2019
5 stars. Very good tutor.
— Daphne Tallet, 12th June 2019
Well organised and informative. Excellent, helpful, friendly and knowledgeable tutor. Possibly more time / less number of variety but excellent as always.
— Emma Hoskins, 12th June 2019
The course & tutor was brilliant.
— Sue Butcher, 12th June 2019
Very enjoyable + easy to follow. Tutor knowledgeable, friendly and helpful.
— Susan Gent, 12th June 2019
Very well explained course and highly enjoyable.
— Jill Griffin, 12th June 2019
Book it! You'll be so proud of yourself. You learn so much. Excellent tutor, she explained everything perfectly.
— Katie Osborne, 12th June 2019
Course is very easy to follow. Teacher is lovely and really helpful. Exactly what I wanted.
— Sam Fielon, 12th June 2019