Decorated cookies
Make your own cookie dough, bake cookies (using cutters & moulds) and decorate using an incredible range of techniques. Social Distancing & safety measures in place.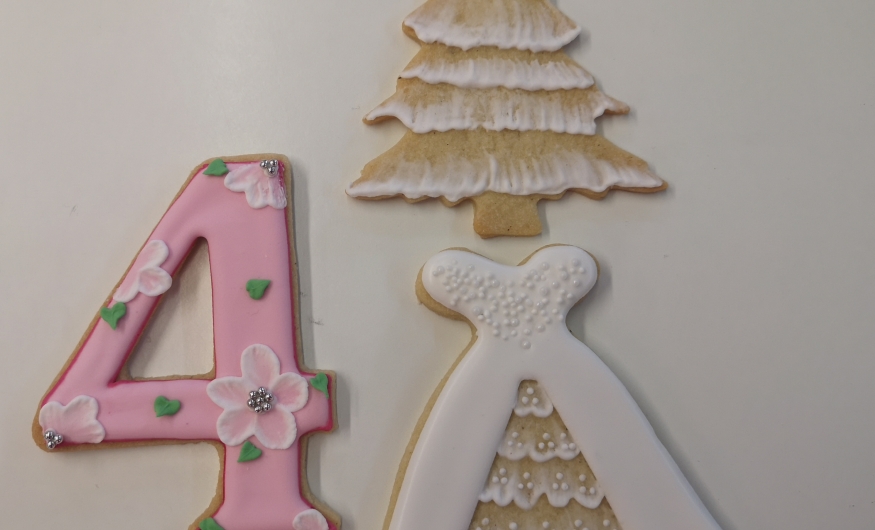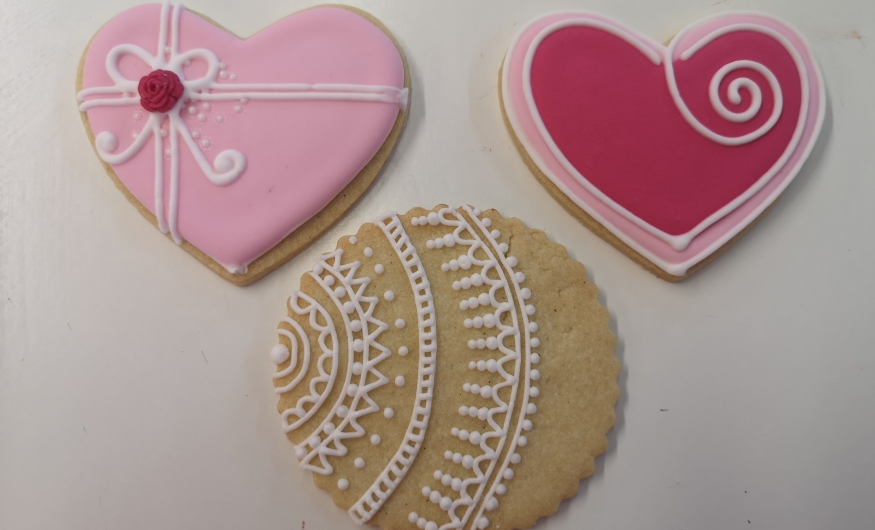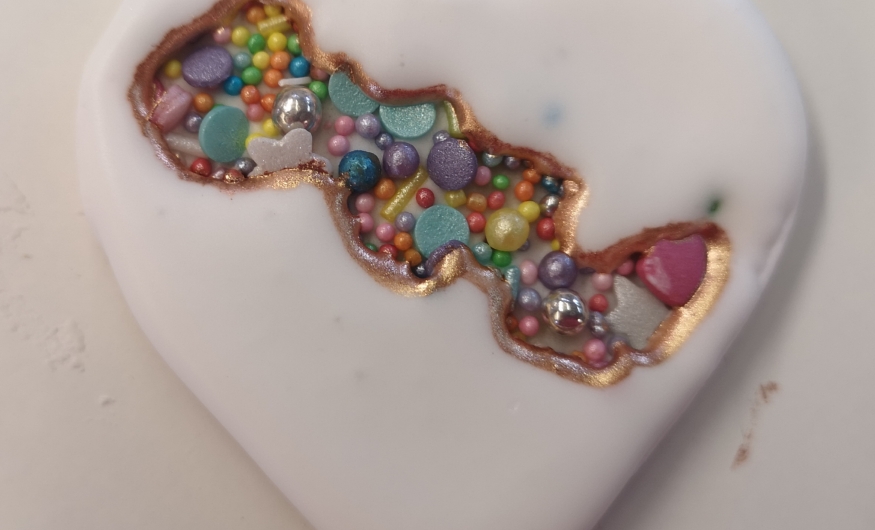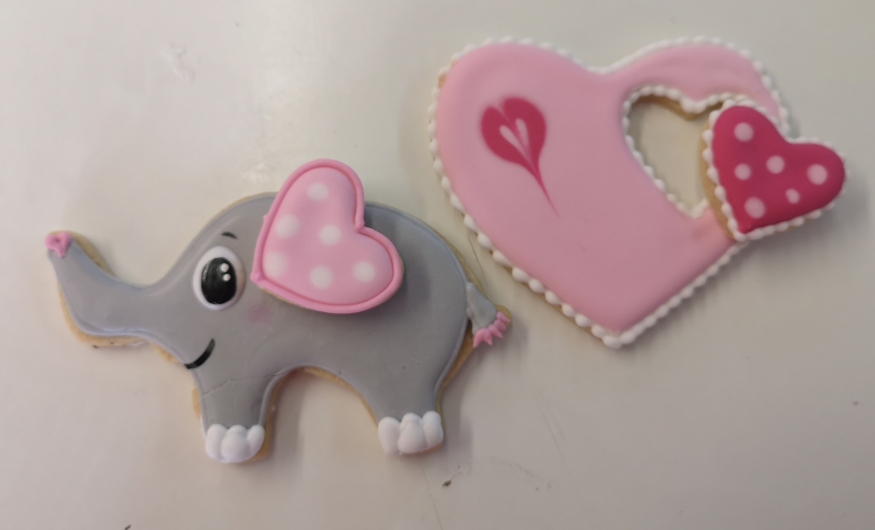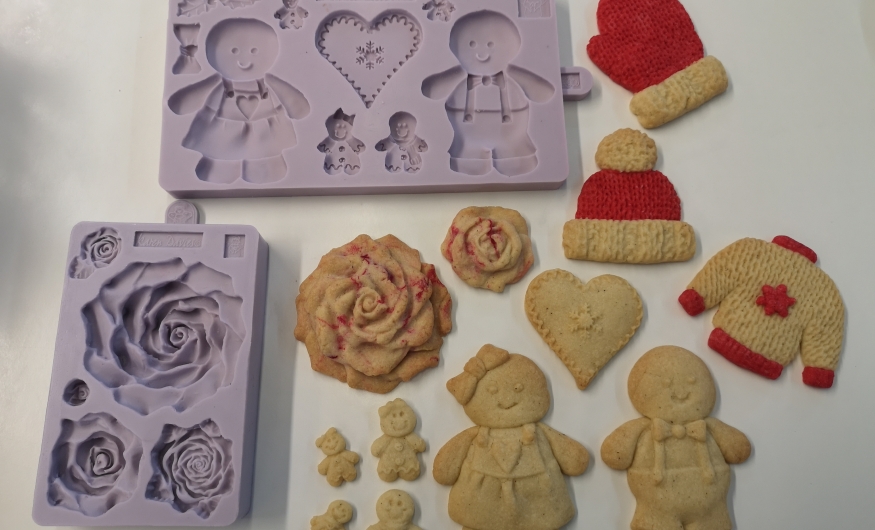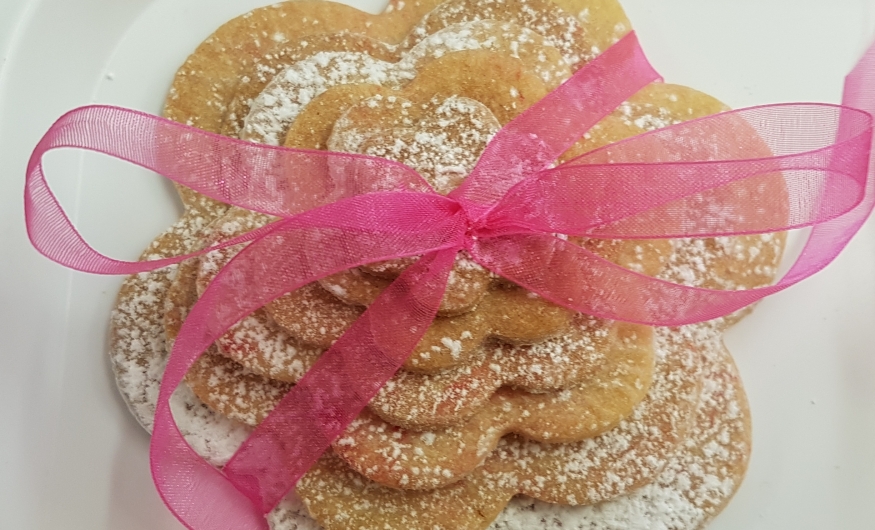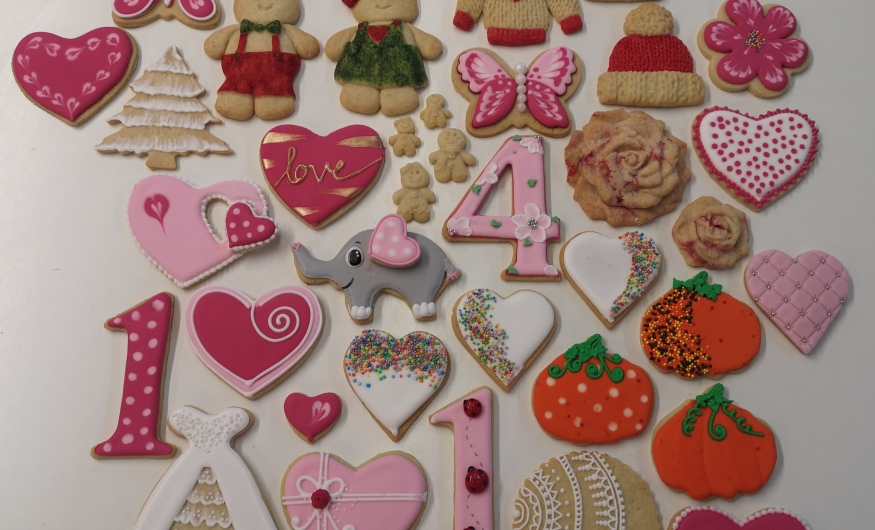 Begin the day by making your own cookie dough. Learn the secrets of creating a dough that holds its shape and doesn't spread during baking. You will make a selection of cookies using cutters and also some using moulds. Whilst the cookies are baking and cooling learn how to make the perfect royal icing. You will learn a host of decorative techniques for your cookies.
How to make cookie dough
How to add colour to cookie dough - marbled and solid colours
How to roll cookie dough and cut even cookies
How to create moulded cookies
How to perfectly bake cookies
How to paint colour directly onto cookies
Tutorial - what is Royal icing and how to make it
How to add colour to royal icing
How to make flood icing
How to ice a cookie with sugarpaste
How to pipe an outline and flood a cookie
How to add polka dots, pulled hearts, double layer pulled hearts and feathering to your cookie designs
How to pipe lines, scrolls, dots, pearl beading
How to pipe detail onto your cookies
Brush embroidery
How to store your cookies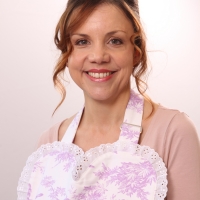 Annabelle
Annabelle
Director
Annabelle established Confection Perfection (now re-branded as Annabelle Jane Cake School) in 1996 from her kitchen table; bought her first retail premises in 2000 and is now settled in a delightful setting in Bearsted, just outside Maidstone. Annabelle has extensive cake decorating experience and is highly creative and artistic. Annabelle is an accredited tutor for the PME Diplomas in Sugar craft and also designs and delivers a wide range of other highly successful cake baking and decorating classes. Annabelle has a huge vision for our Cake School and ensures that the strong reputation we have earned continues to grow lead by her consistently high standards.
Everything is included - All the ingredients, icings, use of equipment and boxes to take your cookies home are provided.
Attendees will receive a set of course notes and also a 10% discount in the shop on items used during the course.
We provide tea, coffee and drinking water - and of course cake.
You may like to bring an apron and a packed lunch (there is a local deli a short walk from the shop)
So fun & informative. Course what I expected & more. Always great fun, feel good and loads of really useful techniques.
— Elley Shepherd, 10th July 2021
Been before & definitely going to come back. Tutor perfect as always. 5* course.
— Sharon, 10th July 2021
I have learnt so many new techniques today. Annabelle is patient, informative and so generous with her knowledge. Thank you!
— Rosie Spencer, 12th September 2020
Cake School is just the most enjoyable place. This course was great, lots of content - lots, lots more than expected and lots of skills to learn. Annabelle is just "the best" so patient, knowledgeable and kind, explains everything so clearly.
— Diane B., 12th September 2020
I'm sure I'll be back. Tutor excellent. All questions answered + no stupid question, makes you feel good. The flood icing technique would make a great mini course!
— Sam, 12th September 2020
It was great. What I expected and more. Friendly, informative. Tutor fantastic as always.
— Nicki, 12th September 2020
Knowledgeable class, explained carefully/clearly. Good tutor.
— Sky, 12th September 2020
Everything I expected and more. Tutor fun, patient and extremely helpful. Patience of a saint.
— Sheila Cheeseman, 12th September 2020
If you have never attended a course before but thought about it, don't delay book straight away. You won't regret it. Annabelles Cake School is friendly and welcoming. Annabelle is a delight, full of information, fun and lots and lots of tips and techniques.
— Jane Lawrence, 18th July 2020
Fabulous day that was so enjoyable. Clearly explained and demonstrated. Brilliant tutor. Lots more helpful hints & tips.
— Laura Morford, 18th July 2020
Thrilled chose to do this course, will definitely be back. Such a friendly place. Annabelle, don't change!
— , 18th July 2020
A fun course. It was so much fun doing the piping, I could do it all day! Very good tutor.
— Karen, 18th July 2020
Friendly staff. Like minded people. Enjoyable day.
— , 27th June 2020
Fun + lots of ideas. Annabelle is superb as a teacher + so cheerful. Linda makes a great cup of tea!
— Mary Bigwood, 27th June 2020
Very enjoyable and informative. Excellent tutor. Very clear and easy to follow.
— Theresa Stanton, 27th June 2020
For any cake baker these courses are so much fun & very informative. Each course I have been on has increased my confidence in my baking & decorating. So many hints & tips around icing & decorating. Tutors excellent - Annabelle is so friendly & patient. Nothing is ever too much trouble. Annabelle & Linda are so supportive. They make Cake Club & I would recommend Cake Club to every baker. This course, I would add more time!! There would never be enough:) Covid-19: Annabelle has thought of everything to keep everyone safe.
— Marie, 27th June 2020
Loved the pace of this course. Achieving the finish on the cookies was much easier than I expected once Annabel had demonstrated and helped me to start the first one. Really enjoyed this course.
— Janet Owen, 23rd November 2019
Lovely course. Nice to start at beginning making & cooking cookies & then to decorate them.
— Sue Butcher, 23rd November 2019
Learnt so much about cookie making and plenty of tips on how to store and keep in freezer.
— Delenda, 23rd November 2019
Fabulous day of baking + decorating. Very informative course, Lots of new techniques and great tips for perfect cut out + moulded cookies / biscuits.
— Katie Robinson, 23rd November 2019
Loved it. Can't wait to make some more. Very helpful and knowledgeable tutor.
— Amber Brown, 23rd November 2019
Definitely coming back. Amazing tutor. Learnt so much!
— Sandra, 23rd November 2019
Fantastic choice. Very good tutor. Always patient and lots of help.
— Chris Vaughan, 23rd November 2019