Cupcake Bouquet & Piping Day
Learn numerous different piping styles using a wide selection of nozzles, learn how to create a cupcake bouquet and go home with a bouquet and a box of cupcakes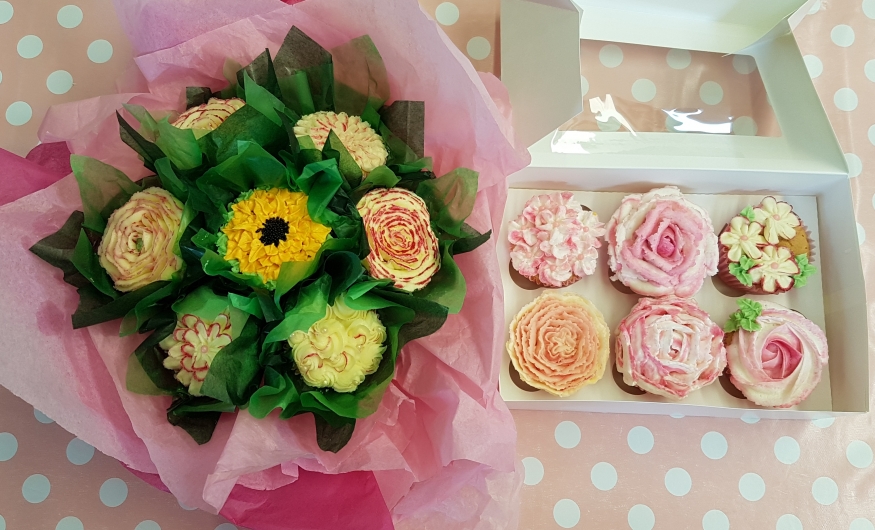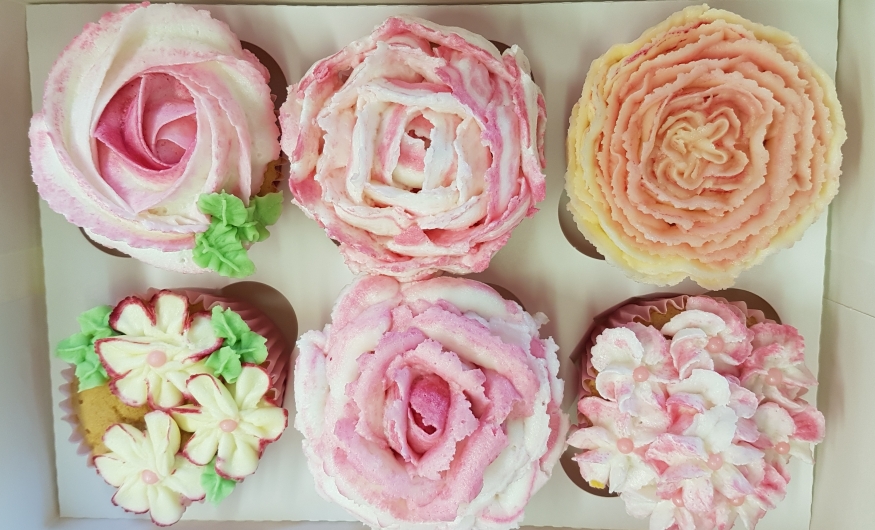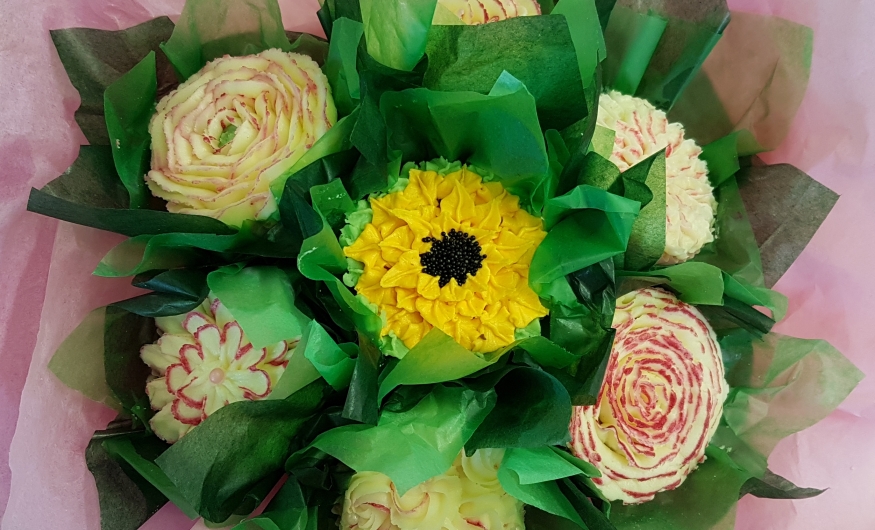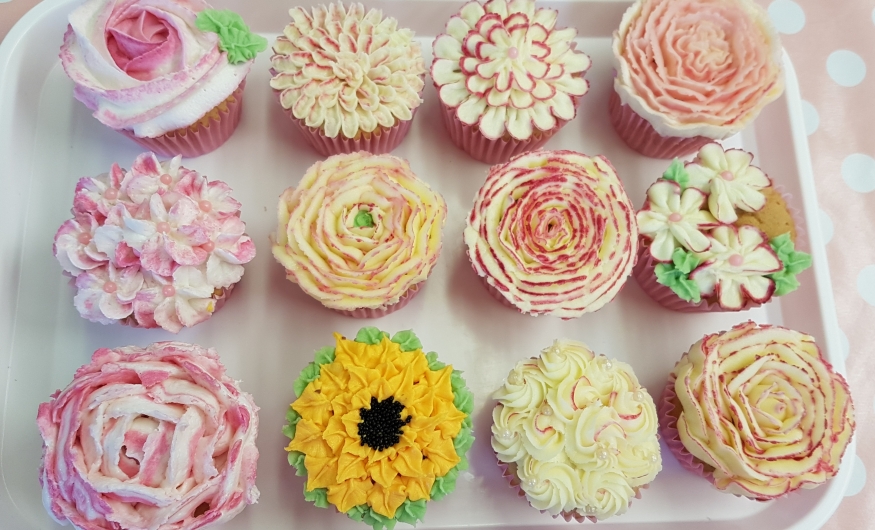 This course is packed full of techniques and ideas to produce a wide range of finishes for your cupcakes. The focus of this course is entirely on decoration - We will bake you a batch of delicious cupcakes ready for you to decorate, you will use several different nozzles to pipe buttercream and frosting to create 13 floral designs. You will learn differnt colouring techniques and you will have the opportunity to colour your frosting/ buttercream to suit your desired colour scheme.
We will show you how to create a cupcake bouquet using a selection of the designs you have created. Your remaining cupcakes you will take home in a box.
Tutorial - different piping mediums, their pros & cons & best applications - what to use when to best effect and taste including frosting, buttercream, whipped ganache, cream cheese topping, cream, Swiss meringue buttercream, Italian meringue buttercream, chocolate fudge topping, chocolate buttercream
How to filling a piping bag
How to use an adapter
How to colour buttercream/ frosting including marbled and striped effects
How to create a rose swirl
How to pipe hydrangeas
How to create flowers with individually piped petals
How to pipe a small rose
How to pipe a large open rose
How to pipe an old english rose
how to pipe a multi blossom flower
how to pipe a ribbon rose
How to pipe a chrysanthemum
How to pipe a ranunculus
How to pipe mini rossette swirls
How to pipe a sunflower
How to pipe leaves
How to pipe a peony
How to create a cupcake bouquet (with lots of Annabelle top tips/ insider secrets)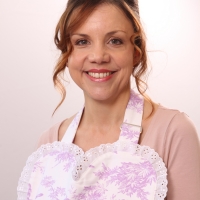 Annabelle
Annabelle
Director
Annabelle established Confection Perfection (now re-branded as Annabelle Jane Cake School) in 1996 from her kitchen table; bought her first retail premises in 2000 and is now settled in a delightful setting in Bearsted, just outside Maidstone. Annabelle has extensive cake decorating experience and is highly creative and artistic. Annabelle is an accredited tutor for the PME Diplomas in Sugar craft and also designs and delivers a wide range of other highly successful cake baking and decorating classes. Annabelle has a huge vision for our Cake School and ensures that the strong reputation we have earned continues to grow lead by her consistently high standards.
Everything is included including cupcakes, buttercream, frosting, use of equipment. A cupcake box and materials for the cupcake bouquet are also provided. Students recieve a set of notes and also a 10% discount in the shop (on items used on the course).
You may like to bring an apron and a packed lunch (or there is a local deli a short walk away)
We provide tea, coffee, drinking water and cake.
Everything about today was wonderful, including Linda. Wonderful, friendly lady, very informative. Today was one of the best. Enjoyed every moment.
— Anita Ayling, 4th August 2018
Amazing day and amazing course. Learnt loads and Linda was really helpful & patient. So looking forward to go home and practise, it also surprising that one nozzle does so many flower.. learnt 13 different designs was perfect, though learning all the amazing flower we run out time.
— Sarah Land, 4th August 2018
Very informative & creative. Excellent, very patient tutor. Longer day would be good.
— Sarah Putney, 4th August 2018
Brilliant, friendly tutor. The course what I expected and more.
— Tracey Mahaffey, 4th August 2018
Excellent course, one that everyone should try. Fun + learn so much.
— Natasha Turnbull, 4th August 2018
I was scared of using buttercream to decorate flowers, but was surprised at how simple it was. Just need to practice now. Longer time for the course would be good, and doing a simpler flower before daisy to practice technique. Tutor super trouper fantastic.
— Nicki Smith, 4th August 2018
It was interesting, fun & well structured. Linda was extremely nice, helpful & friendly.
— Anar, 4th August 2018
Fun day, very full. Been to two classes and I'll be back for more.
— Samantha Mathews, 4th August 2018
Can't believe I made those cupcakes - so amazed! Much better than I expected; absolutely amazing - patient and understanding tutor... a wonderful day.
— Gill Newton, 26th May 2018
More than I expected. Excellent tutor - explained each step.
— , 26th May 2018
Excellent, fun course, learnt so much in one day!
— Erika Broad, 26th May 2018
Friendly, fun & very informative. Absolutely brilliant, super helpful tutor & enough time for everyone.
— Laura Morford, 26th May 2018
Great course - great day. Learnt a lot. Highly recommended.
— Debbie, 3rd February 2018
Never had a bad course and this one was another winner. You learn so much in a fun and friendly environment. You go away feeling inspired and wanting to do more. No matter your ability the course is aimed at everyone.
— Dan Boulton, 2nd February 2018
A day well spent and a strong sense of achievement felt. Lovely surroundings and friendly atmosphere. Very patient tutor, excellent tips and encouragement. Excellent cake too!
— Rachel Rose, 2nd February 2018
Great day of learning, practise and guidance. Given me a love of something new! Lovely tutor, great atmosphere and just all round wonderful experience. Heartily recommend!
— Tracey Hanks, 2nd February 2018
What a great experience - I would never have believed I could do this before today. Excellent tuition and course content. Thanks!
— Julie Dod, 2nd February 2018
Great tuition with a friendly atmosphere.
— Suzanne Folkard, 2nd February 2018
Linda was very knowledgeable with helpful hints + tips throughout the day. She was patient + ensured that we all knew what to do before moving on to the next part. Clear instructions, helpful & friendly.
— Pauline Scaysbrook, 27th October 2017
Amazing course - I absolutely loved it! So effective and gorgeous! Lovely tutor, knowledgeable, very friendly, extremely helpful. Experience was amazing once again. Loved it!!
— Chloe Willson, 27th October 2017
Really good course. I did not believe I would end up with a bouquet similar to the picture on the website, but the end result was amazing. So happy with it. Linda was happy to re-explain and came round to individuals struggling with any technique. Really good course, good pace and friendly.
— Claire Kind, 27th October 2017
Very enjoyable & informative course, Good fun & would recommend. Very pleased that I achieved a bouquet as promised.
— Fiona Nutburn, 27th October 2017
Linda was excellent. So informative and patient. Very clearly explained and shown.
— Halina Potts, 27th October 2017
Good fun & informative. Excellent tutor. Excellent bunch of ladies. Lots of tips, hints & useful shortcuts / advice.
— Michele Neep, 27th October 2017
Enjoyed the day very much. Knowledgeable, friendly tutor & good at explaining. Great to improve skills.
— Hilary, 27th October 2017
Great day. Wonderful tutor. This is the 2nd time I've done the course - and would still like to do it again!
— Gill Newton, 27th October 2017
Very relaxed, friendly atmosphere. Excellent tutor. Pictures on the course notes would be helpful, to help remember which flower was which. Fantastic day - thanks so much!
— Laura Varney, 27th October 2017
Excellent teaching. Brilliant tutor.
— Hollie Eastman, 27th October 2017
Fab tutor. Course more than I expected. Thank you.
— Leigh Eastman, 27th October 2017
Well organised & interesting. Excellent tutor. Very clear instructions.
— Alison Wheeler, 27th October 2017
Very thorough. Enjoyable.
— , 7th January 2017
5+ stars! Awesome. Expectations met & more. Very informative. Nothing I would add or remove; perfect.
— Karen, 7th January 2017
Really detailed information provided. Found online - and coming on my own, it was nice to feel welcome straight away. Excellent tutor, very patient when showing how to create the cupcakes. I hope to attend other courses. Fabulous!
— Emily, 7th January 2017
100% likely to come back. Fantastic.
— Heather, 7th January 2017
Amazing. And thank you for adapting the ingredients to be gluten free.
— , 7th January 2017
Good for beginners & advanced. Clear, patient, friendly teaching. More varied that I expected. Enlightening!
— , 7th January 2017
5+ star. It's fun and learn more than expecting. Magical.
— , 7th January 2017
Good pace of teaching, friendly & funny and patient. Excellent.
— Beverley, 7th January 2017
Fun, friendly & great tutor, very helpful. Great experience.
— Sarah, 7th January 2017
A wonderful course with a wonderful tutor. I learnt more than expected, a fantastic day - brilliant, fun and helpful.
— Carley Bright, 27th February 2016
Enjoyable course. What I expected, and very good.
— Julie, 7th January 2016
Friendly greeting. Excellent tutor. Inspiring day!
— Sallyann Clinton, 12th June 2015
Very good tutor explained things well. Really informative day.
— Hayley Caiels, 12th June 2015
Great! Fun classes, lots to learn.
— Laura, 9th May 2015
Tutor was really good and showed extra bits. Very happy.
— Tracey, 9th May 2015
Great tutor, lots of tips.
— Joni, 9th May 2015