Cupcake Rose bouquet
Master the art of piping with Russian nozzles, piping flowers with individual petals and the rose swirl - then assemble into a pretty bouquet. Social Distancing & safety measures in place.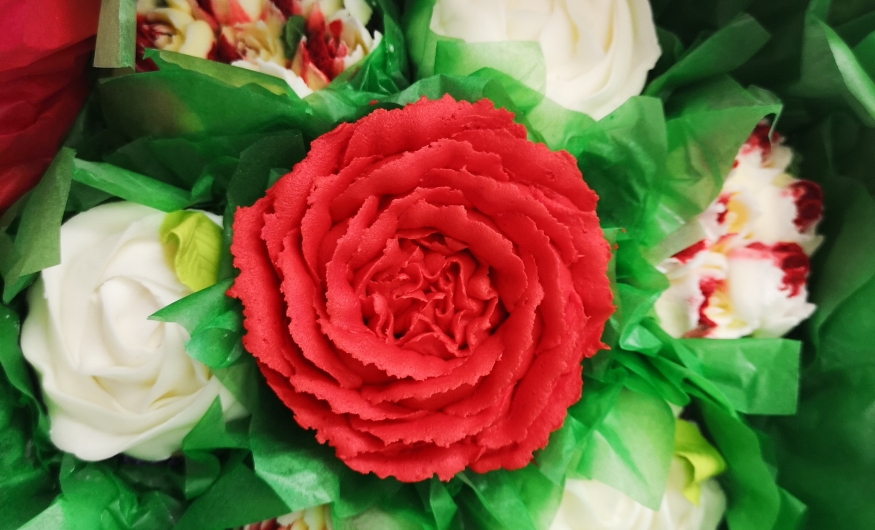 Cupcake bouquets are very 'on trend' and the perfect gift. With step by step expert tuition in a friendly environment be amazed at what you can create.
The focus of this course is entirely on decoration - We will bake you a batch of delicious cupcakes ready for you to decorate, you will use different nozzles to pipe buttercream and frosting to create 3 floral designs. You will learn different colouring techniques and we will show you how to create a cupcake bouquet using the designs you have created.
Tutorial - buttercream and frosting - their pros & cons & best applications
Tutorial - how to colour buttercream and frosting (including deep colours)
How to filling a piping bag
How to use an adapter
How to create two tone buttercream
How to create a rose swirl
How to pipe a David Austen style rose with individual petals
How to pipe leaves
How to pipe with your choice of Russian nozzle
How to use flowerpaste to make rose leaves
How to assemble and create a cupcake bouquet (with lots of Annabelle top tips/ insider secrets)
This is a very different course to the whole day Cupcake bouquet and piping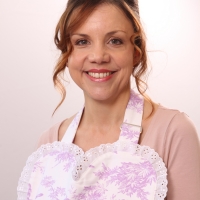 Annabelle
Annabelle
Director
Annabelle established Confection Perfection (now re-branded as Annabelle Jane Cake School) in 1996 from her kitchen table; bought her first retail premises in 2000 and is now settled in a delightful setting in Bearsted, just outside Maidstone. Annabelle has extensive cake decorating experience and is highly creative and artistic. Annabelle is an accredited tutor for the PME Diplomas in Sugar craft and also designs and delivers a wide range of other highly successful cake baking and decorating classes. Annabelle has a huge vision for our Cake School and ensures that the strong reputation we have earned continues to grow lead by her consistently high standards.
Everything is included - the cupcakes, buttercream, frosting, use of equipment and a box to take your bouquet home in. Students also receive a comprehensive set of course notes and a 10% discount on items in our retail shop (items used on the course).
We provide tea, coffee, drinking water and cake.
You may like to bring an apron
Fab course as always. Tutor really great and always helpful. Health & safety all good. I love it here!
— Emma Lovegrove, 8th August 2020
Tutor was very friendly, helpful, very knowledgeable. Very likely to come back.
— Laura, 8th August 2020
This is the second time I've done this course and you learn something new every time. Linda is always a treat to be with, fun & informative. Loved it.
— Delenda James, 8th August 2020
You end up with a beautiful bouquet. The tutor is extremely pleasant and helpful. Very good. Very patient. Safety measures were thoughtful and reassuring.
— Pamela Nkune, 8th August 2020
Great course. 100% likely to come back.
— Elizabeth Lukehurst, 31st July 2020
Such a good course, learnt so much and cannot believe what I was able to achieve. Excellent tutor. Very patient indeed. Brilliant course.
— Janet Owen, 31st July 2020
Such a lovely morning of learning and entertainment - and cake! Tutor very very friendly and nice. All questions answered well. Lovely results and very pleasant tuition.
— Linda, 31st July 2020
Lovely tutor. Explained everything clearly. Linda was really sweet & helpful. There was a lot of single use plastic which would make me feel better if reduced.
— Amy, 31st July 2020
Excellent. Very informative. I had an amazing time. So much great info + super friendly. Course content perfect - what I expected + more. Thank you Linda. Well explained + always available for support.
— Gemma Fulford, 31st July 2020
Excellent course to take for using different creams/frostings and piping techniques. Linda was a very good tutor, gave me a lot of advice. Answered any questions I had.
— Tracey Kennard, 20th March 2020
Really enjoyed the course, as usual. Annabelle was excellent in the way she explained, encourage and demonstrated the course. Always a pleasure to do these courses you learn so much. Much more than expected.
— Sandra, 13th July 2019
I really enjoyed this course, it was more than I expected, so many tips and lots to learn and improve on at home. Annabelle is brilliant, as always!
— Diane Bradley, 13th July 2019
Superb course - so many techniques and tips. Achieved more than I thought I could. One of the best courses I have done with Annabelle. A very big thank you.
— Dorothy Nicholson, 13th July 2019
Very interesting, excellent teaching skills. Very friendly.
— Wendy, 29th March 2019
Excellent from start to finish, really really great. Fabulously fantastic tutor.
— Nicola, 29th March 2019
Very well presented, very clear instructions. Excellent.
— Deidre Alley, 29th March 2019
A good course, in good time to learn lots of new things. Tutor always very patient, encouraging and happy to answer any question.
— Amy, 29th March 2019
Assistance when needed + advice. Interesting info of the cupcakes. Very good tutor,
— Paula Witthread, 29th March 2019
Enjoyed every minute even the rose!
— Ann Thompson, 29th March 2019
I had an amazing time. Informative, fun & highly effective.
— , 29th March 2019
Useful and informative. Tutor so, so friendly + helpful and full of knowledge + helpful tips.
— Susanne Church, 29th March 2019
5 stars. Excellent tutor.
— Vanessa, 29th March 2019
Excellent fun! Very pleasant + informative tutor.
— Maria Quigley, 29th March 2019
The cupcakes we made were so beautiful, I think people will find it hard to actually eat them. Linda is such a great tutor. Always fun & informative
— Delenda James, 26th January 2019
This course is perfect. Short, sweet but you come away having created something marvellous in such a short time.The best & most content I've ever experienced from other schools. Fantastic tutor. Lots of insider tips. Felt free to ask lots of questions, which were always fully answered.
— Steph Lee, 26th January 2019