Christmas dome cupcakes
Make 4 charming festive dome cupcakes using a variety of techniques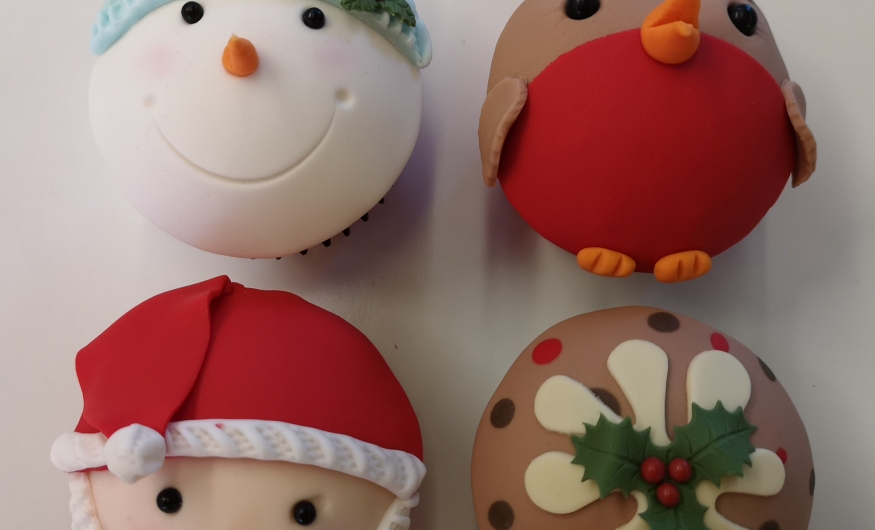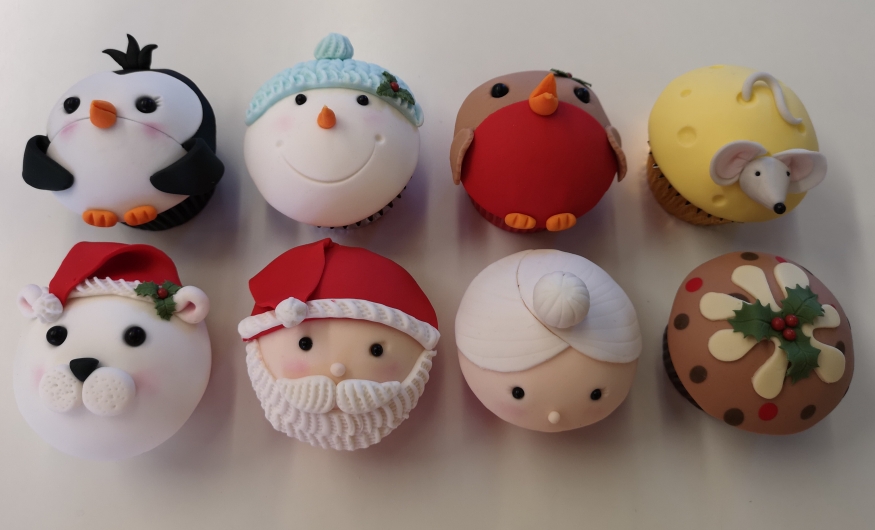 These delightful cupcakes are easier to make than you may think. We will bake the cupcakes for you. You will be taught step by step how to create four different dome cupcakes - snowman, robin, Father Christmas and Christmas pudding. The techniques learnt may easily be adapted to create other designs and students will receive a full set of notes which include not only the designs made on the course but also the penguin, mouse, polar bear and Mrs Christmas.
Working with sugarpaste and modelling paste
Simple modelling techniques
How to use a variety of professional modelling tools
How to use a size guide
How to use textured moulds
Cutter techniques
How to use crimpers
How to create patterned paste
How to create cupcake domes
How to pipe a bulb of frosting/ buttercream (this sits underneath the dome)
Storage of your decorations and cupcakes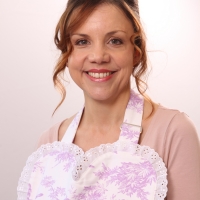 Annabelle
Annabelle
Director
Annabelle established Confection Perfection (now re-branded as Annabelle Jane Cake School) in 1996 from her kitchen table; bought her first retail premises in 2000 and is now settled in a delightful setting in Bearsted, just outside Maidstone. Annabelle has extensive cake decorating experience and is highly creative and artistic. Annabelle is an accredited tutor for the PME Diplomas in Sugar craft and also designs and delivers a wide range of other highly successful cake baking and decorating classes. Annabelle has a huge vision for our Cake School and ensures that the strong reputation we have earned continues to grow lead by her consistently high standards.
Everything is included - the cupcakes, icings, use of equipment, a box to take them home in. Students receive a set of course notes and a 10% discount in the shop on items used during the course.
We provide tea, coffee, drinking water and cake. You may like to bring an apron.
Great fun even if you're not very creative. Maybe more time to be able to do it would be good, slightly rushed. Amazingly friendly tutor, encouraging and very supportive & patient. Would definitely come back.
— Becky Ide, 17th December 2019
Very enjoyable, very rewarding and good fun. Tutor very good - approachable + friendly. Loved that we got coffee + cake too. Thank you!
— Christa, 17th December 2019
Such fun. As with all the courses I surprised myself with the end result. All due to excellent tutor.
— Justine Wills, 17th December 2019
Friendly, relaxed and helpful. Excellent, knowledgeable tutor.
— , 17th December 2019
I found the course fun and jam packed with ideas, even though I'd like more time. Tutor is very knowledgeable, complimentary and efficient.
— , 17th December 2019
Amazing evening with fantastic results, extremely helpful, knowledgeable tutor with great skills. Relaxing, excellent tuition and fab skills learnt. First class.
— Becky, 17th December 2019
A 'different' way to spend an evening - and you get to take home something that looks great + am so proud of my cupcakes!! I can't wait to show my little girl as I know she'll love them. I didn't know what to expect as my friend brought me as a treat - but I loved it! I plan to treat my nan top a course for her birthday too!
— Charlie, 17th December 2019
Really lovely evening, great fun and amazing teacher. Can't wait till next time.
— Tina Russell, 17th December 2019
This course was fun, creating great cupcakes, lots of techniques learnt and I shall do these at home. Annabelle is just brilliant.
— Diane Bradley, 17th December 2019
Enjoyable course for Christmas, tutor very helpful & brilliant at teaching. Right pace.
— , 13th December 2018
A lovely course for all abilities and ages. Fun + creative. Brilliant tutor. Very friendly + helpful. Very professional.
— Nicola, 13th December 2018
Very enjoyable. Tutor very helpful and knowledgeable and friendly.
— Michelle, 13th December 2018
Like cakey heaven! Excellent tutor as always.
— Dawn Burr, 13th December 2018
Just brilliant.
— Sam, 13th December 2018
Fab tutor. 5* course.
— Vanessa, 13th December 2018
Helpful + friendly tutor. Fun + learn new skills.
— Helen, 13th December 2018
Really great tutor - friendly + helpful. Really enjoyed tonight - lovely cupcakes!
— Sam Lewin, 13th December 2018
Such good fun. Excellent tutor. Very knowledgeable, fun, friendly and polite.
— Jennie de Hoedt, 13th December 2018
Amazing tutor as usual. Like terminator - I will be back.
— Keeli Jones, 13th December 2018
Thank you for yet another amazing course.
— Michelle Neilson, 13th December 2018
Brilliant course and teacher.
— Nicola Hooper, 13th December 2018
Fun & friendly class. Very good tutor - friendly and easy to understand.
— Niamh Pey, 13th December 2018
Excellent tutor & guide. Fantastic course. Friendly, welcoming support & amazing!
— Jacqueline Rees, 13th December 2018
Fun, fantastic 2 hours and festive. Lovely Linda was fab & funny as usual. Full of advice.
— Diane Hall, 13th December 2018
Excellent, knowledgeable, friendly tutor. Can't wait to decide on my next course. I'd lost my cakey mojo but it's coming back now!! Thank you!
— Kate Porter, 12th December 2018
Very well presented. Very enjoyable and an easy to follow instructions, the tutor was very friendly and patient.
— Kate Boulton, 12th December 2018
Always informative, Annabelle is always clear in her instructions, always so helpful, every course is a complete joy. Always enjoy the courses, learn so much. Always feel as though you have achieved so much.
— Sandra, 12th December 2018
Patient, friendly, helpful, informative, welcoming. Very detailed & organised.
— Natasha Grey, 12th December 2018
Absolute festive treat! Such wonderful courses and great atmosphere.
— Gemma Johnson, 12th December 2018
Lovely way to spend 2 hours! Tutor excellent as always!
— Katie Robinson, 12th December 2018
5*s. Amazing tutor.
— Kathy , 12th December 2018
Annabelle has the patience of a saint. Always bubbly, welcoming + nothing is ever too much trouble. Can't wait for my next course.
— Claire Adams, 12th December 2018
New to decorating or wanting to brush up on skills - Annabelle is a calm & friendly host. I would highly recommend. It's a great environment to learn.
— Elaine Painter, 12th December 2018
Our tutor was so good, she explained everything so well and had time to help people. It was lovely to meet other people from the Cake Club.
— Penny Wilcock, 12th December 2018
A very enjoyable experience, lots of friendly banter. Fun and you learn a lot.
— Gisela Bradshaw, 12th December 2018
My friend and I had a wonderful time on Saturday at the Christmas Dome cupcakes course. It was quite a tricky course and at times felt we were going quite fast but so much was fitted in to the morning that this was necessary. I learnt lots of new techniques and can't wait to use these at home. Annabelle, as always, was wonderful, delivering instructions clearly and making our time fun. A definite 5* for the course - would love to do it all over again!!
— Alexis, 1st December 2018
5* for this lovely course. I learnt some new piping techniques and best of all how to assemble the cupcake bouquet, which I gave to my aunt. She was thrilled. As always Annabelle was a fantastic and patient tutor. I would thoroughly recommend this course. The finished bouquet is an great present to give.
— Chris, 1st December 2018
An excellently organised and run course, very informative. Annabelle is always so patient and no question is ever a problem to ask. You're always made to feel welcome and the knowledge and assistance is fantastic. It is very easy to ask questions and get help when needed. I love the 'extras' you learn on these courses. Its never just about the item you are making, but overall advice and tips on other aspects too. As always an excellent experience. Thanks for another great day!
— Callie, 1st December 2018