Chocolate lollipops
Create 6 flower lollipops, 4 with fillings, 6 'puddle' style lollipops and chocolate buttons.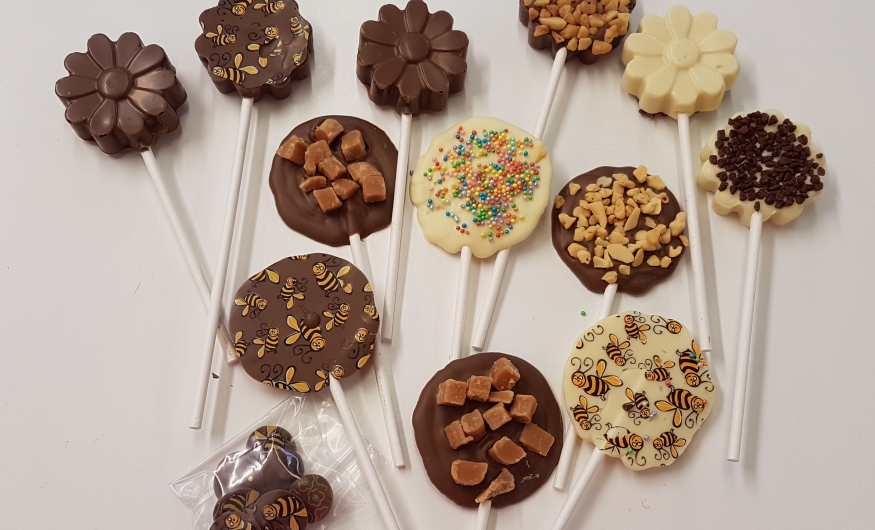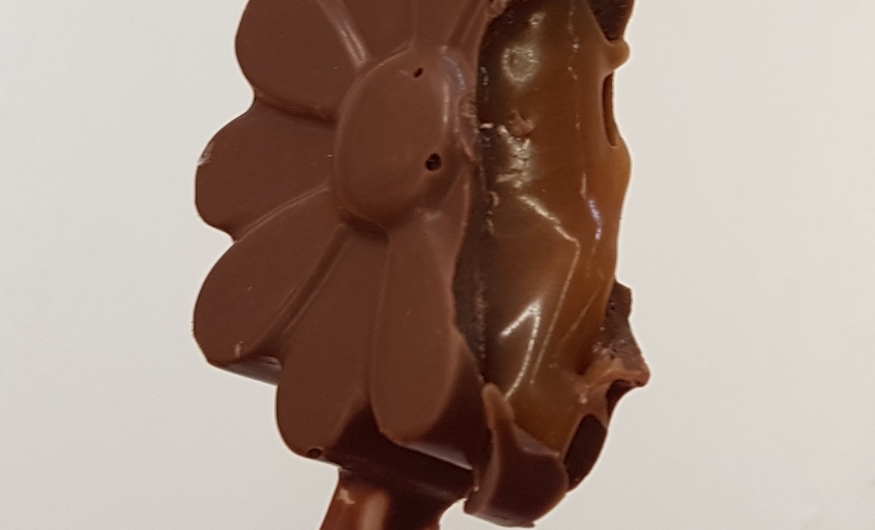 You will make 6 flower lollipops - 4 with filled centres, 2 truffle and 2 salted caramel. The other 2 will be plain.
You will also make 6 freestyle, 'puddle' chocolate lollipops and a selection of mini chocolate buttons.
You will temper 2 chocolates (choose from white, milk, dark) and you will learn how to colour white chocolate.
Accessorise your lollipops with fudge pieces, honeycomb and sprinkles. Use transfer sheets to add additional decoration to your lollipops.
Tutorial - how to make salted caramel filling
Tutorial - how to make truffle filling
We have packed the two and half hours full of chocolate skills - you will be amazed at how much you learn.... true chocolate heaven! To maximise your learning and enjoyment - places are limited to 8 students.
Everything is included - the equipment, lots of chocolate, the fillings and a box to take your lollipops home in. The flower chocolate mould is also included in the price so you can make lots more once at home. Students also receive a set of notes including recipes for the fillings. There is a 10% discount on shop purchases on the day of the course (on items used within the course)
Brilliant course easy to understand.
— Sue Butcher, 5th November 2018
Excellent course. Good for festives & party! More than expected. Tutor very friendly & talented lady.
— Periya, 5th November 2018
Such fun & made tempering not so ugly. Loved the innovate nature of the tutor.
— Sarah Morrison-Lane, 5th November 2018
Very relaxing and great fun. Very helpful and friendly tutor. What I expected, and more.
— , 5th November 2018
It was very fun and I am glad I came. The tutor was very helpful and friendly, knowledgeable and gave good advice. 4.8 stars. Could explain things in a little more depth.
— , 5th November 2018
So yummy and well explained. Even better than I expected. Very good recommend it to anyone.
— Evie, 5th November 2018
Great tuition. Takes the fear of chocolate away.
— Sandra, 5th November 2018
Linda is, as always, amazing. Chocolate is my worst subject but she explains things perfectly.
— Delenda James, 5th November 2018
It was really good fun. Linda was great, very patient, explained things all really well. Thank you.
— Linda Down, 28th July 2018
I would recommend this course to anyone either a beginner or advance person. As there were so many helpful tips! Brilliant tutor. Very patient and friendly. Easy to follow. Really enjoyed this course.
— Kate Boulton, 28th July 2018
Very fun, very good and amazing tutor... nice and kind.
— Jemima, 28th July 2018
Excellent, thank you Linda. Always learn something new.
— Julia Valentine, 28th July 2018
Fun, exciting and informative. It was more than I expected. Lynda is amazing, full of energy, information tips + tricks, always smily and happy.
— Jane Lawrence, 28th July 2018
Professional, friendly, fun and informative. Well planned. It was lovely to experience Linda's enthusiasm. Great evening.
— Sarah, 28th July 2018