Chocolate Day - The brand new one!
Learn how to fill, cover and decorate a delicious chocolate 'present themed' cake including ganache, ganache plates, how to achieve sharp edges and corners, how to temper chocolate and how to use transfer sheets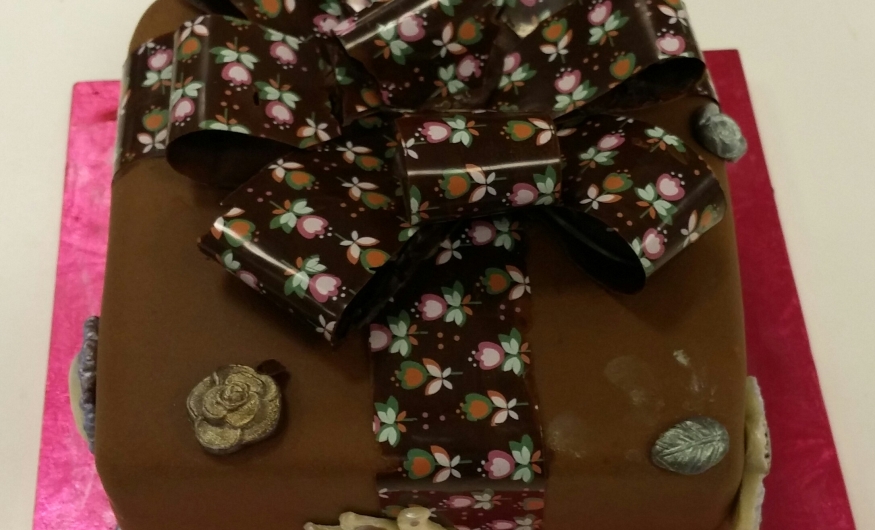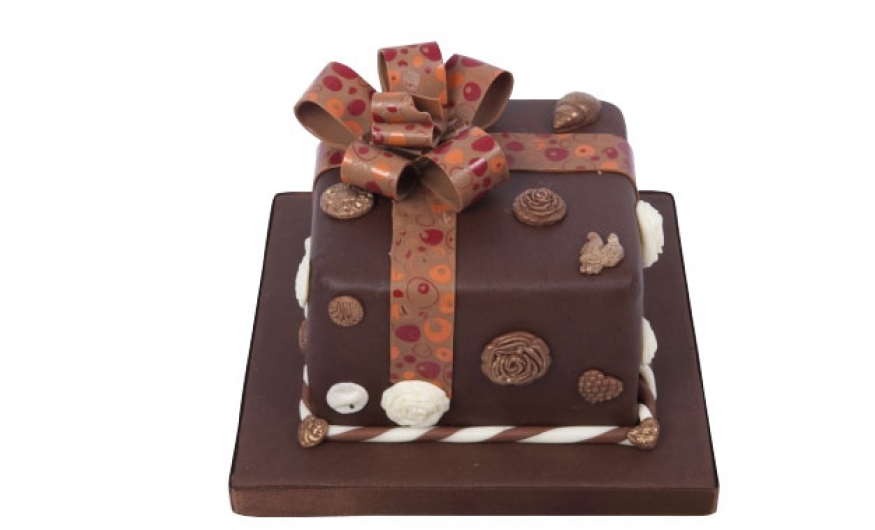 The perfect introduction to working with chocolate on cake. Learn how to fill, cover and decorate it, to create a devilishly attractive chocolate 'present themed' cake.
Brand new addition (and highly requested) - use ganache, ganache plates and learn how to achieve those super sharp edges and defined corners.
You'll use transfer sheets to make stunning patterned bows, use moulds and cutters to complete the decoration, you'll even decorate the board for the ultimate in professional looking finishes. Everything you need to create this sumptuous cake is already included; the fillings, transfer sheets, chocolate, board, colours and shimmers – we'll even give you a box to take it home.
As an extra special bonus we teach you the mythical art of tempering chocolate to create a glossy finish. This skill, once mastered, will allow you to create even more delicious, professional looking and fabulous treats.
Enjoy a day working with this unique medium and go home with a beautiful cake and the skills to make more of these gorgeous creations. Just bring your enthusiasm and an apron, we look after the rest.
How to split, fill and crumb coat a rich chocolate cake
Use ganache plates and ganache before covering your cake - brand new addition to the course
How to use Belgian chocolate paste to cover your cake
How to achieve sharp edges and defined corners on a square cake (techniques translate easily into a buttercream/ sugar paste cake) - brand new addition to the course
Tutorial – all about chocolate, what it is, how to choose it, how to store it
How to melt chocolate
How to temper chocolate
How to use transfer sheets
How to create a chocolate bow
The use Belgian chocolate paste in moulds
How to create base designs in chocolate paste including twisted rope and rolled rope.
How to marble chocolate paste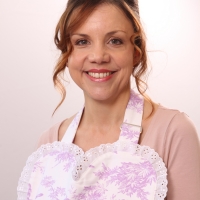 Annabelle
Annabelle
Director
Annabelle established Confection Perfection (now re-branded as Annabelle Jane Cake School) in 1996 from her kitchen table; bought her first retail premises in 2000 and is now settled in a delightful setting in Bearsted, just outside Maidstone. Annabelle has extensive cake decorating experience and is highly creative and artistic. Annabelle is an accredited tutor for the PME Diplomas in Sugar craft and also designs and delivers a wide range of other highly successful cake baking and decorating classes. Annabelle has a huge vision for our Cake School and ensures that the strong reputation we have earned continues to grow lead by her consistently high standards.
Everything provided including a rich chocolate cake, all icings, chocolate, board and box.
Course attendees will also receive a full set of course notes and a 10% discount on items purchased in the cake decorating supplies shop on the day of your course.
What's the skill level?

Any level, beginners and upwards.

Are there any age restrictions?

Age 14+ (under 16 must be accompanied by an adult who is attending the course)

What are the course times?

This course is a full day course with approx. half hour lunch break.

What do I need to bring?

An apron if you have one. You may like to bring a sandwich or alternatively you can take a short walk to the local deli
This course is a must for Chocolate Cake enthusiasts, A lot of really useful tips are given in-between the techniques. I was concerned that I may struggle working with chocolate, but Annabelle made me feel more confidence. Excellent!
— Pauline Scaysbrook, 20th October 2018
5*. Good tutor.
— , 20th October 2018
Had a fantastic day. Very good tuition and lovely atmosphere. Annabelle was very good at explaining everything.
— Collette Garbott, 20th October 2018
The whole day was great. Learnt so much. Annabelle as always made the course informative, fun and interesting. Way more than I expected.
— Sandra Dean, 20th October 2018
Fantastic tutor, very knowledgeable.
— Emma Lovegrove, 20th October 2018
Fantastic, brilliant, helpful tutor. Absolutely likely to come back.
— Sheila Cheeseman, 20th October 2018
Everyone is very friendly and helpful. The demonstrations are made easy to understand and if you are unsure they will show you again with no fuss! Learn lots, and with extras.
— Ellie, 7th October 2017
Everything was excellent; friendly atmosphere.
— , 7th October 2017
It was an amazing day in the cake and chocolate land. Great time and a lot of knowledge, accumulated within such a lovely space, created by all the team and Annabelle Cake School.
— Claudia Dota, 7th October 2017
Thank you for an amazing day as always. Learnt so much. Always been frightened working with chocolate and tempering but Annabelle made it easy in step by steps so nothing to be scared of. Very fun environment.
— Michelle Neilson, 7th October 2017
I am glad I had attended this course exp. for a beginner like me, I learned a lot of techniques and skills. I will come back for more.
— Laura Smith, 7th October 2017
Annabelle is so clever - I love these courses and learn so much each time I come. Annabelle answers all questions you have, no question is silly. Lovely relaxed atmosphere.
— Rosie Spencer, 7th October 2017
Very approachable, friendly & funny tutor; steady pace & fun.
— , 7th October 2017
If you are looking to wow the crowd this is the course that you have to do. Annabelle is always soooo professional... So much fun and I enjoy every minute of it!!! 5*+++
— Andrea Bonas, 11th February 2017
Well worth my wait. It was an amazing day, nothing too much trouble, thank you Annabelle. So many skills learnt. Great relaxing company. Nothing could be improved just me to practice more.
— , 11th February 2017
Course is ab fab & plenty of chocolate hence Chocolate Day a must for a chocoholic
— , 11th February 2017
Brilliant. Annabelle is so knowledgeable & free with her time and "quick" tips. Superstar
— Liz Sprules, 11th February 2017
Absolutely fantastic! Annabelle is great fun. The course was thoroughly enjoyable. Would definitely recommend.
— , 11th February 2017
Another amazing day course. Learnt loads and new ideas to go home with. Annabelle is always totally fantastic and very helpful. Can't wait for my next course
— Sarah Land, 11th February 2017
What a great course! I have always been nervous of working with chocolate but you proved that it is nothing to be afraid of. Thanks so much.
— Louise, 11th February 2017
Best tutor I had ever met - pleased that I came.
— Happy student, 18th January 2015
Brilliant day, thank you!
— Gemma Cullen, 18th January 2015
Excellent tutor, perfect day.
— Kellie Obermuller, 18th January 2015
I had a great day. My tutor is obviously passionate about the subject which shows in her knowledge and teaching style. well done!
— Carol, 8th February 2014
I learnt loads and it was extremely enjoyable. My tutor was very helpful and informative. Answered all my questions. Nice sense of humour.
— Dee, 8th February 2014
There is always a friendly welcome here and my tutor, as always was very informative, encouraging and helpful. Such lovely lady.
— Barbara, 8th February 2014
I can't wait for the next course
— Gemma Warwick – Mitchell, 14th August 2013
My tutor was clear, helpful and PATIENT! I learnt more than I expected it was excellent
— Gillian, 9th August 2013
Really enjoyed the day. My tutor was brilliant and I had a lovely time.
— Vicky, 8th August 2013