Airbrushing - an Introduction
A step by step guide to getting the most from your air brush. Learn a range of techniques to enhance your cakes. The day also includes simple cake carving and Rice Krispie treat.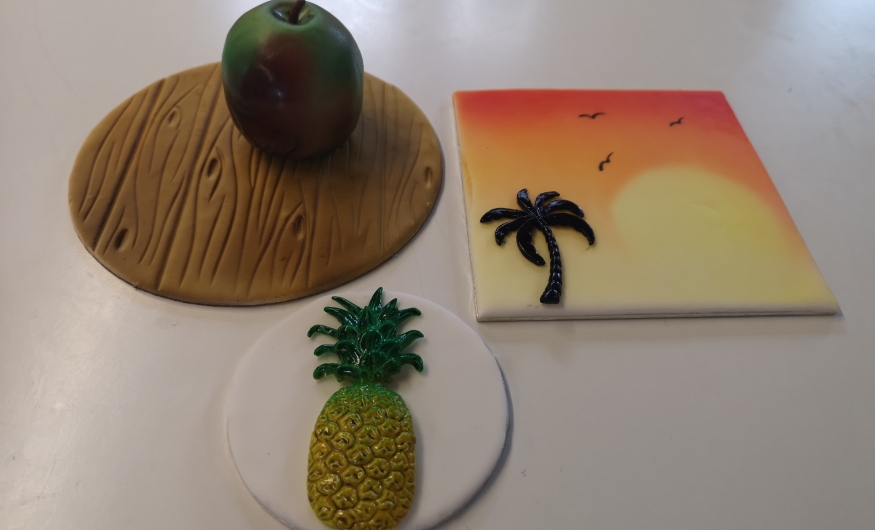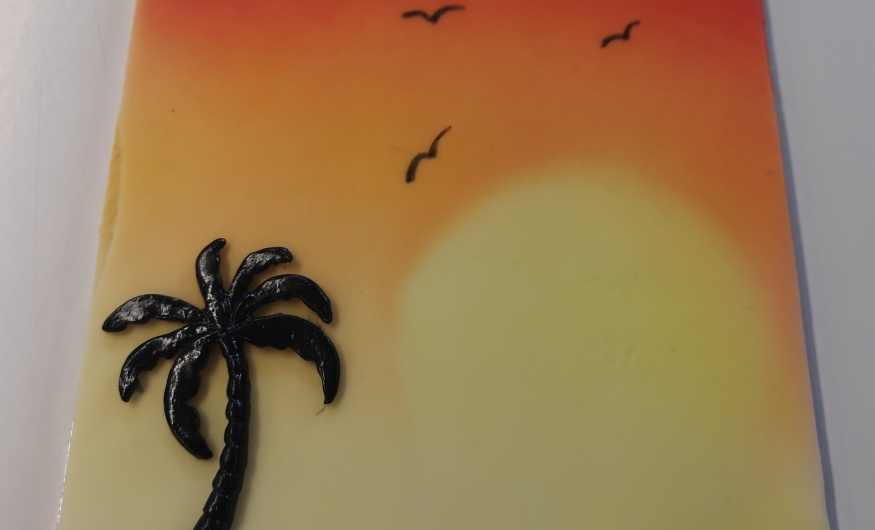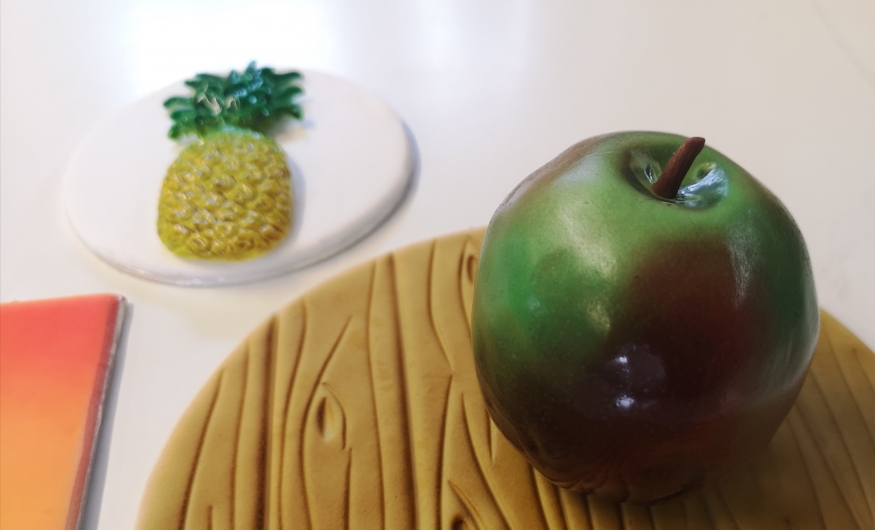 If you have an airbrush, please bring this with you (if not you can use ours). We will provide all the colours. The day will begin with getting ready - we will ice a board to create a sunset, ice and texture a board to create woodgrain, make a pineapple and a palm tree using a mould. We will also create an apple by carving and icing 2 cupcakes, an orange again from 2 cupcakes (including adding texture) and we will make a banana from Rice Krispie Treat. Everything will begin white and all the colour is added with the airbrush.
Moving on, we will take our airbrushes out of their boxes (so many people have one and haven't got further than lifting the lid!). Annabelle will explain all the basics and then you will use the airbrush to add colour.
This course is aimed at beginners and those wanting to extend their airbrushing skills. You will also use airbrush glaze to add a sheen.
Learn the best way to clean your airbrush.
Airbrushing adds a new dimension to your cake projects - go home with the knowledge and enthusiasm to include airbrushing when creating cakes.
Places are limited to 6 to ensure plenty of space and time with your tutor.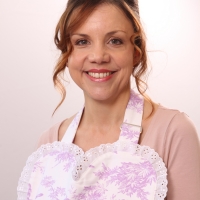 Annabelle
Annabelle
Director
Annabelle established Confection Perfection (now re-branded as Annabelle Jane Cake School) in 1996 from her kitchen table; bought her first retail premises in 2000 and is now settled in a delightful setting in Bearsted, just outside Maidstone. Annabelle has extensive cake decorating experience and is highly creative and artistic. Annabelle is an accredited tutor for the PME Diplomas in Sugar craft and also designs and delivers a wide range of other highly successful cake baking and decorating classes. Annabelle has a huge vision for our Cake School and ensures that the strong reputation we have earned continues to grow lead by her consistently high standards.
Everything is included - if you have your own airbrush we recommend you bring this with you - the idea is to give you the confidence to use it at home. If you don't, you can use ours and if you would like you can purchase one from our shop.
All the colours, equipment, icing, boards and cakes are provided.
Attendees will receive a set of course notes and also a 10% discount in the shop on items used during the course.
We provide tea, coffee and drinking water - and of course cake.
You may like to bring an apron. You will need to bring a packed lunch (or there is a deli a short walk from the shop)
Great wealth of knowledge with tips at the ready to help improve technique regardless of ability. So friendly and helpful, but importantly so much fun.
— Jo Sloat, 15th February 2020
I've had a really fun morning learning to airbrush, very informative. Very fun & now I feel confident to use my airbrush. Tutor friendly, helpful, fun & professional.
— Nicola Hooper, 15th February 2020
Very knowledgeable & experienced tutor. Makes everything look very easy. Course was what I expected and more. Little tricks are very useful.
— , 15th February 2020
A brilliant introduction to airbrushing. Annabelle explained everything clearly and gave useful tips as we developed our skills. Perfect speed of demonstrating and very well explained.
— Helen Visscher, 15th February 2020
Very knowledgeable tutor. Very informative course. 5 star. Helps to build your confidence.
— Caroline Ward, 15th February 2020
Very good course from start to finish. Helpful that we were able to bring our own airbrush, so we got used to using it. Very knowledgeable and helpful tutor.
— Tracey Kennard, 15th February 2020
Great course that leaves you confident to use your airbrush. Excellent and helpful tutor.
— Amanda Pritchitt, 15th February 2020
Wonderful course, easy instructions to follow, lovely friendly environment. Great skills learnt. Fantastic tutor, clear, thorough + helpful.
— Molly Payton, 26th October 2019
5 Star. Excellent fun. Excellent tutor.
— Lisa Woolford, 26th October 2019
Course excellent, thoroughly enjoyed it, can't wait to practise. Tutors very supportive. Excellent & entertaining as well as knowledgeable.
— Ann Thompson, 26th October 2019
Course was excellent! Tutor brilliant! Very knowledgeable and great!
— Nicola Paine, 26th October 2019
Fantastic course. So much information. Learnt so much.
— Tracey, 26th October 2019
More than I expected. I was very nervous of using my airbrush. I am now very confident. Annabelle has so much patience and shares so much knowledge, explained everything in detail - you learn so much more that you think you will learn.
— Annette Blake, 12th July 2019
Absolutely superb. I thought it would be difficult but having been shown, it isn't. So happy with what I've made and can't wait to try it all at home. I was bought my airbrush as a gift and it has sat in the box for over a year because I was too scared to use it. Now I have the confidence.
— Janet Owen, 12th July 2019
Really enjoyed the course, not attempted airbrushing before and it has given me the confidence to give it a go! Very good tutor, friendly & experienced.
— Judith Jones, 22nd June 2019
Thank you as always for a fantastic day Air brushing. I haven't stopped smiling and lost all my fears with using my airbrush. Best day!
— Michelle, 22nd June 2019
The course was very relaxed and helpful, friendly and informative. Annabelle explained things very clearly and helped when struggling.
— Brenda, 22nd June 2019
Very informative. Wonderful tutor.
— Stephanie Turner, 22nd June 2019
Brilliant course & wonderful teacher, very patient & I really enjoyed playing with my airbrush
— Sue Bucher, 22nd June 2019
Such a lovely atmosphere to learn anything and everything about cakes. Annabelle is so lovely, helpful and knowledgeable. Amazing course to help boost confidence with airbrushing.
— Susanne Clinch, 22nd June 2019
I am beginning to feel more at ease with airbrushing. Today was the day I actually felt I could get more detail into things without fear.
— Delenda James, 22nd June 2019