4 week Chocolate Course
The perfect foundation in chocolate work - including baking the perfect chocolate cake, ganache, tempering, transfer sheets, modelling chocolate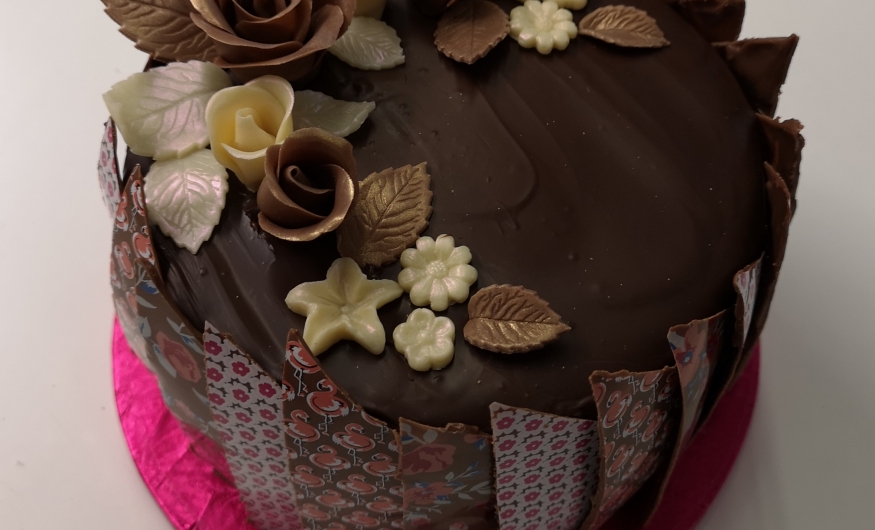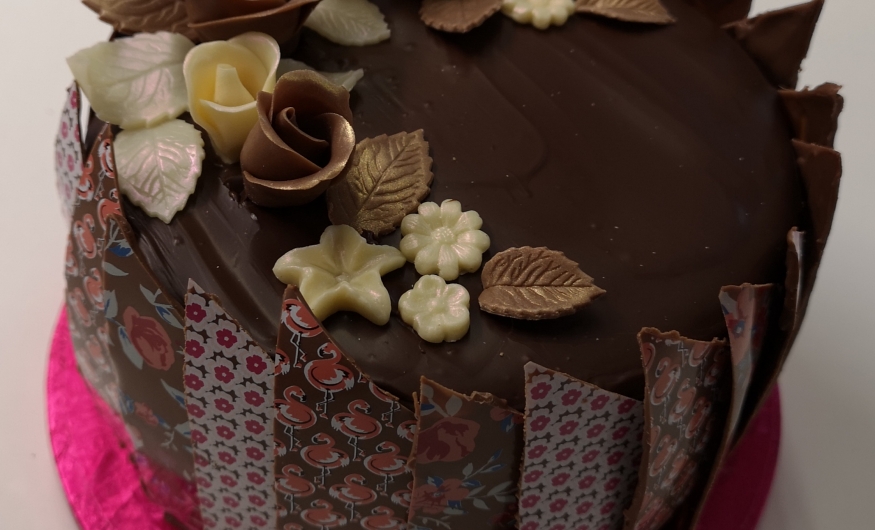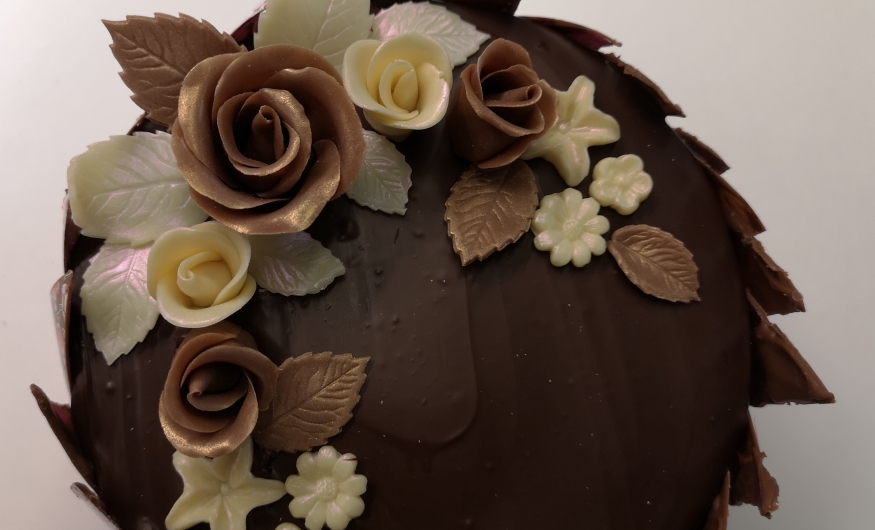 Learn the secrets of chocolate step by step. Over 4 weeks you will learn how to bake a delicious chocolate cake, how to make ganache, how to make chocolate buttercream, how to temper chocolate, how to use transfer sheets and how to make decorations from chocolate paste. This is the ideal foundation in working with chocolate.
The cake you bake in week 1 will be frozen ready for you to split, fill and ice in week 4. In weeks 2 and 3 you will create tempered chocolate panels and work with modelling chocolate to create roses and leaves. Having prepared your cake you will then top it with ganache and complete the decoration with your tempered transfer panels and chocolate decorations.
Delivered in a very straightforward, step by step style if you want to de-mystify chocolate whilst creating something beautiful and delicious then this is the course for you.
How to line a tin
The principles and golden rules of baking with chocolate
How to freeze and store a chocolate cake
How to make chocolate buttercream
How to store buttercream and keeping times
How to make chocolate ganache
How to store ganache.
How to choose chocolate
How to temper chocolate
How to work with transfer sheets to create panels
All about modelling chocolate
Use modelling chocolate and dust colours to create roses and leaves
How to cover a cake with ganache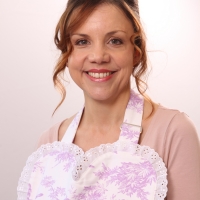 Annabelle
Annabelle
Director
Annabelle established Confection Perfection (now re-branded as Annabelle Jane Cake School) in 1996 from her kitchen table; bought her first retail premises in 2000 and is now settled in a delightful setting in Bearsted, just outside Maidstone. Annabelle has extensive cake decorating experience and is highly creative and artistic. Annabelle is an accredited tutor for the PME Diplomas in Sugar craft and also designs and delivers a wide range of other highly successful cake baking and decorating classes. Annabelle has a huge vision for our Cake School and ensures that the strong reputation we have earned continues to grow lead by her consistently high standards.
Everything is included! You may like to bring an apron.
Very friendly, learn so much, perfect for anyone wanting to improve. Course more than I expected - better! Amazing tutor - very knowledgeable, gave lots of tips and answers to my questions.
— Hayley Bull, 2nd May 2019
Very friendly and informative. Excellent and very knowledgeable tutor.
— Chris Jeal, 2nd May 2019
My first time working with chocolate which is very difficult as you want to eat it! Always enjoy the courses, learning new skills. Tutor very patient and very knowledgeable - explains everything very clearly and always happy to answer any questions. Excellent.
— Amy, 8th February 2019
I find chocolate a medium difficult to use. Since doing chocolate courses, each time I get more understanding how to play with it. Annabelle is always an inspiration and makes you feel at ease with ingredients that might frighten you to use.
— Delenda James, 8th February 2019
This course is brilliant. Learn absolutely loads. Everything is explained in simple terms. Annabelle is a fantastic tutor. Explains so everyone can understand. Also gives lots of hints and tips.
— Annette Blake, 8th February 2019
Love coming, relaxing time! Excellent tutors, both Annabelle & Linda.
— Ann Thonpson, 8th February 2019
Courses are the most enjoyable and worth every penny! Annabelle is THE cake fairy!!!
— Marie Perera, 8th February 2019
Love these courses - my own time doing something for me leaning new skills which all the family get to benefit from!! Extraordinarily patient, kind & helpful tutor. Never once made to feel inadequate in any way.
— Jo Prideaus, 8th February 2019
Annabelle course always fun / everything turns out fantastic, always finish feeling great, thoroughly enjoyed this course, will def do more courses
— Sam, 8th February 2019
100% likely to come back. Fantastic tutor. Converted choc cake eater!
— Vanessa, 8th February 2019
The course was so informative & included lots of chocolate mediums, I have already planned to use the skills learnt on this course for a cake coming up. Excellent, very very informative tutor and clearly passionate about what she does. Answered all questions.
— Marie Roostan, 10th May 2018
Great fun, endlessly knowledgeable tutor, many hints & tips freely shared. Learned all sorts of things as well as just about chocolate. I always go home with much more knowledge and ideas to practice.
— Dorothy Linkins, 10th May 2018
The 4week cake course is very enjoyable and it is done in a relaxing environment with friendly tutors.
— Simran Kaur, 10th May 2018
Absolutely brilliant course. Was a great all round intro to chocolate. The tutor was so knowledgeable and very helpful. Happy to answer all questions + I was so pleased with the result!
— Gemma Johnson, 10th May 2018
All the classes are really enjoyable, very helpful tutors, good quality ingredients. Great fun!
— Julie Weal, 10th May 2018
Cannot praise Linda enough - wonderful teacher. Fully covered all questions & queries. Very supportive. Very good.
— Dorothy Nicholson, 10th May 2018
Such fun. Excellent tutor, lots of helpful tips & advice. Wonderful course, not one for those that don't like chocolate!! Great Fun.
— Sarah, 27th June 2017
Very good informative instructor with helpful anecdotes. 6*s. And we get yummy cakes to try. Can't wait for next course.
— Jilll Cox, 27th June 2017
Very very very likely to do more! 10*s! Fabulous.
— Nina, 27th June 2017
Great tuition, friendly atmosphere. Amazing tutor, as always! Really enjoyed this course and learnt lots!
— Debbie, 27th June 2017
Very informative & patient tutor, good and illustrative. What I expected & more.
— Maureen Gopaul, 27th June 2017
Friendly team, very professional, made you feel welcome and at ease. Lots of helpful hints and tips and very encouraging. Amazing.
— Dan, 19th October 2016
Fab.
— Anita, 19th October 2016
Very friendly, informative and great results! Helpful + encouraging. Would absolutely recommend.
— Katie, 19th October 2016
Friendly, relaxed, fun; would recommend.
— Sarah, 19th October 2016
Annabelle Jane Cake School is so supportive and friendly and you learn so many new and varied techniques. Really loved this 4 week chocolate course. Very relaxed pace throughout. Have learnt all about chocolate. Adored working with modelling chocolate, which was so much fun and the smell each week was divine. If you are a chocoholic this course is an absolute must!!
— Kathryn Waller, 23rd June 2015
Excellent courses, excellent tutors - all round excellent (plus the chocolate of course!!)
— Jenny Davies, 23rd June 2015
Everytime I come to the shop whether it is for courses or to make a purchase, I am always made to feel welcome. Linda is fantastic. I have enjoyed all the courses she has done.
— Jane Lawrence, 8th April 2015
My tutor was lovely, friendly, approachable and funny!
— Shima, 8th April 2015
Amazing! Linda was fun, informative, supportive and very knowledgeable.
— Val Savage, 8th April 2015
Linda was very good and knowledgeable. Excellent!
— Sally, 13th January 2015
Very enjoyable and learnt a lot. Fantastic!
— Debbie Wade, 13th January 2015
A very friendly place to learn. Linda is a great tutor. I shall look forward to more courses.
— Judy Homewood, 13th January 2015
Linda was an amazing tutor. Extremely fun course - best one so far!
— Natalie, 12th June 2014
Excellent course. Learnt lots of new skills and would like another chocolate making course. Linda my tutor was brilliant!
— Hayley, 12th June 2014