4-week two tier stacked cake with very pretty flowers
Learn how to create and assemble a 2-tier stacked cake as well as making lots of beautiful flowers to decorate.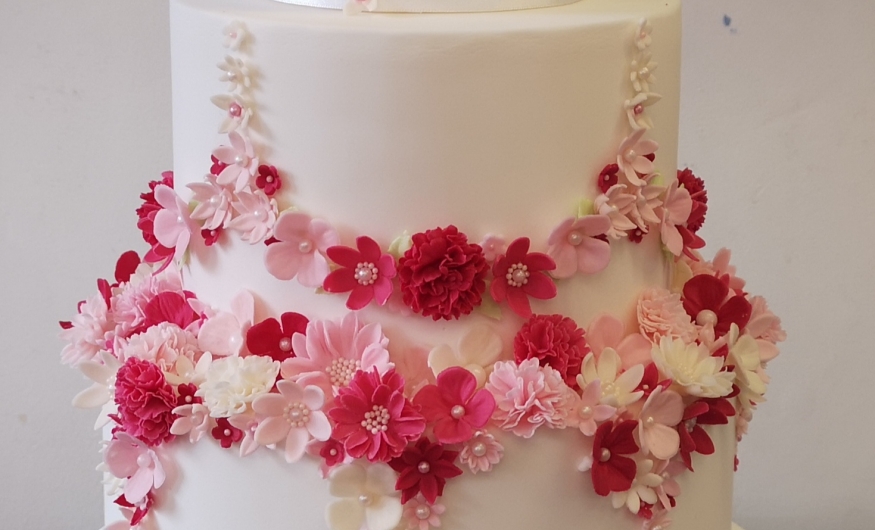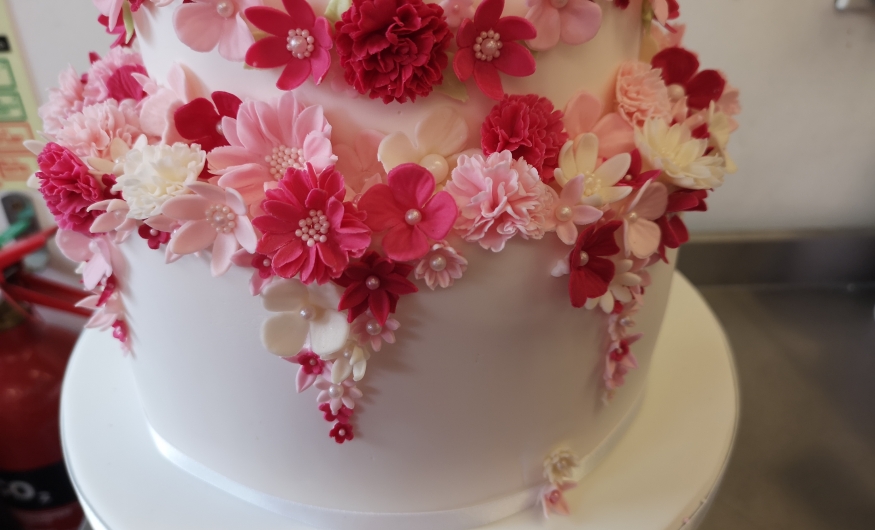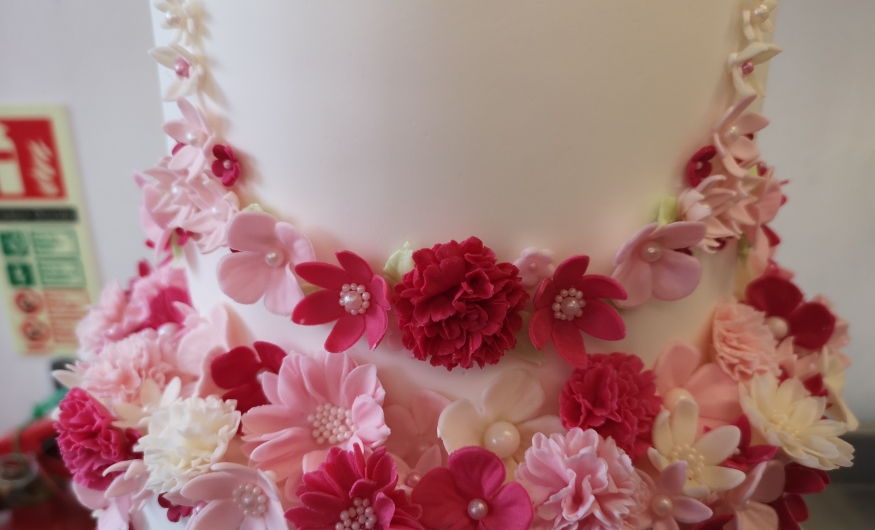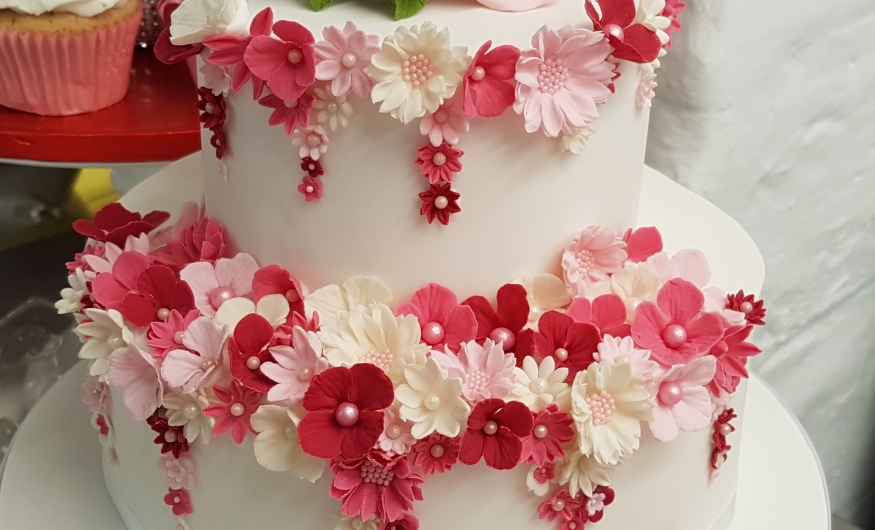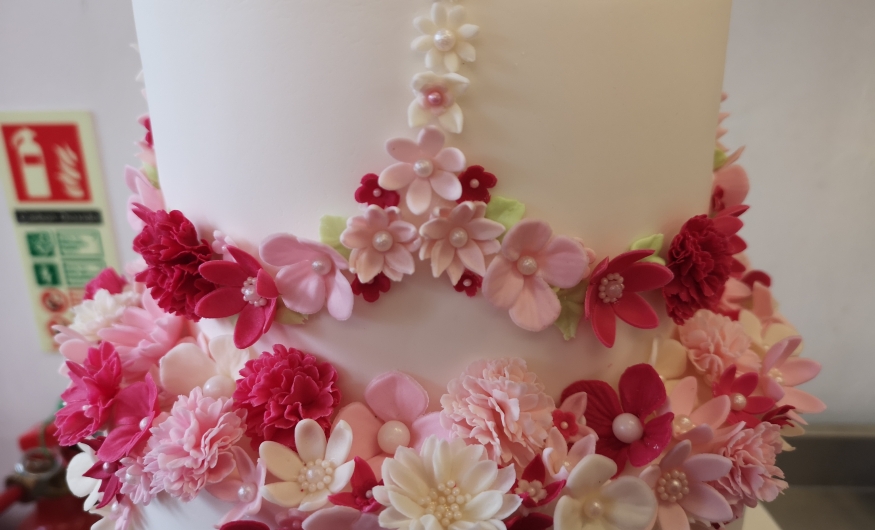 We will bake you a rich fruit cake and a madeira cake. Over the 4 weeks you will learn to professionally split, fill and crumb coat a maderia cake and how to marzipan a fruit cake. Learn to cover your cakes flawlessly with sugarpaste including sharp edges. You will ice a board and learn how to bake it for the most professional finish. Learn to stack and assemble your cakes with dowels.
Using your choice of colours learn how to make a range of delightful unwired flowers and how to arrange these on your cake to create the best possible effect.
How to layer cakes
How to fill cakes
How to crumb coat
How to marzipan a cake using the panelling method
How to ice with sugarpaste to achieve a flawless finish with sharp edges on both a maderia cake and a rich fruit cake
How to ice a cake board including baking technique
How to stack a cake using dowels
How to attach ribbon to a cake
How to attach ribbon to a cake board
How to make a range of unwired flowers using flowerpaste
How to create a range of flower centres using moulds and edible pearls
How to using a range of shaping techniques to create a variety of flower designs all from one cutter
How to using cake top marking templates to assist with even spacing of your flowers
How to secure flowers to your cakes
How to transport your cakes
Tutorial - all about colour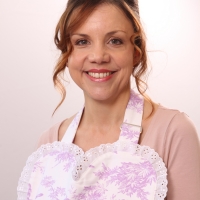 Annabelle
Annabelle
Director
Annabelle established Confection Perfection (now re-branded as Annabelle Jane Cake School) in 1996 from her kitchen table; bought her first retail premises in 2000 and is now settled in a delightful setting in Bearsted, just outside Maidstone. Annabelle has extensive cake decorating experience and is highly creative and artistic. Annabelle is an accredited tutor for the PME Diplomas in Sugar craft and also designs and delivers a wide range of other highly successful cake baking and decorating classes. Annabelle has a huge vision for our Cake School and ensures that the strong reputation we have earned continues to grow lead by her consistently high standards.
Everything is included - the cakes, board, box, icings, materials and use of equipment. Students will receive a full set of course notes as well as a 10% in the shop on anything used on the course. We provide tea, coffee, drinking water and cake. You may like to bring an apron.
Very good course - well organised, Annabelle is wonderful. Really helpful particular for me as I am a novice. Very enjoyable.
— Michelle Watts, 29th June 2019
Such a lovely way to spend a day. Annabelle was fantastic as always. So patient and encouraging. I learn something new everytime and always surprise myself with the finished product I have managed to produce.
— Jo Prideaux, 29th June 2019
Absolutely loved this course. I've done loads of courses and always learn something new on every one.
— Delenda James, 29th June 2019
Wonderful course. Annabelle is extremely patient, helpful and clearly passionate about everything cake and is very inspiring. Thank you.
— Gel, 29th June 2019
More than I expected. Make your cakes exceptional with skills you may never have hoped for. Thank you.
— Sandra Large, 29th June 2019
Great for all skill levels. Excellent tutor - answered all my questions + happy to help / be patient throughout. I always learn so much on these courses + have so much fun. Annabelle always has great advise + a solution for everything! Thank you for being so patient and knowledgeable.
— Rosie Spencer, 13th October 2018
Step by step, class not too big. Fantastic tutor - sharing inside tips you wouldn't get online / from a book. Doing the course made me realise all the things I've been doing wrong! Now I can create professional looking cakes.
— Steph Lee, 13th October 2018
Excellent. Very good tutor.
— R. Kier, 13th October 2018
Fun, great tutor & easy instruction which makes all great fun. Makes a complicated design simple, wonderful time... an amazing day.
— , 13th October 2018
Very enjoyable, very good tutor. Perfect way to spend a Saturday - very interesting & informative.
— Jo Dear, 13th October 2018