How to cover a cupcake with sugar paste
Covering a cupcake with sugar paste gives you a lovely flat surface to decorate on, looks professional, is less messy than buttercream and is easier than you think!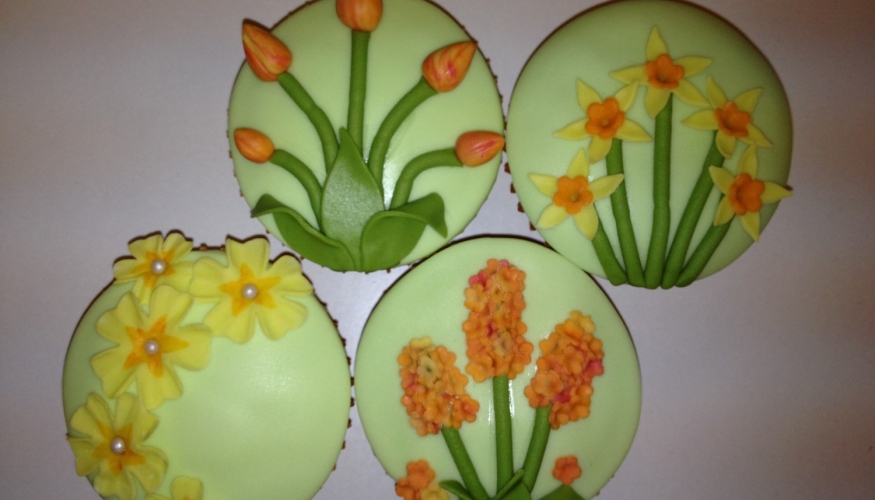 Here you will find step by step instructions including some top tips for success straight from our Cake School @ Confection Perfection.
You will need:
Cupcakes
Sugar paste (rolled fondant, regal ice, roll out icing)
Tin of circle cutters
Small rolling pin
Cornflour (ideally in a dusting bag)
Piping jelly
Silicon pastry brush
A nice flat cupcake gives you the perfect surface - you need a good recipe (see the recipe on our Cupcake Bouquet card ) and make sure your oven isn't too hot. If your cupcakes are a bit peaked, just trim this with a sharp serrated kitchen knife.
Knead your sugar paste until it is nice and soft, smooth and pilable. Use cornflour to stop it from sticking and roll the paste out evenly to a depth of around 4mm.
Paint the top of your cupcake with piping jelly. (read all about piping jelly in another blog post) Using a silicon brush makes sure you won't leave bristles behind! Piping jelly seals your cupcake keeping it nice and fresh inside as well as acting as a glue for the sugar paste.
Choose a circle cutter slightly larger than the top of your cupcake and cut a circle from the rolled sugar paste. Place this on top of your cupcake and smooth with the palm of your hand to achieve a nice finish. Make sure you have completely covered the top of the cupcake.
Your cupcake is now ready to decorate.
Happy decorating!
Annabelle
x