Hen Parties
Everyone knows the best bits at the party happen in the kitchen so get your gal pals together for the ultimate 'kitchen gossip'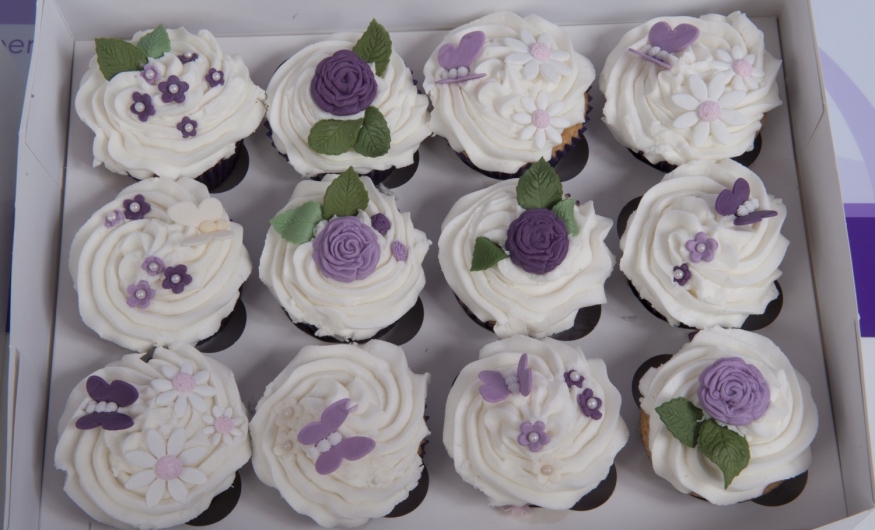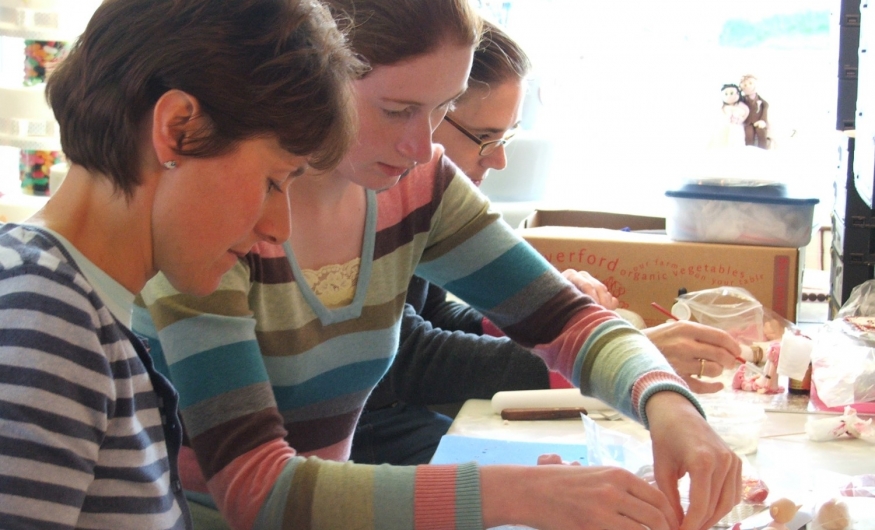 Start your hen party with something a little different - Come to play domestic goddess at Annabelle Jane Cake School.
You and your brood of hens are invited to come to our creative studios in the heart of Bearsted (near Maidstone) and enjoy all the fun of cupcake decorating.

Ask us to transform your wedding theme into cupcakes or choose from one of our many cupcake themes – anything from shoes and bags, burlesque frillies, old and new borrowed and blue, vintage flowers or get really naughty and choose our 50 shades theme!

You'll enjoy two hours of cakey fun with one of our talented Cake Decorating tutors who will help you learn some of the secrets to great cupcake decoration. We provide everything you will need, even the aprons because you'll want your party frock to still look good at the end!

Read on for all the details and remember that you are just a high heeled totter away from two delightful restaurants/ bars …just in case you want to continue the fun once you have fulfilled your domestic fantasies.
Your Party will include
A set of freshly baked yummy cupcakes for each hen, ready to be decorated and the box to take them away in too
Use of all our professional equipment
All the icings and other decorations needed to complete your beautiful creations
Loan of a Cake School apron, to protect your clothing and make sure you still look just as gorgeous when you leave as when you arrive.
Time
Your party will last for either 2 hours (4 cupcakes) or 2 1/2 hours (6 cupcakes)
Refreshments
We do not have a licence to sell alcohol but tea and coffee are free flowing.
Should you wish to bring your own tipple of choice with you, together with glasses, you are very welcome to do so….just remember, your icing may become more wobbly with each glass!
Price
£225 for up to 6 "hens". (2 hours) or £275 (2 1/2 hours)
£17.50 (2 hrs) or £20 (2 1/2 hrs) for each additional person up to a maximum of 20
I just wanted say a massive thank you to lovely Linda for this sunday for our hen do. It really was fantastic and Rachel (The Hen) had a great time and really enjoyed herself as we all did. Thank you so much for how efficient the emails and booking was too. My boyfriend has already ate most of them!
— Charlotte, 26th February 2018
Brilliant hen party idea! Great afternoon. Excellent, helpful, friendly, great fun - lots of cake eating! Thank you! x
— Rachel, 26th February 2018
The tutor was lovey. Very good.
— , 2nd June 2018
Great fun. Excellent, very clear instructions. Helpful and friendly tutor. Fab for large groups.
— Kirsty, 2nd June 2018
Very fun. Very friendly, helpful and fun tutor. Fun!
— Antonia, 2nd June 2018
It was good fun. Very knowledgeable and friendly tutor. Had a good selection of different topping options. I think it worked well. Thoroughly enjoyable and would join again.
— Emma, 2nd June 2018
Such an enjoyable day. Linda was a lovely tutor. She made the afternoon so enjoyable and we learnt a lot about decorating with icing. A brilliant experience.
— Moira Rolfe, 2nd June 2018
I would recommend this for a group session. I really had a lot of fun. Cupcakes are really not normally my thing at all but I was very nicely surprised. Lots of fun.
— Steph, 2nd June 2018
Entertaining & useful. Good fun and lots of tips. Worth coming to.
— Elaine Ryan, 2nd June 2018
Patient, kind and very knowledgeable. Covered everything.
— Debbie, 2nd June 2018
I would recommend as very professional, very friendly & run very smoothly. Really enjoyed the course, was really pleased with the results of the cupcakes.
— Carly Kaitell, 2nd June 2018
Had a really lovely time, really enjoyed it & we all had so much fun. Didn't know what to expect but thoroughly enjoyed it.. learnt a lot.
— Donna, 2nd June 2018
My daughter Lauren and her hen party had a cake decorating session at Annabelle's. Had a fabulous time. We were made to feel welcome, supplied us with drinks and cake each to eat. Everyone thoroughly enjoyed their time. Had a great laugh. Lady taking the session couldn't have been more kinder and patient. Put us all at ease. Thank you so much for putting up with 11 mad ladies for 2 hours.
— Maggie, 30th May 2022