Cup Cake Parties
Got lots of friends but never have time to get together? Looking for an unusual Fundraiser? Want to give an amazing corporate gift or raffle prize?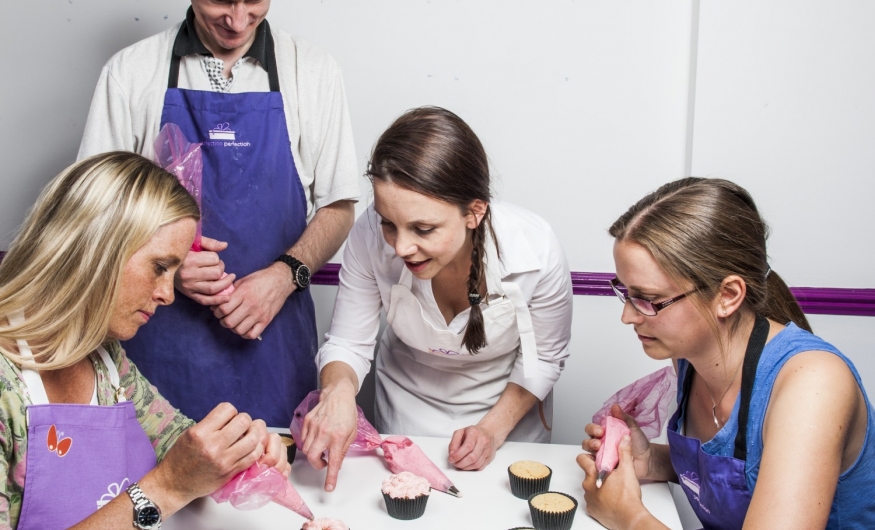 A cupcake decorating party is just what you need. Just for fun or for a good cause hosting a cupcake party can be an ice breaker, a gossip station, a money spinner and more.
You and your guests will learn with one or more of our tutors how to create the most tantalising set of cupcakes that you take home in their own special little box.
Call our events team now to pick your theme, discuss your ideas or look further at our Corporate Events, Hen Parties and Children's parties for special packages.
Location Options
Our teaching room in Bearsted – up to 20 people
Your home – any number of people round your dining room table or in your kitchen!
External venue of your choice – restaurant, bar etc
Time
The party will last for 2 hours (or a different length by arrangement). We are open 7 days a week and can accommodate parties during shop opening hours or in the evening by special request.
What happens at your party?
Parties are led by one of our experienced and passionate tutors who will help your party goers create the most fun and wonderful set of cupcakes to take home and for larger groups we provide an additional tutor (or two, or three or four!)
Included in the party is expert tuition, cupcakes in presentation boxes, icings, frosting, sprinkles and decorations as well as use of our professional equipment.
Prices
£225 for up to 6 party goers
£17.50 for each additional guest
If we are travelling to your location there will be an additional travel fee that we will work out in advance for your approval.
We recommend you each bring an apron to protect your clothing or we can supply disposable aprons at 50p per guest.